Trump forced to talk about Russia in negative terms, 'deep state' is to blame – Senator Black to RT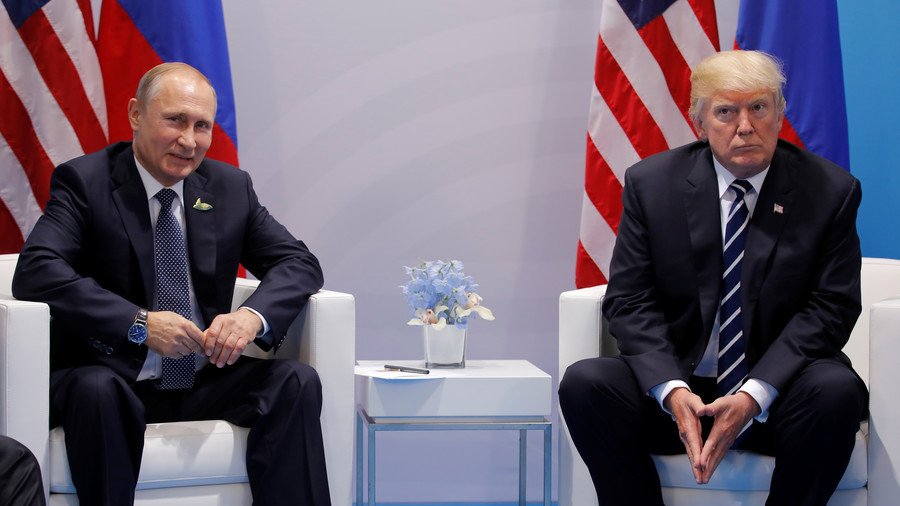 The fact that Trump only briefly mentioned Russia during his State of the Union address means he does not want confrontation and only refers to it negatively to placate the hawks, Virginia State Senator Richard Black told RT.
Sharing his thoughts on US President Donald Trump's maiden State of the Union, Republican Senator Black said he believes that Russia as well as China receiving only one mention in the 90-minute address is not a coincidence. Black argued that "Trump was forced to refer to China and Russia in negative terms, but he moved on quickly."
Some mainstream media immediately jumped to accuse him of being too soft on Moscow in comparison to his predecessor, Barack Obama, who went on a sanctions crusade against Russia late in his term. Black said that while Trump may not give up on his intention to improve relations with Moscow, it was impossible thanks to a "deep state" that "conspired to drive a wedge between us."
By initiating a probe into "concocted allegations of Russia collusion" between Moscow and the Trump campaign team, led by special councilor Robert Muller, "they blocked President Trump from moving closer to Russia, as he wanted to do," Black argued.
"I do not believe he personally wants to raise tensions with either Russia or China," the senator said, adding that the decision by the White House to hold off on sanctions against Russia under the Countering America's Adversaries Through Sanctions Act [CAATSA] have "angered the War Hawks."
According to Black, Trump succumbed to pressure from the war hawks when he announced the US would be beefing up the US military presence in Afghanistan in August.
"Trump was reportedly angered by his staff's recommendation to expand the war by sending 4,000 additional troops. But the war hawks prevailed and we continue to waste men and treasure on that ill-fated venture," Black said.
Contrary to US leader's assurance that "in the end, we will win" in a protracted Afghan war, the Senator said he believes that "over time, the US is unlikely to experience any greater success" than the British Empire and the Soviet Union, which were both stuck in Afghanistan for years.
Speaking about Trump taking credit for the defeat of Islamic State (IS, formerly ISIS) and the liberation of the swathes of territories from terrorists, the senator argued that while the US "did help drive ISIS from Iraq and northern Syria," Trump failed to mention the contribution of Russia, Syria itself, and the US' own allies in the fight against terrorism.
Praising the US military, Trump told only one side of the story – the other being that the US was "complicit in its [ISIS] ascendency and the bloodshed and terror it spread."
Black noted that US weapons supplied to Syrian rebels often ended up in the wrong hands, "including Al Qaeda and ISIS."
Trump's pledge to offer assistance exclusively to "friendly nations" which mirror US policy on key international issues, such as recognizing Jerusalem as the Israeli capital, "ignores the political realities of other nations" and may prove detrimental to the US' own interests, Black said.
The recognition of Jerusalem, hailed by Trump as a major achievement, is "unlikely to facilitate peace in the region and does little to enhance the US' reputation as a fair broker in peace negotiations."
Trump previously threatened to cut aid to Pakistan, accusing the country of harboring terrorists and giving the US "nothing but lies and deceit" in the past 15 years, during which "the United States has foolishly given Pakistan more than 33 billion dollars." That Twitter tirade sparked a wave of public fury in Pakistan, with protesters burning an effigy of Trump.
Black argued that Washington "should also acknowledge that it is partly to blame for the challenges now faced by Pakistan," referring to its support of "barbaric, murderous madrasas in Pakistan and Afghanistan to undermine the Soviet Union." Furthermore, it would be stopping aid to Pakistan at a time when any "friction with Pakistan" might disrupt the logistics to Afghanistan.
It would also be hard to withhold assistance to Egypt, which, along with other countries of the Arab world and the UN, condemned Trump's Israel move. "Despite his rhetoric, the US will find it difficult to cut funding to Egypt, which is so vital to stability in the Middle East," the senator said, noting that "reducing funds to Egypt would invite a revival of ISIS and its spread across North Africa."
If you like this story, share it with a friend!
You can share this story on social media: