'Cleaned by migrants': Italy outraged by 'sick' Charlie Hebdo cartoon of Genoa bridge collapse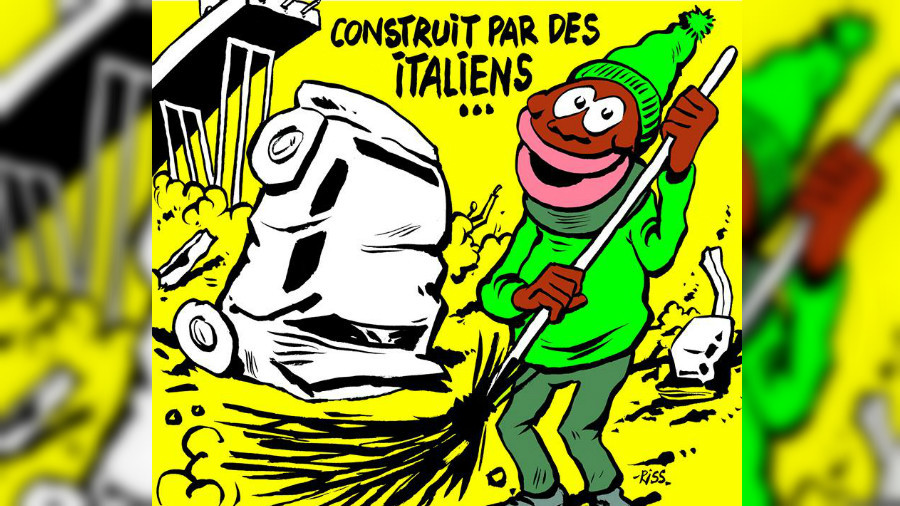 French satirical magazine Charlie Hebdo has courted controversy once again after publishing a cartoon that appears to mock the Genoa bridge collapse and features an overtly racist caricature of an African migrant.
Some 38 people died when a 100m-long section of the A10 motorway bridge collapsed on August 14. Dozens of cars plummeted nearly 150ft into an industrial area of Genoa where the rescue and recovery effort is still ongoing.
READ MORE: Moment of collapse: CCTV shows Genoa bridge crumbling (VIDEO)
In a front-page cartoon for a recent issue, Charlie Hebdo depicts cars crushed on the ground below a broken segment of the Morandi bridge. Beside the cars is a caricature of a smiling black man with large, pink lips, holding a sweeping brush. The caption reads: "Built by Italians… cleaned by migrants."
The migrant character, with his large lips, smile and vapid look, is reminiscent of characters featured in cartoon minstrel shows of the 1920s.
Writing on Facebook, Italian Transport Minister Edoardo Rixi branded the magazine "shameless," adding: "Would this be satire? For me there is only one word: sick."
The front page also sparked outrage on social media. Journalist Andrea Radic tweeted: "The Charlie Hebdo cartoon is shameful for all and for the French first of all, but they are silent."
However, not everyone was critical of the cover. Tito Faraci wrote: "If you think the target of this cover of Charlie Hebdo is the victims of the collapse, you have taken a beating."
While Riccardo Gazzaniga wrote: "I have the Morandi bridge in front of the house. Its collapse has shaken me and will change our lives. But frankly, the cartoon… of a satirical newspaper seems to me the last thing to worry about and for which to be outraged."
READ MORE: 'Je suis Simona': Romanians angry after Charlie Hebdo depicts tennis star as scrap metal collector
This isn't the first time that the satirical publication has fallen foul of Italians trying to come terms with a tragic event. A previous cartoon upset residents of Amatrice, a town in which 230 people died during the 6.2-magnitude earthquake in September 2016.
The image depicted a man and a woman standing next to a pile of rubble and bodies. The man was labeled "penne sauce," the woman "penne gratin," and the pile of dead bodies "lasagne." The headline on the cartoon read: "Earthquake a la Italian."
After an avalanche of criticism, Charlie Hebdo doubled down by releasing a second cartoon. The caption for it read: "Italians, it is not Charlie Hebdo that built your homes, it's the mafia."
READ MORE: Outcry in France as Muslim rapper who sang about 'crucifying secularists' to play at Bataclan
The offices of Charlie Hebdo were attacked by Islamist gunmen in January 2015, an incident which resulted in the deaths of 12 people. At the time, Italian Prime Minister Matteo Renzi expressed horror at the attack and supported the magazine's freedom of speech by saying: "Violence will always lose against freedom and democracy."
Like this story? Share it with a friend!
You can share this story on social media: