Moment of collapse: CCTV shows Genoa bridge crumbling (VIDEO)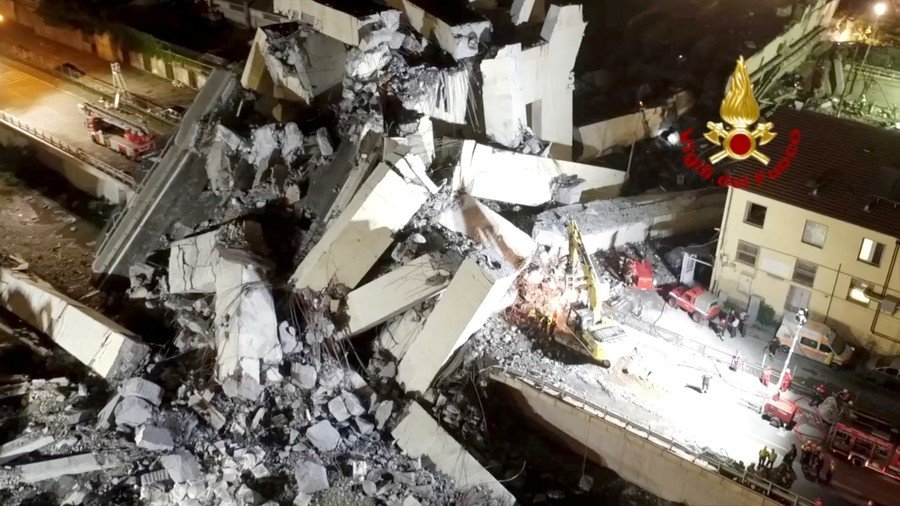 The investigation into how a Genoa city bridge collapsed killing 43 people has yielded new footage of the disaster. CCTV images reveal the moment the bridge gave way, causing scores of people to be crushed by the 45-meter fall.
New security camera footage released by Genoa's Guardia di Finanza police force shows how a large chunk of the reinforced concrete viaduct gave away on August 14.
Filmed on security cameras located on a road below the Ponte Morandi bridge, which was built in the 1960s, the footage shows the collapse of the busy stretch of motorway from multiple angles. With cars seen passing on a rain soaked highway, masonry and a white truck suddenly smash to the ground from the disintegrating bridge above.
The Italian government has threatened to revoke concessions given to the company which managed the bridge and motorway, Autostrade per l'Italia.
READ MORE: 'It was a miracle': Survivor of Genoa bridge collapse shares his story (VIDEO)
According to Italian magazine l'Espresso, engineers warned officials at the Ministry of Public Infrastructure and Transport and the management company in February that corrosion had weakened the bridge's cables by up to 20 percent.
More than 40 people died as a 200 meter section of the bridge crumbled. One eyewitness told RT's Ruptly of the incredibly loud "roar" of noise that came during the collapse.
"The shockwave made me fly about 10 meters away. I went banging against a wall. I do not remember anything else," he said.
You can share this story on social media: