Treason or no treason? Ex-CIA chief Brennan now not so sure about famous Trump/Putin 'Treason' tweet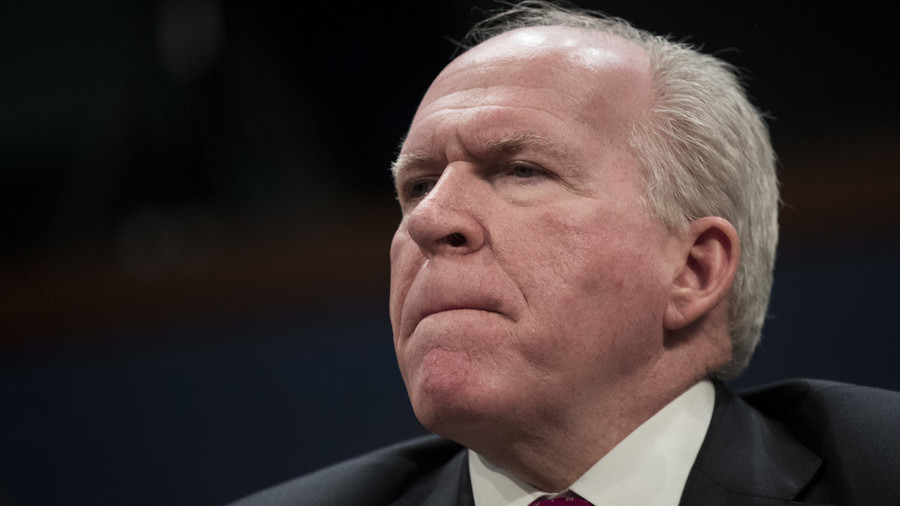 When ex-CIA chief John Brennan said last month's Trump/Putin summit was "nothing short of treasonous," he earned thousands of retweets and became a #resistance hero. But he didn't actually mean treason. Confused? You should be.
Speaking on MSNBC's 'Rachel Maddow Show,' Brennan explained that Trump's much-criticized meeting with Putin in July, during which the president refused to press his Russian counterpart on allegations of election meddling, did "a great injustice, and a disservice to the men and women of the intelligence and law enforcement community."
"It did a great disservice to the citizens of the United States, and that's why I said it was nothing short of treasonous. I didn't mean that he committed treason, but it was a term that I used."
At the time of the meeting, Brennan disagreed with himself. His take on the summit was that "Donald Trump's press conference performance in Helsinki rises to & exceeds the threshold of 'high crimes & misdemeanors.' It was nothing short of treasonous." Brennan's grandstanding tweet set the tone for media coverage of the summit, with the word "treason" bandied about by Democrats, some Republicans, and the mass media, as they fell over themselves to bash Trump.
Maddow pressed Brennan on his choice of words, and the ex-spymaster disputed the MSNBC host's literal interpretation of the word 'treason.' He did, however, agree with Maddow that Trump could be "serving a foreign country rather than his own."
Treason is defined by the US constitution as levying war against the US, or giving America's enemies "aid and comfort." Despite the best efforts of Brennan and his ilk, Russia is not an 'enemy' of the United States. "Aid and comfort" is also an ambiguous term.
Brennan's initial 'treason' comment prompted Republican Senator Rand Paul (Kentucky) to press Trump to revoke his security clearance, which the president eventually did last week. It is normal for retired intelligence professionals to maintain their security clearance, which grants them access to classified documents.
Trump has accused Brennan of using his security clearance to add credence to his public anti-Trump media crusade. After a long career of supporting torture and spying on Democrats, Brennan now works for NBC News as a "senior national security and intelligence analyst, where he regularly issues scathing critiques of the Trump administration.
Brennan "has a history that calls into question his objectivity and credibility," White House Press Secretary Sarah Sanders said, quoting a statement from Trump, adding that his conduct on public media "facilitates the very aims of our adversaries, which is to sow division and chaos."
Brennan is not the only former intelligence don to hang up his waterboarding kit and become a hero to the #resistance. Former Director of National Intelligence James Clapper found a new home at CNN after resigning; and after being fired by Trump, former FBI Director James Comey found the time to pen a bestselling book thrashing the administration and comparing Trump himself to a "mob boss."
The White House has mulled revoking the credentials of all of these officials and more, with Secretary Sanders arguing in July that they have "politicized, and in some cases monetized, their public service and security clearances" to make "baseless accusations" against Trump in the media.
Subscribe to RT newsletter to get stories the mainstream media won't tell you.