Clapper vs Brennan: Ex-DNI chief says ex-CIA head's attacks on Trump becoming 'an issue'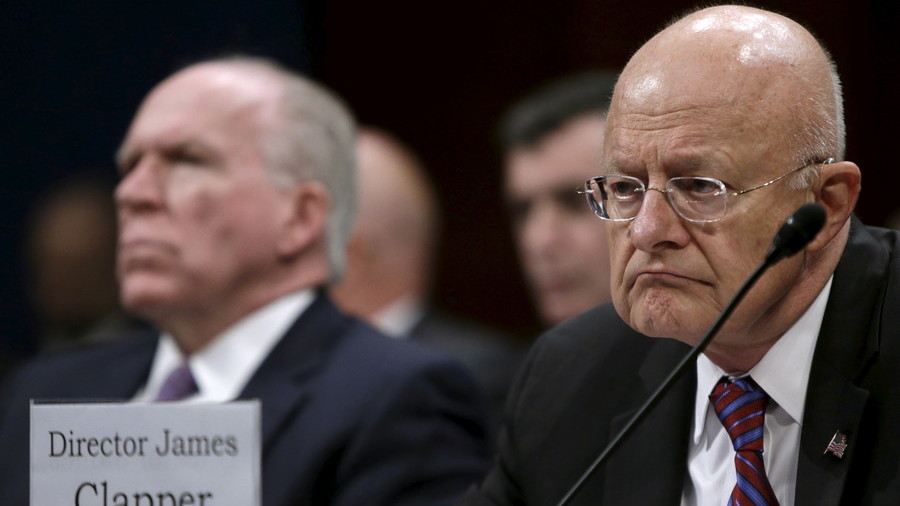 John Brennan and his inflammatory rhetoric aimed at Donald Trump's "treasonous behavior" are becoming "an issue in and of itself," James Clapper, former Director of National Intelligence, has said of the ex-CIA chief.
Speaking with Jake Tapper on CNN's "State of the Union" program on Sunday, Clapper insisted that like himself, Brennan feels "genuine concern about the jeopardy or threats to our institutions and values," but acknowledged that "we may express that in different ways."
Asked by Tapper if he thought Brennan's hyperbolic use of "treasonous" to describe Trump's dealings with Russia was an issue, Clapper answered in the affirmative.
"Well, I think it is. I think John is subtle like a freight train, and he's going to say what's on his mind," Clapper said. "John and his rhetoric have become, I think, an issue in and of itself," he added.
Brennan made headlines in the aftermath of Trump's controversial meeting with Russian leader Vladimir Putin in Helsinki in July, insisting that the US president's actions were "nothing short of treasonous." Brennan later clarified his comments during an interview on Friday, telling MSNBC's Rachel Maddow that "I didn't mean that [Trump] committed treason. But it was a term that I used, nothing short of treasonous." He then offered an alternate explanation for his remarks during an interview with NBC on Sunday.
"I called his behavior treasonous, which is to betray one's trust and to aid and abet the enemy," Brennan told "Meet the Press" host Chuck Todd. "And I stand very much by that claim."
Trump revoked Brennan's top-secret security clearance last week, citing the former CIA head's "unfounded and outrageous allegations."
READ MORE: Trump revokes clearance of former CIA chief Brennan
Although hailed by top Democrats as a #Resistance hero being persecuted for his political beliefs, Brennan has a spotty record when it comes to defending – and respecting – American institutions. In 2014, as the Senate Intelligence Committee was preparing a lengthy report on the CIA's use of "enhanced interrogation techniques" at its secret prisons, chair Dianne Feinstein (D-California) accused Brennan's agency of secretly monitoring the committee's computers and removing sensitive documents.
After initially denying any wrongdoing and rejecting Feinstein's "spurious allegations," Brennan quietly apologized to lawmakers after an internal review proved the senator right.
Like this story? Share it with a friend!
You can share this story on social media: