'Blatant extremism': Pearl Jam slammed for poster depicting Trump as rotting corpse (IMAGE)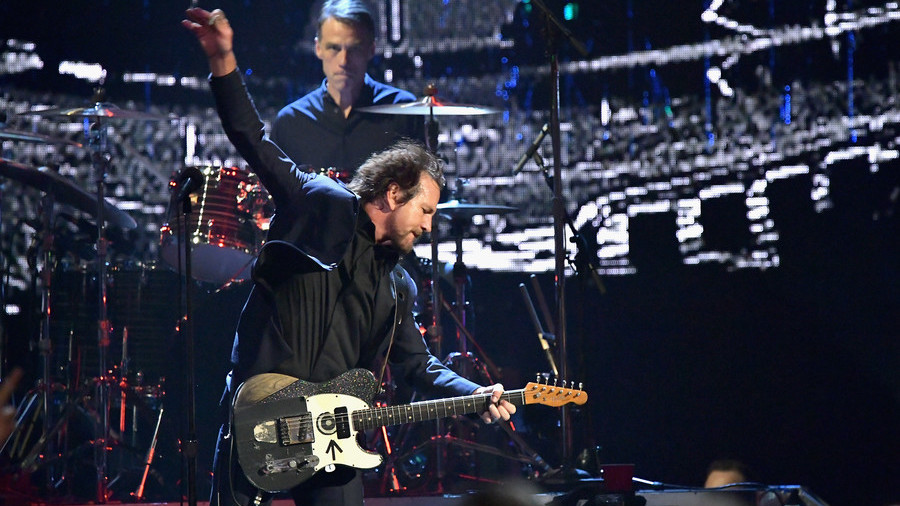 Rock band Pearl Jam has stirred the political cauldron with an official event poster which depicts the White House engulfed in flames and the carcass of US President Donald Trump being picked over by a bald eagle.
The image by bassist Jeff Ament and illustrator Bobby Brown was used as promotional material for Pearl Jam's gig at Grizzly-Washington Stadium, Montana on Monday.
The event was a benefit to urge fans to get out and vote in the Montana Senate election in November, with Ament known to be a firm supporter of current Democratic Senator Jon Tester. The band is currently fundraising for Tester's reelection.
The eye-catching image has sparked a flood of reaction with many taking umbrage with the depiction of a destroyed Washington, DC and a dead US president.
Montana State Senate Republican candidate Matt Rosendale is one of the objectors to take aim at Pearl Jam by describing the concert poster as "disgusting". He has called for rival Tester to denounce the "blatant display of extremism".
Responding online to the poster, some fans even said they would be boycotting the band's music as a result of the controversial artwork. Pearl Jam and Tester have yet to comment on the illustration.
It isn't the first time Trump has been depicted as dead since he was elected president. In May last year comedian Kathy Griffin took part in a gory photoshoot where she posed with a decapitated mock-up of his head. The images prompted the Secret Service to say that it was investigating the matter. Griffin later removed the images from her social accounts and issued an apology.
Like this story? Share it with a friend!