Facebook vanishes Venezuela-based left-leaning news network again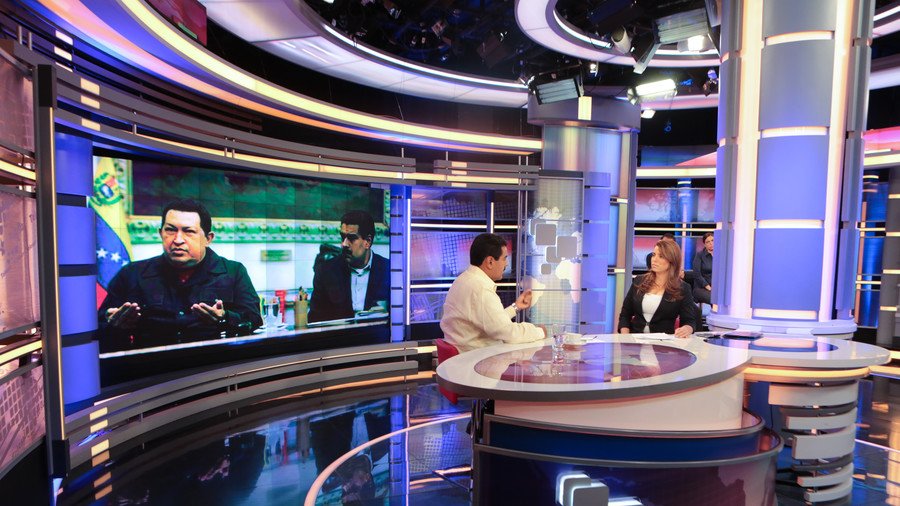 Telesur English, a multi-state-funded Latin American news network, says that Facebook has removed its page for the second time this year "without any specific reason being provided."
Telesur claims its page was abruptly taken offline on Monday. Facebook provided the vague explanation that the page had violated its terms of use, but did not elaborate further.
"This is an alarming development in light of the recent shutting down of pages that don't fit a mainstream narrative," the network declared.
While it is unclear whether there is any connection, Journalist Max Blumenthal has called it "deeply disturbing" that the removal comes after Facebook partnered up with the Digital Forensic Lab, an offshoot of the Atlantic Council, a neo-liberal think tank set up in 1961 to promote Western ideology around the world.
Facebook has just deleted the page of @telesurenglish. A network source tells me FB justified eliminating the page on the vague basis of "violation of terms." The NATO-backed @DFRLab is currently assisting FB's purge. This is deeply disturbing. pic.twitter.com/MQe3Brdn15

— Max Blumenthal (@MaxBlumenthal) August 13, 2018
Facebook teamed up with the Digital Forensic Lab as part of its ongoing mission to police news and views on its platform. In a blog post announcing the partnership, the DFL said that it would strive to "expose and explain falsehood online," and weed out the West's favorite bogeymen – the 'Russian bots.'
The apparent censorship of Telesur comes less than a week after the social media giant deleted the page of Venezualanalysis, an outlet that offered leftist commentary on Latin American affairs. Though Facebook reinstated the page, Venezualanalysis received no apology or explanation for its removal.
"We cannot help but feel that the removal of our page is related to an attempt to stifle the alternative and progressive perspectives that we feature on Venezuela," the team explained, adding that they felt Facebook is clamping down on independent or anti-mainstream journalism "in the wake of Russia-gate."
After collaborating with Atlantic Council CIA board to delete anti-fascist organizing pages, Facebook deletes @venanalysis, excellent independent news that counters US imperialist narrative on Venezuela, days after Maduro assassination attempt https://t.co/wdpJVs86ZX

— Abby Martin (@AbbyMartin) August 9, 2018
In the US, most accusations of bias leveled at Facebook have come from the right of the political spectrum. There, Republicans argue that Facebook – and other Silicon Valley tech giants – suppresses conservative content.
Most recently, Infowars' Alex Jones was kicked off several online platforms, including Facebook. That decision was cheered by many in the US, including Senator Chris Murphy (D-Connecticut), who demanded even more censorship in the name of "saving democracy."
Jones' social-media excommunication was celebrated by a large swathe of the mainstream media in the US, including CNN, who ran multiple hit-pieces on Jones in the months before the ban, and by Vox, who immediately after the ban began pushing for the investigation of "extreme creators" on YouTube.
Telesur is based in Venezuela, and gets most of its funding from the Venezuelan government. It also receives funding from the governments of Cuba, Nicaragua, Uruguay, and Bolivia.
Telesur's supporters and free-speech advocates argue that the network gives viewers access to viewpoints from outside the mainstream, and it has been defended by journalists, activists and academics including Noam Chomsky, John Pilger, and Danny Glover.
The network has broadcast worldwide in Spanish since 2005, and in English since 2014. Its now-vanished Facebook page had almost 400,000 likes.
Subscribe to RT newsletter to get stories the mainstream media won't tell you.
You can share this story on social media: