Give Pelosi a (4th) chance, Trump urges Democrats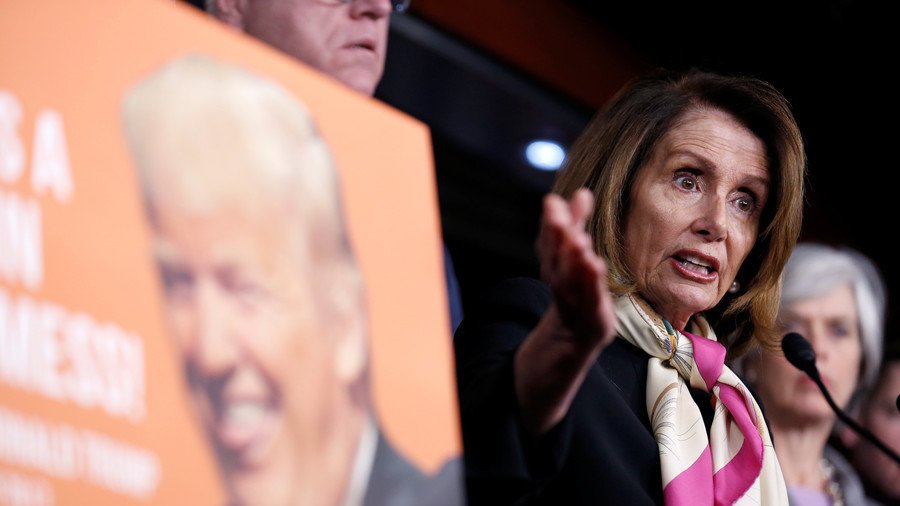 President Donald Trump is trolling the opposition Democrats, urging them to continue supporting House Minority Leader Nancy Pelosi (D-California), who is "trying very hard" even though her ideas and policies "may be bad."
"Democrats, please do not distance yourselves from Nancy Pelosi," Trump tweeted on Friday afternoon, for the first time since announcing tariffs on Turkey in the morning. "She is a wonderful person whose ideas [and] policies may be bad, but who should definitely be given a 4th chance. She is trying very hard [and] has every right to take down the Democrat Party if she has veered too far left!"
Democrats, please do not distance yourselves from Nancy Pelosi. She is a wonderful person whose ideas & policies may be bad, but who should definitely be given a 4th chance. She is trying very hard & has every right to take down the Democrat Party if she has veered too far left!

— Donald J. Trump (@realDonaldTrump) August 10, 2018
Trump was presumably responding to NBC News publishing a list of 51 Democrats, both candidates and incumbents, who said they would not back Pelosi for Speaker of the House should the party succeed in winning the majority in the November midterms.
Pelosi has been in Congress since 1987. She served as the first – and so far, only – female Speaker of the House from 2007 to 2011, and hopes to hold the gavel again.
"The gavel makes all the difference in the world… the awesome power. The speaker has awesome power," she told Rolling Stone in an interview published in July.
When asked about Democrats who dared suggest someone younger would be better suited for the job, Pelosi, 78, called the idea "a little bit on the sexist side" and dismissed her critics as "inconsequential."
"I have great support in my caucus," she said.
Among Republicans, however, she is less popular than North Korean leader Kim Jong-un, according to an Ipsos/Daily Beast poll released in June.
Like this story? Share it with a friend!
You can share this story on social media: