'Intestinal worms in the anus of the US': Ecuador slammed for saying refugees cannot talk politics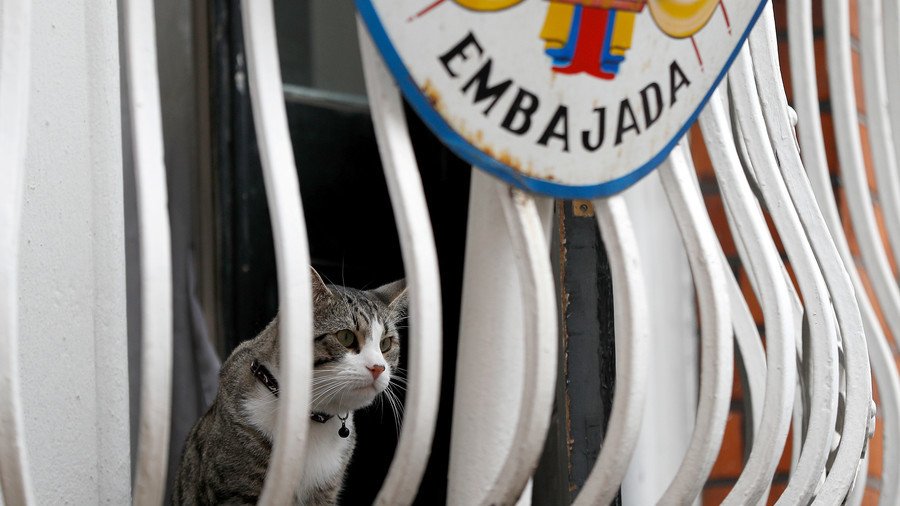 WikiLeaks supporters, including Kim Dotcom and journalist Glenn Greenwald, have slammed Ecuador's foreign minister after he claimed that refugees were prohibited under international law from making political comments.
Jose Valencia made the statement in an interview with El Universo when asked about Assange's ongoing asylum in the Ecuadorian embassy in London. Speculation has mounted in recent weeks that Ecuador is preparing to hand over the WikiLeaks founder to British authorities.
The new chancellor of Ecuador said that "according to international law and the conventions that regulate asylum, a person who is isolated cannot make pronouncements that affect the relationship of Ecuador with other countries." This also means that a refugee cannot interfere in the internal political situations of other countries, according to Valencia.
The statement comes just days after Ecuadorian President Lenin Moreno said that Assange had been told to refrain from intervening in the "politics and self-determination" of the country or face consequences.
Intercept co-editor Greenwald took the comments to task, questioning when this rule was created and if it was a generally accepted clause.
Greenwald noted that it seemed "bizarre" and "contradictory" that a government would grant someone asylum on the grounds that their fundamental rights were being abridged through persecution, only to tell them they're forbidden from engaging in global political debates.
Is this a generally accepted rule now in international asylum law: that once a government grants someone asylum (along with citizenship) to protect them from political persecution, the asylee is barred from speaking out on international politics? When did this rule get created? https://t.co/UfM7GbSWNc

— Glenn Greenwald (@ggreenwald) August 8, 2018
He continued the thread, questioning if this was applicable to Western governments, "or does it only apply to small, subservient governments like Lenin's?"
Meanwhile, Megaupload founder Kim Dotcom pulled no punches in his response to Ecuador's latest remarks on Assange's asylum. "Ecuador is now run by intestinal worms living in the anus of US Empire," the internet entrepreneur and privacy activist said.
Ecuador's former president Rafael Correa granted Assange political asylum on August 16, 2012. Earlier this year, the whistleblower was granted Ecuadorian citizenship in an unsuccessful effort to resolve the political impasse.
Since then, conditions have worsened for Assange after his access to communications was severely limited by Ecuadorian officials as an apparent reprimand for his controversial political activity.
Moreno declared in June that Assange's right to asylum would only be honored if he "respects the conditions" of political silence.
READ MORE: Ecuador will respect Assange's asylum right if he obeys 'no politics' condition
You can share this story on social media: