Pompeii unveiled: Jaw-dropping drone footage shows extent of city's excavation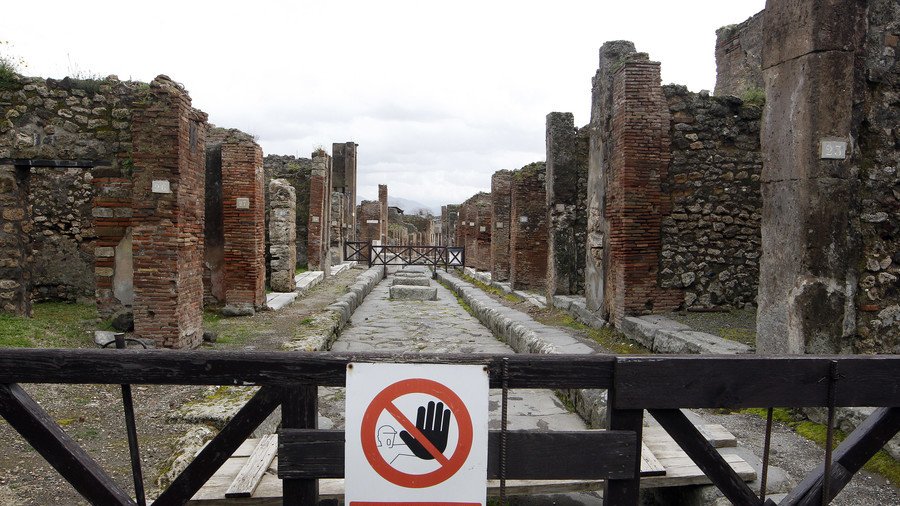 Almost 2,000 years since it was buried beneath lava spewed by Mount Vesuvius, artifacts are still emerging from the lost city of Pompeii. Now new drone footage offers history buffs a visual treasure to savor from above.
According to Pompeii expert and archaeologist Steven Ellis, the aerial tour through parts of the city's ancient streets was filmed as part of research into the incredible excavation efforts undertaken at the site.
It begins at street level, hovering over the ancient cobbled streets before rising up sharply to reveal deadly neighboring Vesuvius looming in the distance. It was in the year 79 AD that a massive eruption from the 1,281-meter-high volcano destroyed the once-thriving Roman city.
READ MORE: Headless Pompeii skeleton: Man decapitated while fleeing eruption, say archaeologists (VIDEO)
Now Pompeii is bustling again but in a different manner – with archaeologists still uncovering evidence of its past, such as the full body of a horse, swamped by lava nearly 2,000 year ago. Uncovered in the Civita Giuliana area of Pompeii, researchers were able to rebuild the shape of the animal in plaster.
In May, management at the government-protected Pompeii Archaeological Park also released the first images of a man believed to have been crushed by a large block and decapitated. It's thought the man might have been killed while fleeing the eruption.
"This exceptional find" declares @MassimoOsanna "reminds us of an analogous case, a skeleton discovered by A. Maiuri in the House of the Smith, and which was recently studied. These were the remains of a limping individual - likely impeded in his escape by motor difficulties". pic.twitter.com/kozkaYCcdQ

— Pompeii Sites (@pompeii_sites) May 29, 2018
Like this story? Share it with a friend!
You can share this story on social media: