'At night I dreamt I was back home,' says Russian climber rescued at 6300m after 6 days without food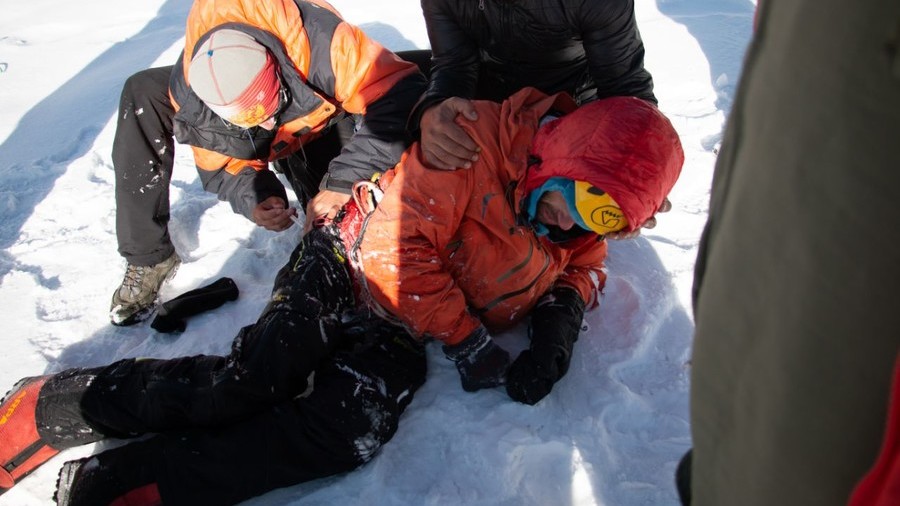 A Pakistani helicopter narrowly avoided an accident to airlift Alexander Gukov from an altitude of 6300m on Latok-1, six days after he was trapped, when his climbing partner fell to his death in a doomed never-done-before ascent.
RT's video news agency Ruptly became the first news outlet to speak to Gukov as he landed in Skardu, in northeast Pakistan. Asked about how he felt, as he still lay on his stretcher, the climber gave a glimpse into his confused and frantic state of mind on the sixth day of solitude.
"In the morning I was thinking, I have plenty dreams at night that I have already been at home. I think that maybe you also think that I am at home. I hope no, because I hope they don't forget about me," he said in English, voice still hoarse.
"Everybody, thank you for helping me," added Gukov, saving special praise for the clearing weather that let the helicopter reach him.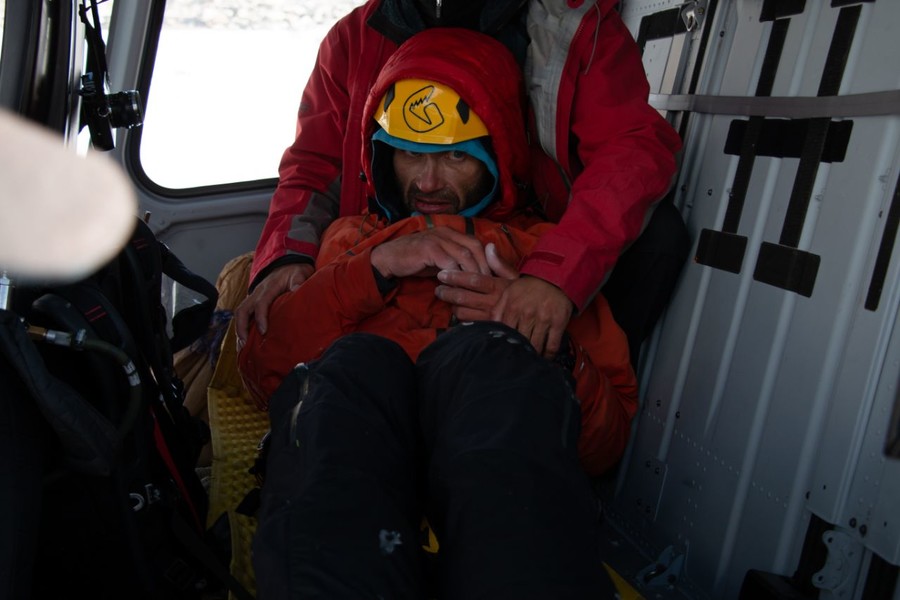 Viktor Koval, a fellow climber who traveled on the rescue helicopter, said that Gukov was unable to produce anything but incoherent muttering until he was given a corticosteroid injection to reduce cerebral edema, the accumulation of water around his brain. As he regained his senses, the 42-year-old Gukov told Koval that after three days he became numb to the lack of food, but was "near-delirious," afraid that the search helicopters would not spot him, particularly as he lost the energy to continuously dig himself out of the snow.
COAS visited Russian mountaineer Alexander Gukov at Combined Military Hospital (CMH) Rawalpindi. Mr Guvok was rescued by Pak Army Aviators from 20650 feet high Latok Peak in Pakistani Northern Areas this morning through a very challenging Aviation effort.@Russia@RT_compic.twitter.com/owmm9Ua90a

— Maj Gen Asif Ghafoor (@OfficialDGISPR) 31 July 2018
Gukov has been diagnosed with dehydration, exhaustion and starvation, but no critical frostbite, and hopes to avoid losing his toes. Following what Pakistani authorities called "a very challenging aviation effort," he has now been airlifted to the country's best military hospital in capital Islamabad.
Meanwhile, the body of his climbing mate Sergey Glazunov lies buried under piles of fresh snow. His family have announced that they will not search for him until the weather improves, and it may take years for his remains to be brought home, if ever.
Unconquered ascent
The euphoria of the rescue gives an uplifting final note to a tale of human endeavor turning to bull-headed tenacity then to recklessness and finally tragedy.
Towering at 7,145 meters, Latok-1 is not one of the world's highest mountains, but it is one of the hardest to ascend. While its summit was conquered in 1979, its north side, marked by a steep ridge, violent weather changes, and rock slides, has never been climbed. Dozens of failed attempts have made it into the Moby Dick of the mountaineering world. It was thus a fitting target for St. Petersburg's Gukov, who won the prestigious Piolet d'Or for the world's most remarkable ascent, in 2015.
Gukov's first attempt in 2017 fell 300 meters short of the top. It also nearly ended in disaster, after one of his partners contracted pneumonia, and forced the team to turn around, with amputated fingers and toes as the price. But rather than dismayed, Gukov was only further fired up, telling interviews that he now knew that the ascent was "difficult and tiring, but possible."
The 2018 expedition immediately got off to a bad start, after one of the three participants pulled out at the last moment due to family circumstances, meaning the other two would have to carry more equipment and enjoy less help if things went wrong. But Gukov was not one to climb down, perhaps encouraged by the ability of the 26-year-old Siberian Glazunov, described as an excellent athlete and a fast climber.
'I've found half a Snickers bar'
The two set off "with good fighting morale" on July 12, and initially made good progress. On July 15, the two took a calculated risk to drop heavier equipment, and leave themselves five days' worth of rations.
But the mountaineers were soon slowed by an impenetrable fog, and thick snowfall. Koval's group, which attempted a simultaneous climb along a different route, decided to turn back down.
On July 22, despite already stretching their supplies, the two dropped their bivouacking equipment, for the final push. The next day they managed only 100 meters of vertical progress.
On July 25, Koval boarded a helicopter and found the two finally descending down in admission of defeat, using body rappelling, when the rope is tied around the shoulder and waist of the climbers as they descend – a technique that is known to be dangerous.
Then a 12:24 a.m. Moscow time, a message arrives.
"I NEED HELP."
"I NEED EVACUATION."
"Sergey fell. I am hanging on the wall without equipment."
Until Gukov fully recovers, we will not know the exact sequence that led to Glazunov's deadly drop. Anna Piunova, the Moscow journalist and climber to whom the message was sent, wasn't thinking about the dead man (to whose wife she had to deliver the news) at the time, but the survivor.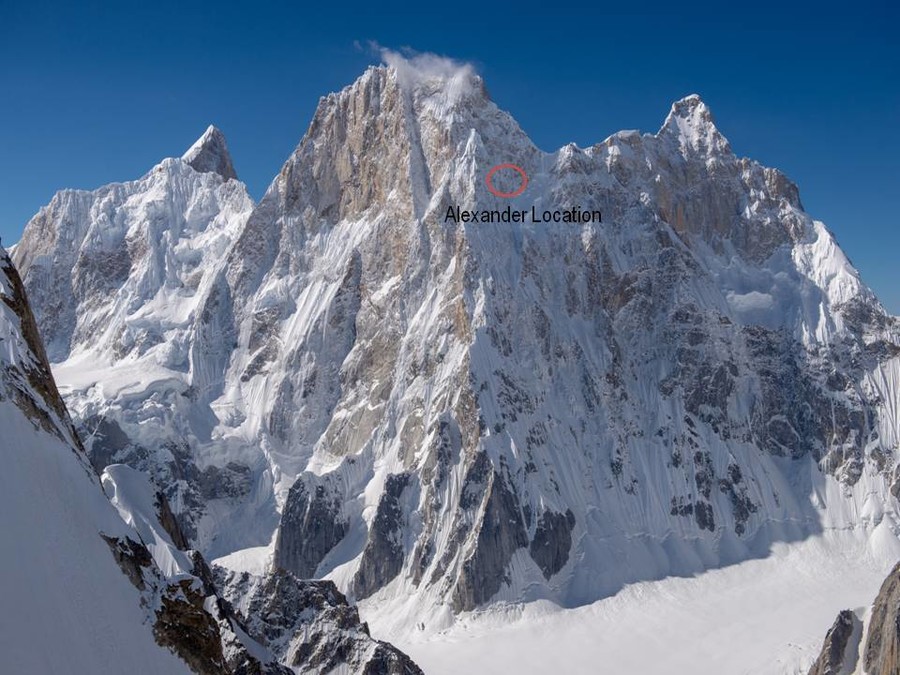 Helicopters are on standby. The world's best climbers are flying to base camp, in case they need to ascend to a place near Latok-1, to carry Gukov to a safe evacuation spot. He is "in a snow cocoon" on a tiny horizontal perch, avoiding the elements, conserving energy, waiting.
But no one can help him. There are clouds all around the mountains, and no all-clear for takeoff. Meanwhile, Alexander complains about "the f**king flying rocks."
There is a bright moment.
"I have found half a Snickers bars," he texts Anna (he also sends her a message saying "I will die here on this rock" but she chooses not to publish it in her live blog of the rescue).
He has less than one bar of charge on his emergency tracker. Then nothing. The only way he can hear rescuers now is the sound of helicopters still unable to approach.
The frayed rescue rope
Finally, on July 31, the weather clears. Two helicopters, lightly fueled and with all ballast dropped off to allow ascent to 6,300 meters, locate him soon enough.
Yet there is still only enough fuel for a sling to be thrown once. If Alexander doesn't catch it, the helicopters, one for observation, the other for rescue, will have to go back another time – if weather permits.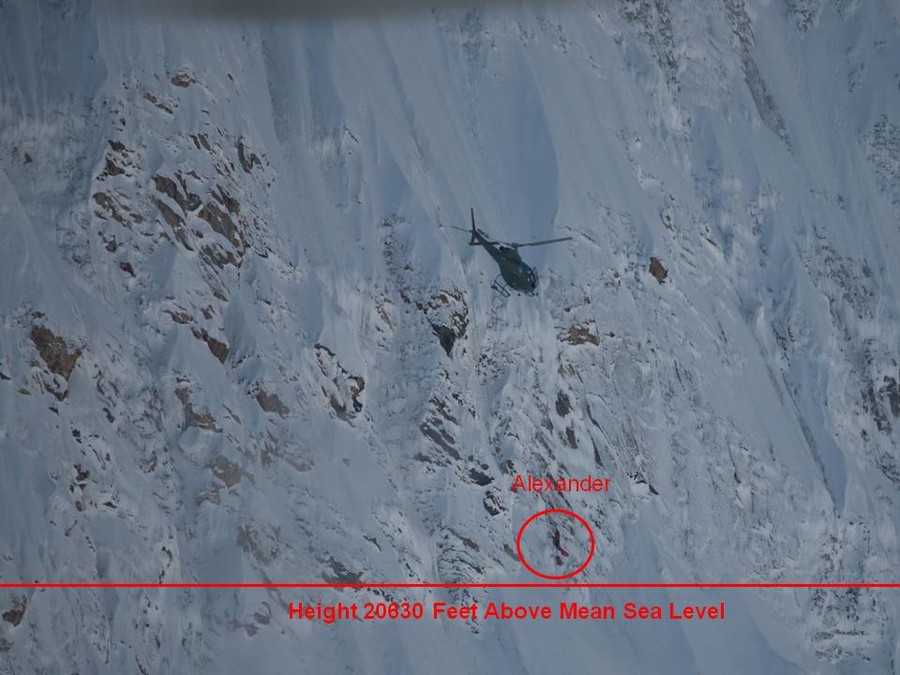 The longline has landed close enough. For fifteen minutes Alexander's frozen fingers fumble as he attempts to attach it to his harness. Green light to pull him off, and as the helicopter, tank nearly empty, does, it revs and tilts, as the pilot desperately attempts to steady it, having barely kept it hovering under control in the minutes above.
Alexander hasn't detached his anchor from the mountain. Piunova will later write that she wrote constant messages urging Gukov to "DETACH!" however addled his mind. Koval will counter that Gukov told him that he remembered and tried, but simply couldn't manage it fast enough.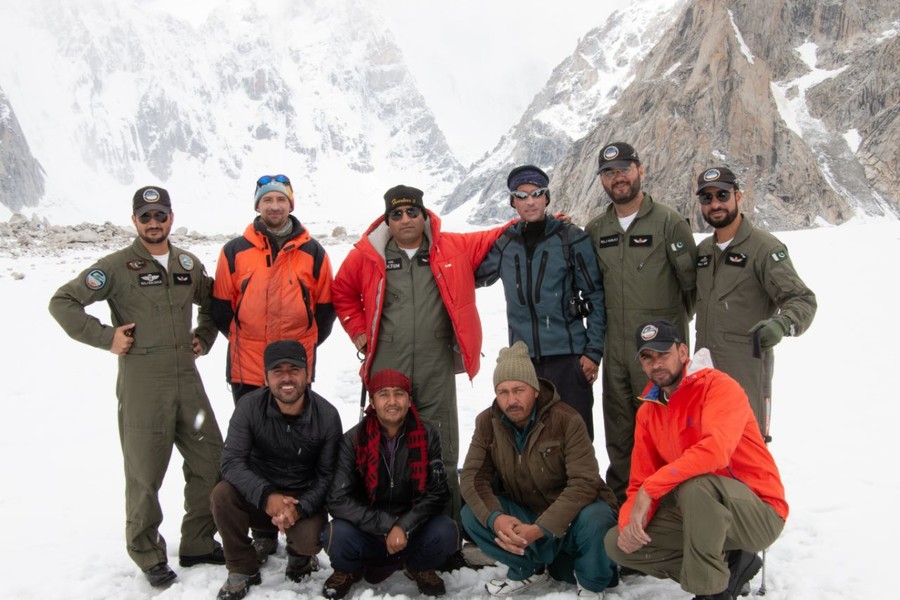 As the helicopter tugs away, Alexander is stuck to the mountain, flailing as he is being pulled from two directions. Koval says that the tension in the longline that will bring him to safety is so high, the casing has come off the rope. But in another fortuitous turn, the anchor gives out first, and minor lacerations aside, Gukov is delivered to safety.
Even though Alexander still can't move at all by himself, everything else from now on is easier. Apart from one thing, coming to terms with Sergey's death. And this invites the deeper personal question in the mind of a man who has dedicated his life to death-defying pioneering ascents – is it all worth it?
"[When up there] I was thinking about will I come back to the mountain or not. But this is another story," says Gukov, notably refusing to lock in in his options. "Now I want to be at home with my wife, children and mother-in-law. I have a good mother-in-law."
Igor Ogorodnev
You can share this story on social media: