Ecuador will respect Assange's asylum right if he obeys 'no politics' condition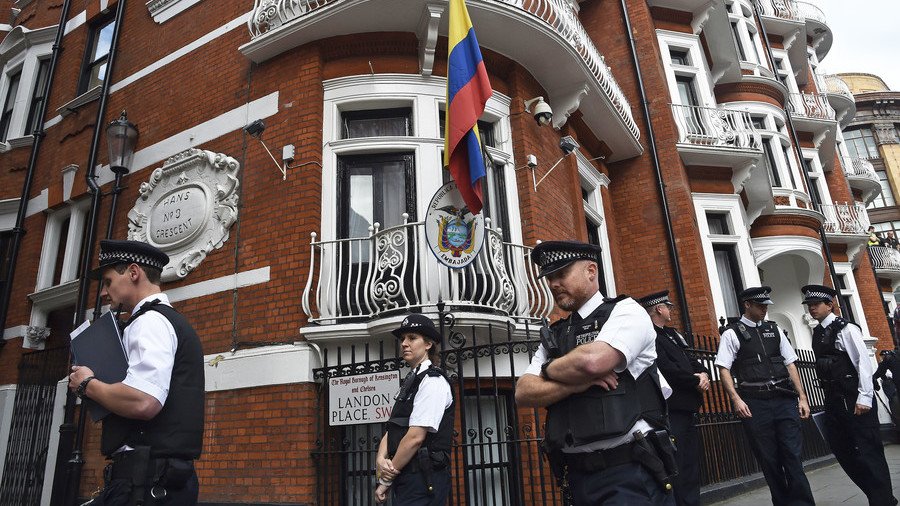 Julian Assange's right to asylum in the Ecuadorian Embassy in London will only be honored if the WikiLeaks founder "respects the conditions" of political silence, President Lenin Moreno announced.
Ever since Lenin Moreno became the president of Ecuador last year, the liberties enjoyed by Julian Assange have been reduced due to the whistleblower's controversial "political activity." Over the last few months, Assange has seen bans on using the phone, the internet, and having visitors, after the 46-year-old spoke out against Britain's response to the poisoning of Sergei and Yulia Skripal in Salisbury, and following his repeated comments about Spain's dispute with Catalonia.
The Australian journalist, who has been holed up in the embassy since 2012, "continues being a problem," Moreno told DW Spanish. "But Ecuador will respect his right to asylum if Assange respects the margins."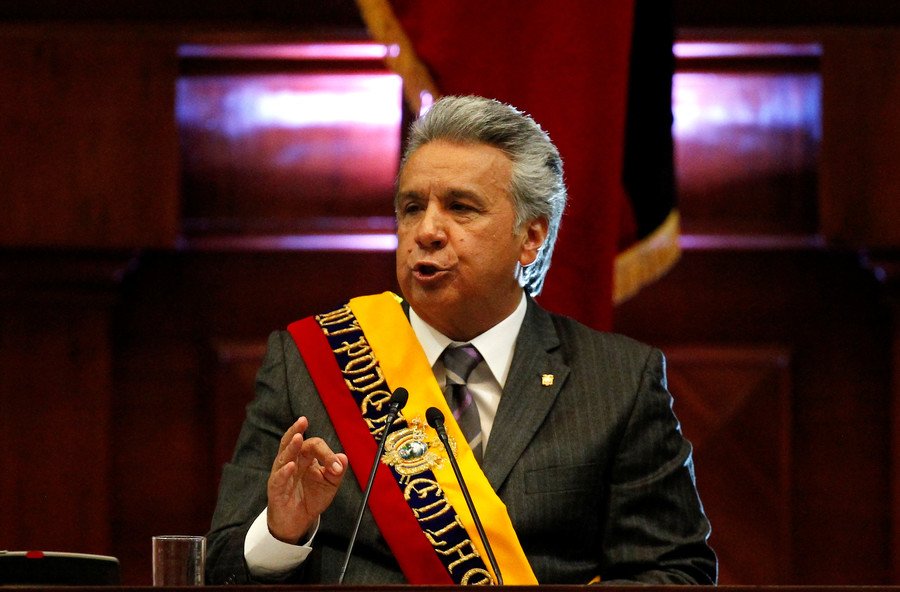 "He will continue enjoying his right to asylum, as long as he meets the requirements," Moreno said. "Do not forget that his asylum status prevents him from talking about politics and intervening in friendly countries' politics. That's why we cut his communication."

If Assange disregards the conditions, the Ecuadorian government could "take a decision" to reconsider his status, Moreno said.
Assange was granted asylum by the former president, Rafael Correa, who has shown repeated support for the whistleblower. In contrast to Correa, President Moreno, is less sympathetic to Assange's plight.
Under the new leadership, Ecuador signed a bilateral security deal with the US aimed at fighting "transnational organized crime," and Moreno made it clear that Assange had become a nuisance to his country. However, despite placing numerous restrictions on Assange, Moreno categorically denied facing any pressure from the United States or other governments to remove Assange's protection.
"There are two types of liberty. The responsible liberty and the cave liberty in which everyone thinks they can do whatever they want, whenever they want and however they want. That's not liberty. Liberty must be used with a lot of responsibility," he said.
Assange, whose WikiLeaks website published secret documents pertaining to US national security, fears that if he leaves the embassy, he will be extradited by the British authorities, who have an active arrest warrant, to the US. There he could potentially face decades behind bars for violations of a number of offenses, including the Espionage Act.
If you like this story, share it with a friend!
You can share this story on social media: