Wanting younger leadership is 'sexist' says Pelosi, after forgetting Senate leader's name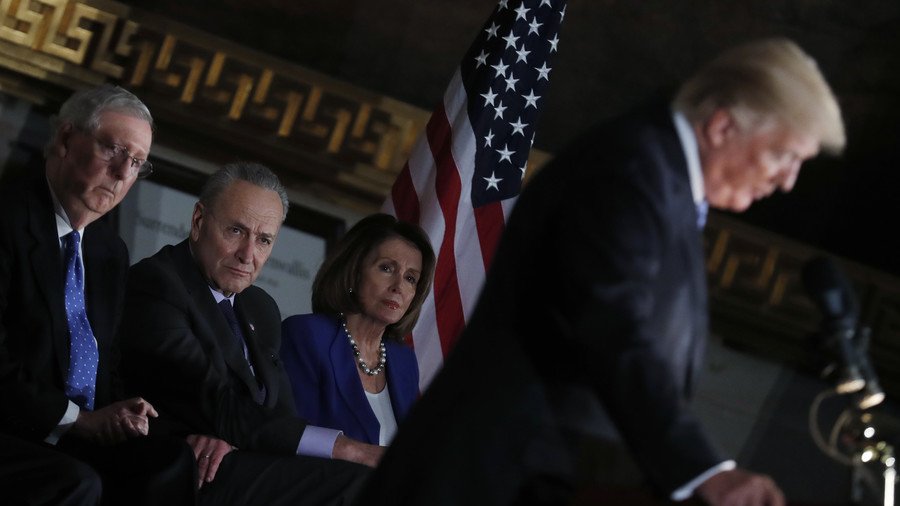 Calling herself a "legislative virtuoso," House Minority Leader Nancy Pelosi brushed off calls for someone younger to lead the Democrats if they win the midterms. Such talk is "a little bit sexist," she told Rolling Stone.
Pelosi (D-California) was the first and only female Speaker of the House from 2007 to 2011, and she hopes to hold that position again after the November midterms, she said in an interview conducted in May but published Sunday.
"The gavel makes all the difference in the world… the awesome power. The speaker has awesome power," she said, rapping the table with a knife to illustrate her point.
Asked about the margin needed to secure the gavel, Pelosi rambled a bit on how it's not really about her, before describing the calls for someone younger to lead the Democrats as "a little bit on the sexist side."
"Has anyone asked whatshisname, the one who's the head of the Senate?" she said, before aide Jorge Aguilar helpfully supplied her with the name of Mitch McConnell (R-Kentucky).
READ MORE: 'We know where you live': Anti-Trump #resistance threatens Senate leader Mitch McConnell
"Nobody ever went up to Harry Reid and said that. Nobody ever says that to anybody except a woman," Pelosi added.
The exchange prompted the conservative news site Breitbart to urge Pelosi to take Hydergine, a medication for dementia. Another critic quipped that the interview showed Pelosi's brain is "missing in action."
Reid was the Senate Majority Leader until January 2015, when he retired at the age of 77. McConnell turned 76 in February this year. Pelosi is 78.
When Rolling Stone brought up the calls from Representatives Seth Moulton (D-Massachusetts) and Tim Ryan (D-Ohio) for a new leadership, Pelosi dismissed the two as "inconsequential." Moulton is 39, and Ryan is 44.
"They don't have a following in our caucus. None," she said, only to reverse herself moments later, saying, "Anybody is consequential. But I have great support in my caucus."
Pelosi's statements have provided President Donald Trump and the Republicans with a rallying cry for their base in November. Critics accused the wealthy San Franciscan of dismissing the tax cut as "crumbs," defending MS-13 gang members as possessing "the spark of divinity," campaigning for open borders while living in a gated mansion, and ignoring Kate Steinle, one of her constituents killed in 2015 by an illegal immigrant.
"I don't think for a second that we should allow Republicans to choose the leaders of the Democratic party because they put money in with their – what's the word I want to use? Making a caricature of somebody. I mean discriminatory," Pelosi told Rolling Stone. "They discriminate against LGBT. That's just who they are. It's a funny thing about them: They do not share our values."
Meanwhile, the city of San Francisco, which she represents in the House, has had over 16,000 municipal complaints just this year about human and other excrement accumulating on the streets.
Like this story? Share it with a friend!
You can share this story on social media: