Complaints soar as San Francisco drowns in human waste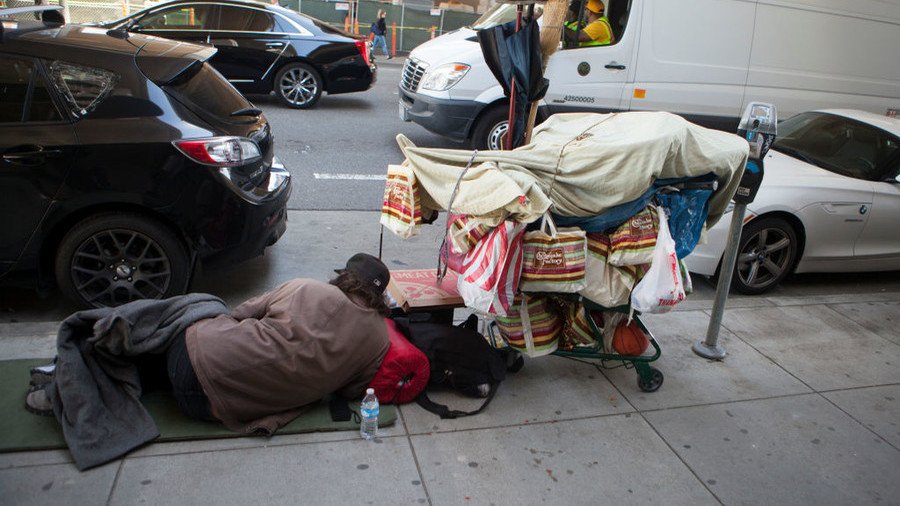 Tech hub San Francisco, California is the second-most expensive US city to live in. It's also awash with human waste. This year, over 16,000 feces-related complaints have been lodged with city authorities.
As of Thursday, there have been 16,022 complaints made about 'feces,' and thousands of others made using words like 'sh*t', 'poop' and 'excrement', to San Francisco's municipal authorities.
"Human feces still not cleaned up despite multiple complaints. How many weeks will pass?" reads one complaint lodged Wednesday.
"Bodily fluids and feces down the whole street, garbage, cloths, food thrown all over sidewalk," reads another.
"Homeless encampment is blocking sidewalk and creates a health hazard w trash and feces. Please move them, and send a cleaning crew. Sidewalk is impassable, forcing pedestrians into the street," reported one user, his complaint accompanied with a photo of a tent pitched under a tree in the city's central Mission district.
San Francisco residents can make non-emergency '311' municipal complaints with the touch of a button, thanks to a website and a mobile app. Complainants can attach photos as proof, and the authorities send a notification when the problem is resolved.
Many of the complaints are connected to the city's homeless problem. Rent in the city averages over $3,500 per month, pricing out all but the highest earners and creating a city of wealthy tech employees on one side, and a teeming homeless underclass on the other.
There are an estimated 7,500 homeless people in San Francisco at any given time, almost one percent of the city's 871,000 population. Elsewhere in California, the problem is almost as grave, with more than one quarter of the US homeless population living in the state.
The city's seedy underbelly leaves behind other forms of hazardous waste too. A February NBC report revealed that in addition to feces, downtown San Francisco is polluted with more garbage and used syringes than some of the world's poorest slums.
Dr Lee Riley, an infectious diseases expert at the University of California in Berkeley, told NBC reporters that in some parts of the city, the contamination is "much greater than communities in Brazil or Kenya or Italy."
Getting stuck by a used needle can pass on diseases like HIV and Hepatitis B and C. San Francisco has one of the largest HIV-positive populations in the US, with an estimated 16,010 people living with the disease.
The extent of San Francisco's human waste problem was graphically illustrated last week, with photos of a 20-pound bag of excrement abandoned on a street corner going viral. The city received several 311 complaints about the bag, as citizens reported a "strong smell of feces" in the area. One reddit user described the bag as "the most atrocious smell I've ever smelled in San Francisco."
Complaints about human waste in San Francisco have skyrocketed, increasing by 400 percent from 2008 to 2018, according to the City. The 311 site and app received over 21,000 reports last year. At the current rate, that figure will be more than doubled by the end of 2018.
The problem is starting to hit the Golden Gate City where it hurts too. This week, a major medical association decided to pull its annual convention out of the city, citing safety concerns.
The convention was expected to draw 15,000 attendees and bring $40 million into the city's economy, but organizers told the San Francisco Chronicle that members were afraid to walk the streets and felt threatened by open drug use, unchecked mental illness, and threatening behaviour from the city's vagrant population.
Twitter users have not been shy about their disgust with the city's problems, with many blaming years of Democrat leadership for allowing the problem to fester.
San Francisco has grappled with homelessness since the 1970s, with the shortage of housing, deindustrialization, welfare cuts, and the gutting of the city's middle class through high taxes and gentrification all getting blamed for the problem. Attempts to fix the situation have thus far proven unsuccessful. The temporary shelters opened by Dianne Feinstein in the late 1970s were underfunded and buckled under demand, while the aggressive crackdowns of Frank Jordan and Willie Brown in the 1990s and 2000s drew public backlash and alienated the city's liberal voters. The city has not had a Republican mayor since 1964.
Recently elected Mayor London Breed has faced even more urgent calls to address the issue before business and tourism are scared away for good. Industry leaders have encouraged the mayor-elect to increase police patrols, enforce panhandling laws, and fund mental health services. With tourism bringing in some $9 billion dollars per year, failing to clean up the streets could bankrupt the city by the bay.
If you like this story, share it with a friend!
You can share this story on social media: