Who'll host Alex Jones? Porn sites enter the infowars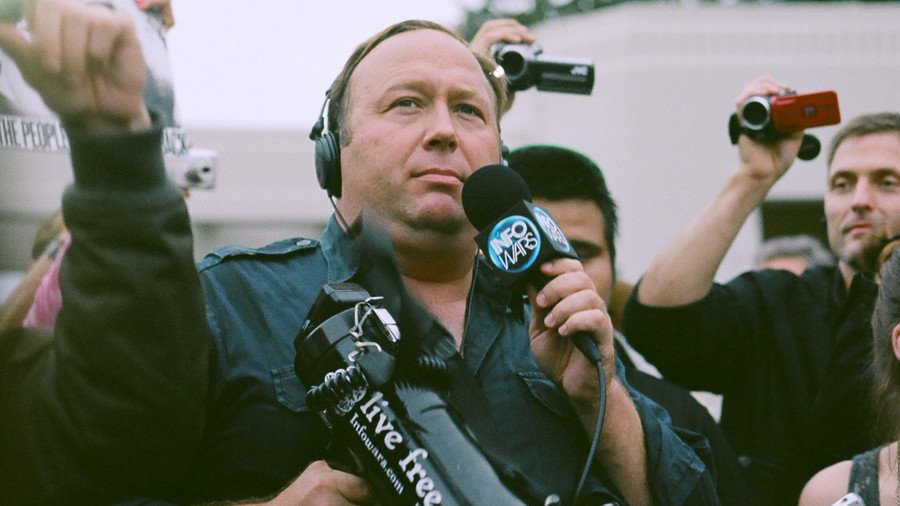 Following the simultaneous decisions of Facebook, Apple, YouTube and Spotify to ban conspiracy theorist Alex Jones from their platforms for 'hate speech,' even porn sites are declaring him unwelcome.
Jones was excommunicated from the tech giants' platforms following a pressure campaign from the American left and CNN. The companies leveled vague accusations of 'hate speech' at Jones, and said that his content and the content of his InfoWars channels violated community standards. InfoWars' Paul Joseph Watson said that the ban set "a chilling precedent for free speech."
Jones had courted controversy for claiming that the Sandy Hook elementary school shooting was staged by the government, and for his belief in the 'Pizzagate' conspiracy theory. Jones has since walked back on some of these controversial positions, and has instead positioned himself as a political pundit, defending the American way from Democrat "demons" and establishment Republican "goblins."
Jones' polemical rants and conspiracy theories lived on in another corner of the internet: porn sites. With Jones effectively banned from the respectable face of the internet, viewers could still get their sweaty-palmed conspiracy fix on adult entertainment sites like YouPorn.
Not any more. YouPorn jumped on board the hate speech bandwagon late Monday. The site's vice president Charlie Hughes issued a statement saying:
"Following news that YouTube, Spotify and Facebook have banned Alex Jones from their platforms, team YouPorn is joining in solidarity and announces we are banning his content as well. As one of the largest user-generated content platforms in the world, we have already removed his videos that have violated our terms of service. As an inclusive platform, hate has no place on YouPorn."
While YouPorn and its ilk have long hosted parody videos, with creative titles like 'Alex Jones lubing up and violently thrashing his opponents', they have also hosted genuine InfoWars content. Now, Jones' videos have been scrubbed from multiple porn sites. PornHub, the internet's most popular and top-earning smut site, did not issue a statement, but at time of writing had pulled all of its Jones-related content.
A safe haven
While most users don't visit porn sites for fiery political commentary, users often take advantage of the sites' lax content and copyright policing to upload non-pornographic content, especially users who produce content that falls afoul of mainstream platforms' PC censorship policies.
After YouTube clamped down on firearms-related content in the wake of the Parkland school shooting, some gun enthusiasts began publishing their content on PornHub. "PornHub has a history of being a proactive voice in the online community, as well as operating a resilient and robust video streaming platform," said a spokesman for InRange TV, a gun vlog that moved some of its content to PornHub.
However, videos of hard barrels, thick stocks and armor-penetrating rounds went too far beyond the pale for PornHub's management, and the site banned gun videos a few weeks later.
What's next?
Jones' complete excommunication from the platforms of the tech giants ignited a fierce debate about free speech. Conservatives and Jones fans argue that the tech giants, aware of their almost total control over who sees information, came together to de-platform Jones, and could come for more moderate outlets next.
I'm not a fan of Alex Jones or Infowars but I don't understand how Apple, Facebook, Spotify and Youtube all banned him within 12hrs. YouTube is the second largest search engine outside of google. If they do it to him, they can do it to anyone. Censorship is not ok.

— Jaclyn Glenn (@JaclynGlenn) August 7, 2018
Democrats and the social-justice brigade argue that Jones' misinformation can lead to real harm. Furthermore, they argue, Apple, Google, and Facebook are private companies, and can ban whoever they damn well please from using their services.
Apple removing Alex Jones & Infowars isn't some terrible form of censorship against conservatives.He's said Sandy Hook wasn't real.He's suing parents from the school.He said the Holocaust wasn't real.He's not just a conservative.He's a conspiracy theorist who hurts people.

— emilia (@PoliticalEmilia) August 6, 2018
Reading the knuckleheads argue that banning infowars is "censorship" reminds of my days blocking people on George Martin's blog for threatening to kill him and getting accused of censorship. You have no legal right to be an asshole in places you don't own. Owner can kick you out.

— James S.A. Corey (@JamesSACorey) August 7, 2018
Democrat Senator Chris Murphy (Connecticut) called InfoWars "the tip of a giant iceberg of hate and lies," and called for tech companies to ban other controversial outlets. Far from being a lone voice, Murphy's sentiment was echoed throughout liberal Twitter.
Infowars is the tip of a giant iceberg of hate and lies that uses sites like Facebook and YouTube to tear our nation apart. These companies must do more than take down one website. The survival of our democracy depends on it.

— Chris Murphy (@ChrisMurphyCT) August 6, 2018
"Banning Infowars is a slippery slope!" is the most immensely bullshit take. There can be a line. We can be cool with de-platforming a bigoted conspiracy theorist who tortures the parents of murdered children. WE DON'T HAVE TO TREAT ALL SPEECH THE SAME WAY.

— Kelly Ellis (@justkelly_ok) August 7, 2018
Immediately after Jones' ban came into effect, Twitter suspended the accounts of radio host and editorial director of antiwar.com Scott Horton, former State Department employee and author Peter Van Buren, and Dan McAdams, the executive director of libertarian think-tank the Ron Paul Institute for Peace and Prosperity.
Accusations of liberal bias have dogged the Silicon Valley tech giants since Donald Trump's victory in 2016. To conservatives, and to controversial figures like Alex Jones, every fresh ban and every 'de-platforming' is another turn of the screw, and makes it increasingly clear that there's no room at the table for dissenting voices, even in the grubbier, smuttier corners of the internet.
Like this story? Share it with a friend!
You can share this story on social media: