Baron-Cohen strikes again: Republican wields anti-terror pork shield, Arpaio mulls Trump 'blow job'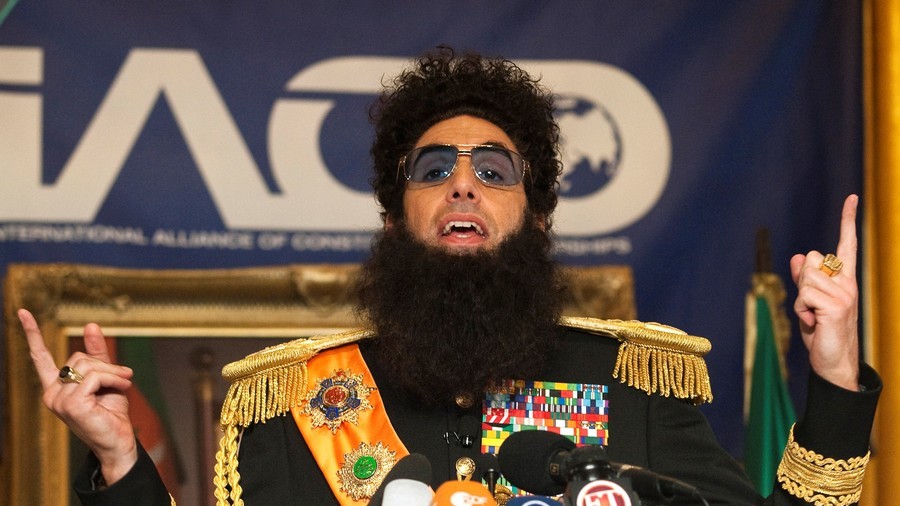 Sacha Baron Cohen's satirical war on American politics has returned, this time seeing Republican donor Shaun McCutcheon deploying a "pork shield" against Islamic terrorism and Sheriff Joe Arpaio chat about a Trump 'blow job'.
Cohen's 'Who is America?' has already brought memorable moments such as Senator Bernie Sanders' annoyance with bogus analysis of the wealthiest "one percent" in the US. The Showtime programme and its star comedian recently duped a number of US lawmakers into promoting a fake gun program teaching children as between the ages of four and 12 to handle a firearm.
READ MORE: '3yos can't protect themselves from guns with pencils': US lawmakers tell Sacha Baron Cohen
In the latest episode, Cohen, of Borat and 'The Dictator' fame, pulls on a number of rubbery prosthetics to target Donald Trump campaigner Shaun McCutcheon and ex-sheriff Joe Arpaio. During a series of montages, McCutcheon is coaxed by Israeli sergeant Erran Morad [Cohen's alter ego] into defending himself from a terrorist attack using a slab of pork and a 'gay shield'.
"Here comes pork, bang, bang, bang, bang," shouts McCutcheon, who successfully fought against aggregate limits on political donations.
McCutcheon is also filmed calling out "you're a homo" repeatedly as he wields a shield with a picture of two men having sex on it. In that part of the show, the Republican donor is accepting defence training from Cohen's character and is seen to be chasing down a fake terrorist.
Cohen's other character OMGWhizzBoyOMG!, a supposed social media star with broken English, also managed to inexplicably get US Senate hopeful Joe Arpaio to talk about accepting an "amazing blowjob" from President Donald Trump.
The former sheriff of Maricopa County was pardoned last year by President Donald Trump after he was convicted of criminal contempt for failing to follow a federal judge's ruling about targeting immigrants.
READ MORE: Trump pardons ex-sheriff Joe Arpaio
In the segment, Arpaio also explains gun laws to a plastic toy named "Delish Donut".
"Delicious donut you have to understand that you have to follow the constitution and the law allowing people to have guns," Arpaio told the toy confectionary. "Bad guys are going to get their guns and kill you. I'm hoping that somebody else has a gun and will shoot that person before he shoots you," the ex-sheriff said, pointing at the miniature donut."
Like this story? Share it with a friend!