'3yos can't protect themselves from guns with pencils': US lawmakers tell Sacha Baron Cohen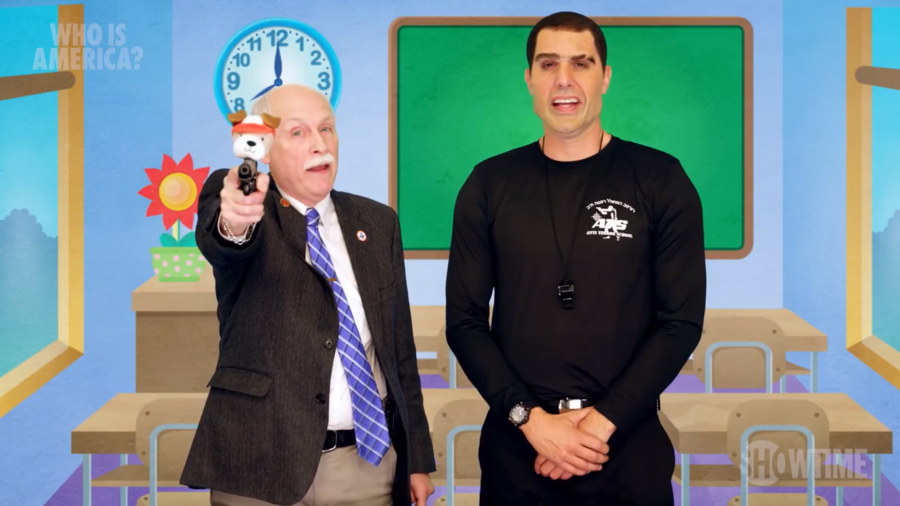 US lawmakers were filmed backing a fake program to teach kindergartners how to use guns to defend themselves in school shootings, as part of a new Sacha Baron Cohen undercover-in-character show.
The infamous prankster, who previously took aim at American culture in the 2006 movie 'Borat,' is up to his old incognito tricks again with a comedic seven-episode Showtime series aimed at making fun of the Trump-era US.
In the first episode of the series 'Who Is America,' several US lawmakers are filmed backing a fictitious program to teach kindergartners how to use guns to defend themselves in the event of a school shooting.
The episode, seen by Reuters in a media preview ahead of its Sunday night debut, shows Republican Congress members Dana Rohrabacher of California and Joe Wilson of South Carolina, along with former Senate Republican leader Trent Lott, who is now a lobbyist at a Washington law firm, watching a fake instructional video about the 'scheme.'
READ MORE: 'Shouldn't be in kindergarten': Lockdown rhyme tells kids how to evade active shooter (PHOTO)
The video features children's songs and "gunimals" – weapons attached to cuddly toys – to help kids defend themselves against school shooters. Wilson, Lott and Rohrabacher are seen "enthusiastically backing the idea," according to Reuters, along with gun-rights advocates and former congressman-turned-talk-radio-host, Joe Walsh.
Also interviewed for the program was Republican Matt Gaetz of Florida, who appeared less inclined to take the bait, asking Cohen's gun-loving character in the trailer to the show: "You want me to say on television that I support three- and four-year olds with firearms? Is that what you're asking me to do?"
Former senator Lott, however, talks directly to the camera when he says: "America would be wise to implement" the program. "It's something we should think about in America, about putting guns in the hands of law-abiding citizens, good guys – whether they be teachers, or whether they actually be talented children or highly trained preschoolers," he says.
In a separate interview, Senator Rohrabacher says: "Maybe having many young people trained and understanding how to defend themselves in their school might actually make us safer here."
A "three-year-old cannot defend itself from an assault rifle by throwing a Hello Kitty pencil case at it," says Wilson. "Our founding fathers did not put an age limit on the Second Amendment," he adds.
READ MORE: Sacha Baron Cohen tricks Sarah Palin into believing he's a war veteran
Walsh goes further by explaining that children can take part in a "intensive three-week" course to train kids aged between four and 12 how to use "pistols, rifles, semi-automatics."
"In less than a month… a first-grader can become a 'first-grenader,'" says Walsh.
Neither of the episode's participants have seen the finished show, and no politician has responded to media requests about their appearance. However, Walsh told CNN last week that he was tricked into reading off a teleprompter.
Cohen has been tweeting several teasers for the series, which Showtime said has been a year in the making. In one clip, Cohen appears to be interviewing former vice-president Dick Cheney, whom he gets to sign his "waterboard kit."
Earlier this week, former US vice-presidential candidate Sarah Palin attempted to get ahead of the furor by pre-emptively admitting she had been "duped" by Cohen into giving a "really embarrassing, humiliating interview" with a man she believed to be a "disabled" veteran.
In a lengthy Facebook post, Palin lashed out at the comedian for the "sick" joke and questioned how he can sleep at night. "By the way, my daughter thinks you're a piece of ****, Sacha," she wrote.
Like this story? Share it with a friend!
You can share this story on social media: