Facebook bans Infowars for using 'hate speech' as Apple removes Alex Jones' podcasts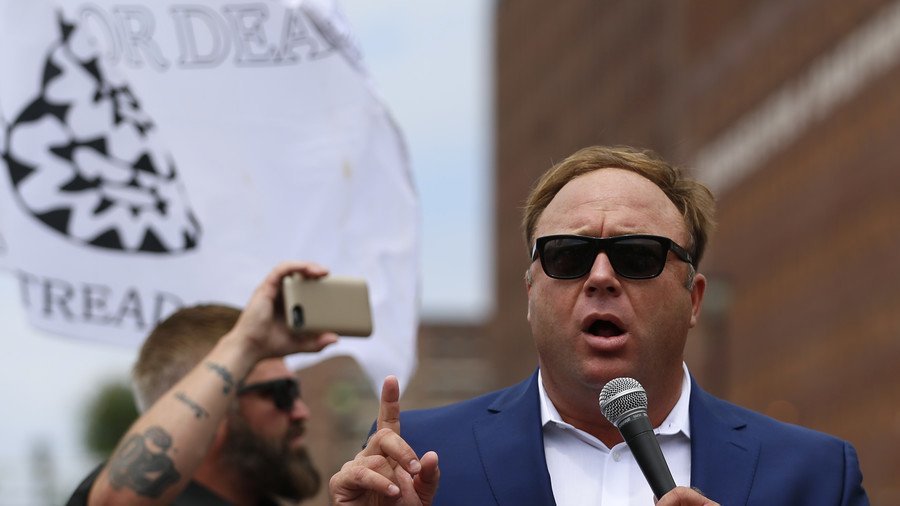 Facebook has shut down InfoWars' page saying the conservative news outlet used hate speech. An editor at the website says the social media giant failed to tell it what the offending posts were.
InfoWars Editor-at-large Paul Joseph Watson said in a tweet that the account has been "permanently banned" for "unspecified" hate speech. Visitors to InfoWars page are now greeted with a message saying: "Sorry, this content isn't available right now".
Describing the development as a "chilling precedent for free speech," Watson said that Facebook did not tell the media organization what the offending posts were.
"To all other conservative news outlets – you are next. The great censorship purge has truly begun," he wrote.
Facebook said in a blog post on Monday that it was banning four of the pages belonging to Infowars founder Alex Jones for repeatedly uploading content in breach of the social network's community standards.
The company said that when it deletes content, the removal counts as a strike against the person that uploaded it. It added that the reason for removing Jones' pages was not related to concerns over false news.
"All four Pages have been unpublished for repeated violations of Community Standards and accumulating too many strikes," Facebook explained.
"While much of the discussion around Infowars has been related to false news, which is a serious issue that we are working to address by demoting links marked wrong by fact checkers and suggesting additional content, none of the violations that spurred today's removals were related to this."
Jones is being sued by parents of the Sandy Hook school shooting for claiming that the attack was a hoax. Late last month the parents slammed Facebook CEO Mark Zuckerberg for failing to protect them from harassment by conspiracy theorists.
READ MORE: Facebook fails to stop aggression from Sandy Hook conspiracy theorists, say parents
The development comes after Apple removed Jones' daily podcasts from its podcast directory.
"Apple does not tolerate hate speech, and we have clear guidelines that creators and developers must follow to ensure we provide a safe environment for all of our users," an Apple spokesperson told BuzzFeed News.
"Podcasts that violate these guidelines are removed from our directory making them no longer searchable or available for download or streaming. We believe in representing a wide range of views, so long as people are respectful to those with differing opinions."
Apple Podcasts is arguably the most important platform in the podcasting industry. It drives a substantial amount of traffic to the podcasts it features on its homepage or in its charts.
Like this story? Share it with a friend!
You can share this story on social media: