Facebook fails to stop aggression from Sandy Hook conspiracy theorists, say parents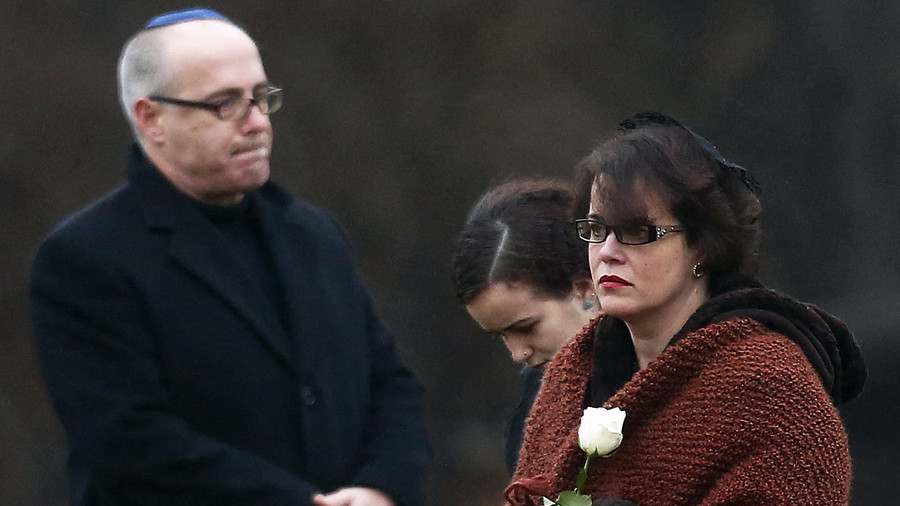 Parents of the victims of the Sandy Hook school shooting have slammed Facebook's Mark Zuckerberg for failing to protect them from harassment by conspiracy theorists.
Shooter Adam Lanza killed 26 people at the elementary school in Newtown, Connecticut in 2012 – 20 of the victims were children under the age of seven.
Lenny Pozner and Veronique De La Rosa, whose 6-year-old son Noah Pozner was killed at Sandy Hook, penned an open letter to Zuckerberg accusing the company of protecting conspiracy groups claiming the massacre was a hoax.
READ MORE: Sandy Hook 'hoax' claim: Alex Jones sued by parents of massacre victims
"We have endured online, telephone, and in-person harassment, abuse, and death threats. In fact, one of the abusers was sentenced to jail for credible death threats that she admitted in court she had uttered because she believed in online content created by these 'fringe groups,'" Pozner's parents wrote.
"Our families are in danger as a direct result of the hundreds of thousands of people who see and believe the lies and hate speech, which you have decided should be protected."
The people who are most affected by Facebook's policies, are pushed to write open letters to Mark Zuckerberg because nothing else works. First activists from Myanmar, Sri Lanka and others, and now, Sandy Hook parentshttps://t.co/cxx8vZ42Wmpic.twitter.com/PkgN9LPTVc

— Hanna Kozlowska (@hannakozlowska) July 25, 2018
Facebook continues to side with InfoWars, which bullies and slanders the parents of the Sandy Hook shooting victims. I really don't understand why Facebook keeps choosing to defend fake news, hoaxes and even Holocaust deniers over the people they victimise https://t.co/h0Yieoz2rH

— Christopher Wylie 🏳️‍🌈 (@chrisinsilico) July 25, 2018
People need to leave Facebook.

— Jane Hudson 🌊 (@Janiemart) July 26, 2018
Facebook has gone to great lengths to present the image that it's taking steps to clamp down on fake news and increase fact checking. However, it has been criticized for allowing InfoWars and others to continue to disseminate conspiracy-laden content on the platform. The company has defended this decision, saying to ban InfoWars would go against free speech principles.
Alex Jones' InfoWars has long accused the victims and families of the Sandy Hook massacre of being crisis actors in a bid to to claim the tragedy was a false flag created by the Obama administration to "take away our guns." Jones and other conspiracy groups believe most mass shootings in the US are elaborate ploys to trick the public. He is being sued for defamation by a number of Sandy Hook families.
Facebook needs regulation just like the media. Their greed is having serious consequences..

— Andrea Munich (@DreaPeking) July 26, 2018
Put simply, @facebook is more concerned about Alex Jones, who consistently breaks their Community Standards, than the Sandy Hook parents who he and his followers are responsible for harassing.This is untenable. https://t.co/MvTjb6ki1W

— Sleeping Giants (@slpng_giants) July 25, 2018
Facebook responded to the letter and subsequent backlash in a statement which said their "hearts go out" to the parents and said it doesn't "allow people to mock, harass or bully the victims of tragedies," and that this includes claims that people are crisis actors.
Pozner's parents suggested Facebook make victims of mass shootings a protected group so that attacks against them would be against policy, and give them access to Facebook staff who can quickly remove any harassing posts about them.
The Facebook group, Sandy Hook Facts, announced Wednesday that the Sandy Hook Hoax group has been removed from Facebook. The company's value fell by $148 billion on Wednesday after it reported lower revenue and user growth with profits continuing to fall in 2018 as a result of its investment in security measures.
Like this story? Share it with a friend!
Subscribe to RT newsletter to get stories the mainstream media won't tell you.