Sandy Hook 'hoax' claim: Alex Jones sued by parents of massacre victims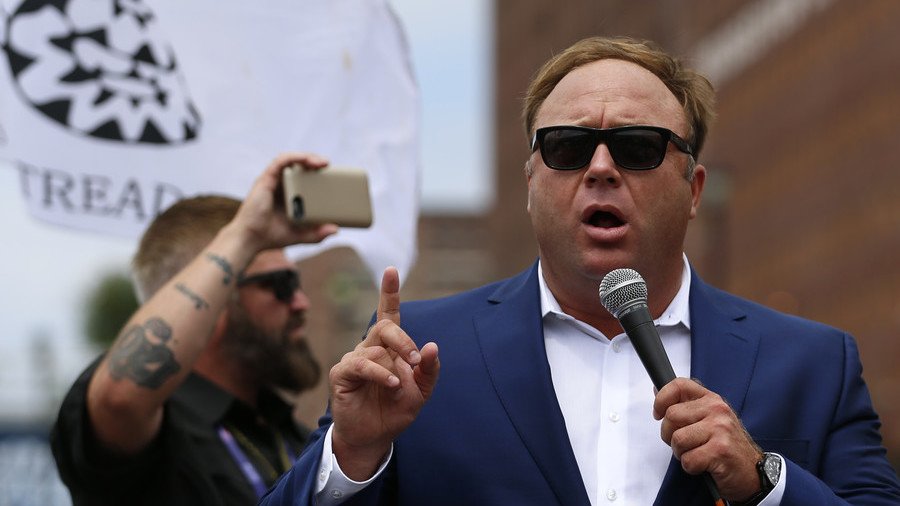 Parents of two children killed in the Sandy Hook Elementary School massacre are suing Infowars frontman Alex Jones for defamation. Jones has consistently claimed the shooting was a hoax and the parents of the victims are actors.
The 2012 shooting, perpetrated by 20-year-old Adam Lanza, resulted in the deaths of 20 elementary school children and six adults. Despite this, noted right-wing conspiracy theorist Jones continues to insist it was a "giant hoax" and those behind it are advocates for gun control.
The first of two lawsuits, filed in Austin, Texas, where Jones resides and from where he broadcasts his Infowars show, was filed by Leonard Pozner and his ex-wife, Veronique De La Rosa, whose son Noah Pozner was killed.
The second was filed by Neil Heslin whose son Jesse was murdered, both boys were six years old. The parents are seeking $1 million in damages from Jones and his company Infowars and Free Speech Systems LLC.
Both suits relate to comments made last year by Jones. The first of which occurs during an Infowars segment, aired last April, entitled 'Sandy Hook Vampires Exposed.' In the show Jones references an interview given by De La Rosa, after the murders, with CNN's Anderson Cooper.
During the piece Cooper's nose seems to disappear leading Jones to claim that they are both actors and his nose "disappears repeatedly because the green screen isn't set right." In June, during a profile of Jones, NBC's Megyn Kelly interviews Heslin, who tells her that: "I lost my son. I buried my son. I held my son with a bullet hole through his head."
Jones later took umbrage with this statement claiming that: "Quite frankly, the father (Heslin) needs to clarify, NBC needs to clarify, because the coroner said none of the parents were allowed to touch the kids or see the kids and maybe meaning at the school. I'm sure later maybe the parents saw their children."
Despite the lawsuits, conspiracy-laden articles and videos relating to Sandy Hook continue to appear on the Infowars site and YouTube channel. One claims that the FBI says that no one was killed in the massacre and another claims that Sandy Hook officials are "running scared" having been "caught" in a "cover-up."
Like this story? Share it with a friend!
You can share this story on social media: