Possible love triangle motive as video questions NYPD cop's story over sidewalk shooting
Published time: 5 Aug, 2018 17:22
Edited time: 6 Aug, 2018 07:59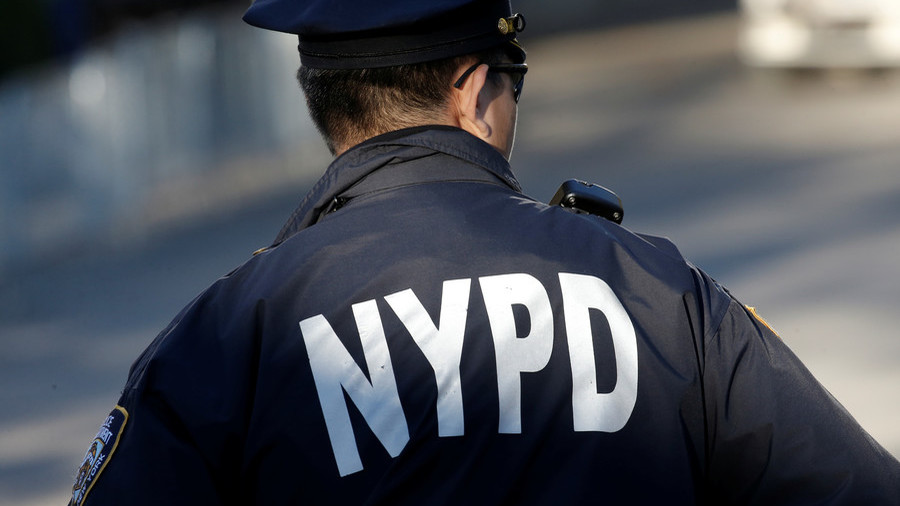 Footage showing an off-duty New York City cop planting an object next to a man he shot has cast doubt over his story that he was being threatened at the time. Reports suggest the men were involved in a love triangle.
Surveillance footage of the incident first released by NBC New York shows Ritchard Blake, 40, a police sergeant from the 109th Precinct in Queens, shoot 21-year-old Thavone Santana, after the two are seen briefly arguing on the sidewalk. Blake was off-duty and wearing civilian clothes at the time of the incident on Thursday night.
While Santana is lying on the ground, Blake is then seen standing over the victim, before planting an object on the ground beside Santana. After that he's seen walking around, picking it up and putting it into his pocket. It is believed the object was a knife or blade, police sources told the New York Post.
Authorities told reporters on Thursday that Santana pretended to have a gun and that he tried to rob Blake, the New York Times reported. But on Friday, police officials told the paper that Blake said there was a threat with a gun but did not mention attempted robbery.
Santana, who was shot in the jaw, is expected to survive after undergoing extensive surgery.
"The video captures actions that raise serious questions and require further investigation," Detective Sophia Mason, a department spokeswoman, told The Washington Post in a statement. Blake has since been placed on administrative duty, they added.
East New York community activist Chris Banks told to the NY Post that the shooting had stemmed from a "personal dispute over a female and it's been ongoing between [Santana] and this particular cop."
READ MORE: 'Am I going to die?' Driver apologizes to cop who shot him and dog during attempted escape (VIDEO)
The woman in question is believed to be the of mother of Blake's 10 year-old son, according to Fox News.
However, in a press conference on Friday, Police Commissioner James O'Neill shied away from questions regarding the relationship between the men, saying only that police believe the incident began over a prior dispute, according to the Washington Post.
READ MORE:Protests erupt over decision not to charge Minneapolis cops who killed Thurman Blevins
Santana, who was shot in the jaw, is expected to survive after undergoing extensive surgery.
Blake, who has a previous sealed arrest for a 2016 assault on a woman, was also on probation at the time of the shooting. He is expected to be charged on Monday.
"That type of behavior – planting a weapon and shooting people – creates public distrust in police and we don't deserve it," an unnamed high ranking police source is quoted telling the NY Post.
Like this story? Share it with a friend!