'Am I going to die?' Driver apologizes to cop who shot him and dog during attempted escape (VIDEO)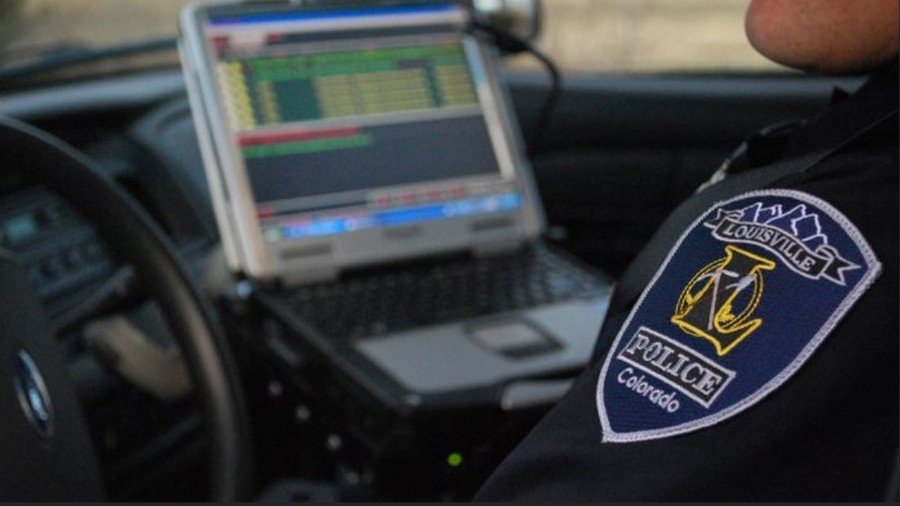 A man wounded by police while fleeing a Louisville drug bust apologized to an officer for making him open fire, explaining he fled fearing jail. The cop called it "stupid idea", newly released body cam footage shows.
The dramatic video was released after Louisville cop Joe Lamb was found by Colorado's District attorney to have acted within the confines of the law when he fired at least four shots into the cab of a fleeing vehicle wounding the driver and killing the passenger's dog.
READ MORE: Graphic bodycam VIDEO shows LA cops shooting stabber & hostage dead
Officer Lamb, of the Louisville Police Department, was responding to reports of two men taking intravenous drugs in a vehicle at a parking lot at South Boulder Road, Louisville, Colorado on June 7 when the dramatic shooting took place.
Police body cam footage released by Louisville Police Department reveals how officer Lamb's car was struck by a vehicle driven by Nicholas Moses after police confronted him and his father John over drug possession.
GRAPHIC CONTENT
Obtained by the Boulder Daily Camera newspaper, the footage begins with a melee through the window of Moses' car before officer Lamb uses a Taser in an attempt to prevent the motorist from fleeing. With both a Taser and handgun drawn and pointed at Moses, officer Lamb warns that he will "f***ing shoot" if Moses does not stop trying to get the car into transmission.
With Moses eventually steering his vehicle away from the rammed cop car at least five ring shots out striking the the driver twice in the arm. While medical attention is radioed for, Moses, by now heavily bleeding, can be heard to apologize to Lamb for attempting to escape.
"Sir, am I going to die? I'm sorry sir, I just didn't want to go to jail," Moses states.
READ MORE: Body cams show Louisville police fire more than 20 shots, killing burglary suspect (GRAPHIC VIDEO)
With Lamb stemming the bleeding while handcuffing Moses, the officer says the escape was a "stupid idea". "You rammed my patrol car and I thought you were going to run us over. That's why I shot you," Lamb explains.
Colorado State District Attorney's office has since cleared Lamb of any wrongdoing, saying that it was "reasonable to believe that Nicholas Moses had used or threatened the imminent use of unlawful physical force". John Moses' pitbull was struck by a bullet in the incident and later died from its injuries.
Court documents detail how the father and son have since been charged with drug and other related offenses.
You can share this story on social media: