NRA says it may no longer exist as non-profit due to Cuomo's onslaught, Twitter erupts
Published time: 4 Aug, 2018 09:05
Edited time: 29 Aug, 2018 12:19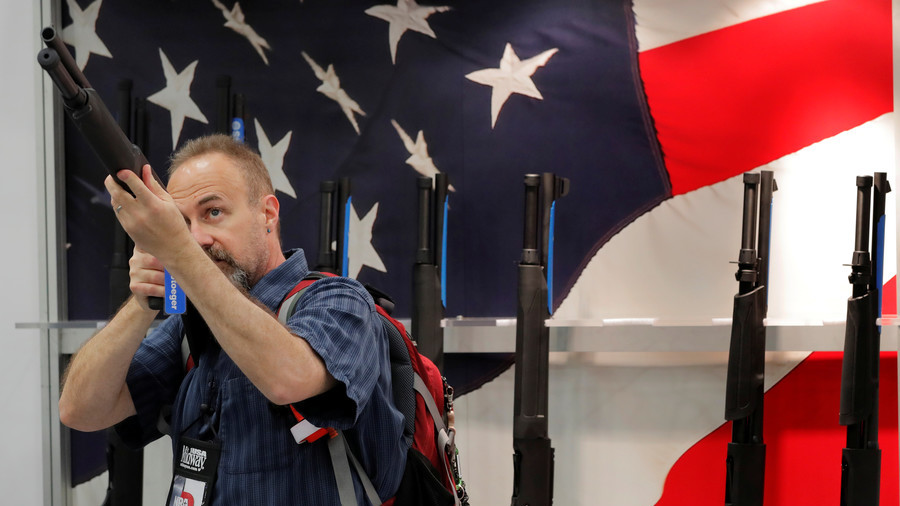 A recent lawsuit filed by the National Rifle Organization (NRA) argues that New York Governor Andrew Cuomo's crusade may force it to cease to exist as a nonprofit. The news sparked a frenzy on Twitter.
The amended version of the lawsuit, originally filed by the NRA in May, was released in full by Rolling Stone. It was claimed that the powerful lobby group is "in deep financial trouble" and "may be 'unable to exist.'"
In its lawsuit, which lists Gov. Andrew Cuomo, both individually and his official capacity, as well as Maria T. Vullo, superintendent of the department of financial services (DFS), among the defendants, the NRA argues that Cuomo has gone on the warpath against the organization. It apparently involves "selective prosecution, backroom exhortations and public threats with a singular goal – to deprive the NRA and its constituents of their First Amendment rights to speak freely about gun-related issues and defend the Second Amendment."
At the core of Cuomo's "vendetta," according to the NRA, are threats of regulatory reprisals to financial institutions that do not sever their relationship with the NRA under pressure from the New York City authorities.
The NRA says that if it fails to obtain security insurance, it won't be able to hold rallies, annual conferences, and other events that require insurance. So far, its long-time business partner, Lockton Companies, and an unspecified corporate carrier, have refused to renew their policies. The latter refuses to do so "at any price," the NRA stated, laying the blame squarely on Cuomo. In May, Lockton Companies was fined $7 million by the DFS after it ruled that the NRA 'Carry Guard' insurance program "unlawfully provided liability insurance" to legal gun owners "for certain acts of intentional wrongdoing."
The lawsuit says that if the state does not roll back its crusade, the NRA "will suffer irrecoverable loss" and "will be unable to exist as a not-for-profit or pursue its advocacy mission."
The potential restructuring implied in the complaint has already seen liberals on Twitter enthusiastically mourning the NRA.
Many offered the organization their "thoughts and prayers," mocking a frequent response by GOP politicians to mass shootings.
The NRA is going bankrupt.

Thoughts and prayers! 🙏

— God 🌈 (@TheGoodGodAbove) August 3, 2018
Hey @NRA I hear you're going broke. I guess this is one occasion when Thoughts & Prayers worked.

— Winston Smith 🏳️‍🌈 (@Ikea_Monkey_89) August 3, 2018
While it may not end up thriving as before, fears of the NRA's demise are greatly exaggerated, anti-gun activist Shannon Watts tweeted, noting that the nonprofit can always count on the support of gun manufacturers… and of course Russia, since there is no domestic issue in the US these days that Russia can't be dragged into.
There's lots of interesting stuff here, but don't be fooled: gun manufacturers give the @NRA the bulk of its $350 million annual budget. And we don't know how much they get from Russia.

The NRA isn't going out of business any time soon, but it's always fun to see them exposed... https://t.co/OPsT2L2rG7

— Shannon Watts (@shannonrwatts) 3 августа 2018 г.
Some commenters believe the NRA's complaints amount to nothing more than a creative fundraising strategy.
Dear public at large, I'm a fundraising professional. The NRA is not going broke, this is a fundraising strategy. Took some hits recently, so they call panic to ignite the base to get a quick flow of liquid cash to spend for the midterms. DO NOT BELIEVE THEM. DO NOT LET UP!!

— Kim Carvalho (@KimCarvalho) 4 августа 2018 г.
Comedian Chelsea Handler, citing the NRA's generous donations to GOP politicians, said they could ask them to return the favor and give them a loan.
Thoughts and prayers to the NRA who is saying they're in a deep financial crisis and may be unable to exist. Maybe they could ask some of the Republicans they donated millions to for a loan:
Richard Burr - $7M
Roy Blunt - $4M
Cory Gardner - $3M
Marco Rubio - $3M

— Chelsea Handler (@chelseahandler) August 3, 2018
The NRA's financial statement for 2016 shows that the lobby group overspent by $46 million in the year of the presidential election.
Cuomo, meanwhile, rejected the NRA's claim that he was responsible for putting it "out of business," tweeting that if he was actually capable of doing so, "he would have done it 20 years ago."
"I'll see you in court," he added.
The NRA has received an amount of public wrath of previously unseen proportions this year, with the Parkland shooting in February reigniting the debate on state gun laws and sparking a new gun control movement spearheaded by survivors of the massacre.
A poll conducted by NBC News/Wall Street Journal in March shows that for the first time since 2000, more people surveyed have a negative view of the NRA (40 percent) than positive (37 percent).