Trump channels 'crazy Bernie' in enthusiastic impersonation of Sanders (VIDEO)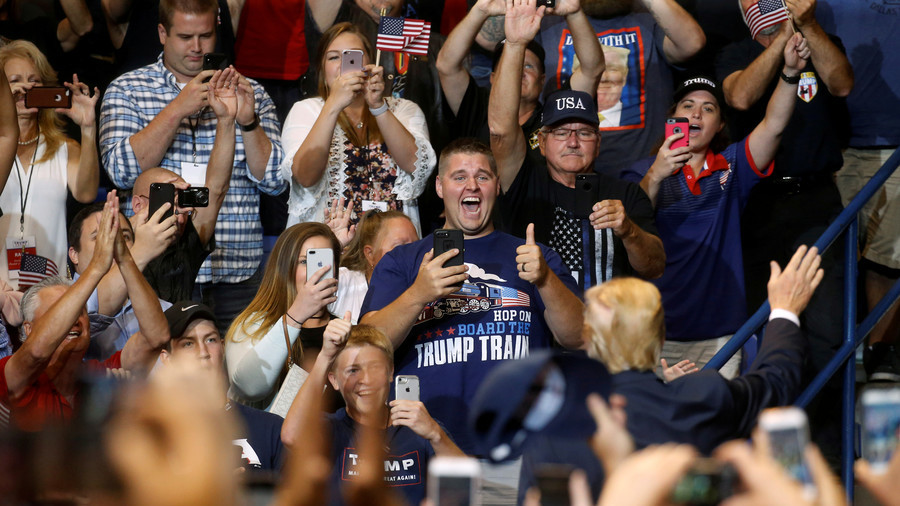 Donald Trump treated his fans to an emphatic impersonation of "crazy" Bernie Sanders on Thursday, as the US president eyed the 2020 election and poked fun at his likely competition.
Speaking at a rally in Wilkes-Barre, Pennsylvania on Thursday, Trump pondered his potential future opponents, suggesting he could face Senator Elizabeth Warren (D-Massachusetts) and Senator Bernie Sanders (I-Vermont).
"Let's say I'm running against Pocahontas [Warren] or crazy Bernie," Trump said. "I'll tell you, I gotta hand it to Bernie. I saw him up there the other day, that hair getting whiter and whiter and he's getting crazier and crazier."
"And I saw him: 'We'll stop Donald Trump. We're stopping him, we're gonna stop,'" Trump said, flailing his arms around in an energetic interpretation of Sanders' hand gestures.
"I looked at my wife and I said, 'You know what, you got to hand it to that guy, man, that guy, he doesn't quit, and that's okay. Crazy Bernie. He is one crazy dude."
READ MORE: Lyin', Crazy, Wacky, Sloppy: Trump's nicknames keep on coming
Both Trump and Sanders ran populist, anti-establishment campaigns that promised to tackle corruption in Washington. Trump called Sanders "crazy" during the 2016 election, but also often said the Democratic Party's primary was rigged against the senator, and even appealed to Sanders' voters after the primaries, saying "we welcome you with open arms."
Think your friends would be interested? Share this story!