'Eat dirt, scum!' Russian woman subdues, humiliates drunk male 'mugger' (VIDEO)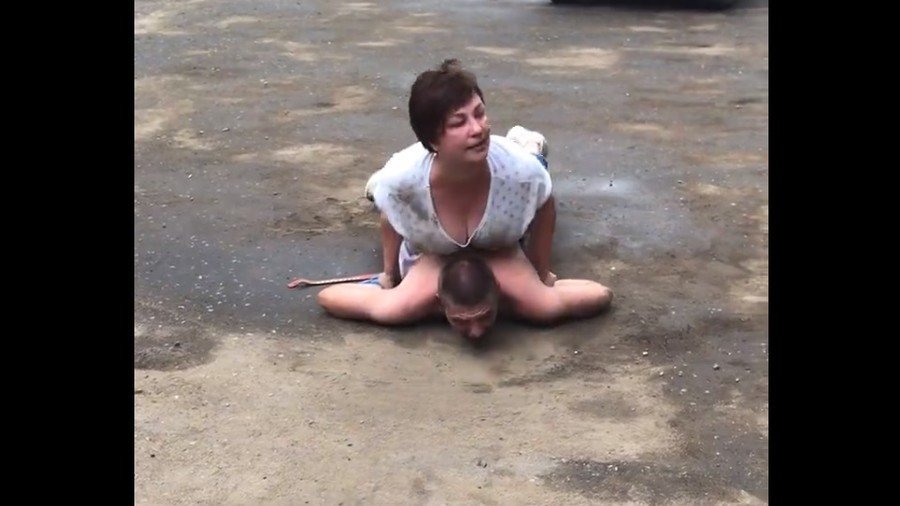 In a scene of archetypal Russian black comedy, the woman sits on top of the feckless criminal, and lets rip – as the couple wait for the police to arrive in front of a crowd of onlookers.
The series of videos, posted by Kirov's KU43 online local news network, joins the two unnamed participants mid-wrestle, though thankfully the winner of the struggle gives a helpful summary of what must have occurred in the seconds before.
"Shut the f**k up, mother******. Did you want to deprive me of my money? I have to feed my children and that b**** wanted to steal my handbag. Eat dirt, scum," goes her monologue, as she dunks his face in the puddle.
At first the pinned-down man attempts to exchange repartee with his vanquisher, sarcastically agreeing, "Of course, I stole 200,000 rubles from you (US$3,000), I took all your money!" But then the chokehold is tightened, and the would-be attacker is reduced to whimpering and wailing "B****!" over and over again, as more obscenities are whispered into his mud-smeared face.
READ MORE: NY teen robber loses limb after victim rams him with car in revenge (VIDEO)
The sequence threatens to turn into a farce, as sympathetic-but-impassive observers gather – gently kicking the man, and pouring water over his head, as well as filming from several angles. Even the victim-turned-enforcer acknowledges that the police are taking their time to arrive.
Finally, the holding van arrives, and the man is dragged inside, suddenly reinvigorated into shouting more abuse.
While no-one stepped up to identify the participants of the citizens' arrest, several suggested that they know the two to be neighbors who may have enjoyed at least a passing acquaintance with each other prior to the mugging attempt.
You can share this story on social media: