Disarmed: NY teen robber loses limb after victim rams him with car in revenge (VIDEO)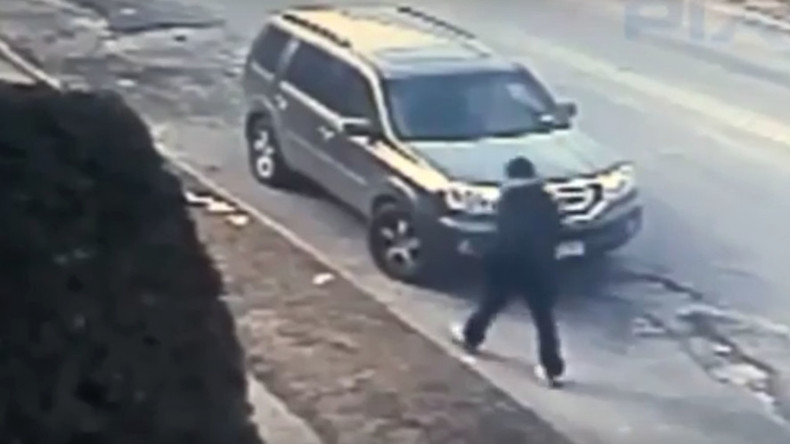 Shocking CCTV footage shows the moment a teenage mugger was literally disarmed after he tried stealing a pair of sneakers by threatening a man with a gun, only for his victim to then run the teen over with his car.
Zachary Sam had arranged to buy a pair of $190-sneakers from Philippe Pierre via Craigslist, with the two meeting in the Brooklyn neighborhood of Canarsie on Friday.
When the two finally did meet, however, Pierre reportedly asked for $490 for the footwear, at which point Sam brandished a handgun and demanded the sneakers for free, the New York Post reported.
As can be seen in surveillance footage of the incident, the 39-year-old let the teen take the shoes, but as Pierre drove away and the 17-year-old walked away in the other direction, Pierre pulled a U-turn and drove back after the teen, eventually ramming him into a fence.
The teen's right arm was severed in the crash, and as Sam escaped from under the car, he ran from the scene, leaving behind the sneakers, his gun, and his newly unattached arm.
"Everyone was yelling 'Come back! Your arm! You're going to bleed out!'" one eyewitness told the New York Daily News.
Although Sam boarded a nearby public bus, the driver refused to move with the profusely bleeding mugger on board, leaving Sam to run home, where he collapsed.
The teenager was brought to a local hospital, where surgeons are said to have spent hours trying to reattach the section of his arm that had been pulled off just below the elbow.
Just read a story where a teenager robbed a dude for his Jordan's. The dude then runs the teen over & it cuts his arm off. Instant Karma.

— TRILLipino (@ChargedUpNoahO) February 13, 2016
He lost an arm and tried to escape via bus. A bus full of people. Oh my Brooklyn.

— Shifty Smoothie (@unfurnished) February 12, 2016
Pierre has been charged with second degree attempted murder, but in an interview with ABC7 a cousin of Pierre tried justifying the incident, saying his relative had just been trying to detain the teenager for the police.
"I know what the video's showing – if somebody pulls a gun in your head, and you're trying to get the cops to catch him, what would you do? You're telling me just let him go?" he said.
Sam has been charged with robbery and criminal possession of a weapon.