'Every necessary precaution': Fear of Ebola spreading places Denver hospital on lockdown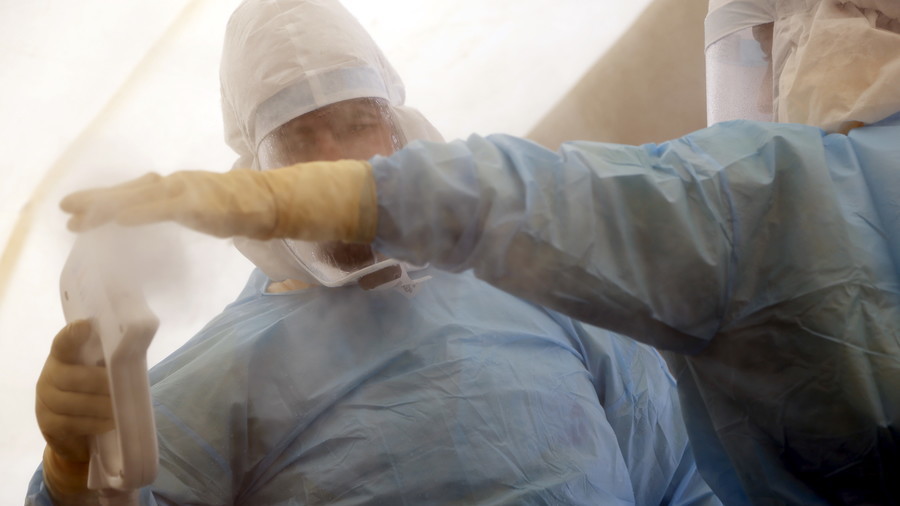 A possible Ebola infection has prompted Denver Health Medical Center to go into temporary lockdown, as medical staff in hazmat suits handled a patient who recently returned from a visit to the Democratic Republic of Congo.
Emergency crews in hazmat suits were seen entering the medical facility on Sunday afternoon, after the medical center had admitted a man that morning who showed symptoms characteristic of the Ebola virus. As the patient was rushed into an isolation unit, the hospital was placed on lockdown, with ambulances diverted to other locations. Three ambulance staffers were also placed in a biocontainment unit, over fears that they might have been exposed to the virus.
After isolating the possibly infected persons and running initial tests, Ebola is being considered as a "potential but unlikely diagnosis," the hospital said in a press release.
"From an initial review of the situation and the symptoms presented by the patient, it is unlikely that this will be confirmed as an Ebola case," said Connie Price, an infectious diseases physician and Chief Medical Officer at Denver Health. "We are, however, following our standard procedures and taking every necessary precaution."
Normal operations at the center resumed by Sunday afternoon after medical experts determined no present danger to the public. Doctors are now awaiting test results from a state health lab to determine the source of the man's ailment. The person in question was working with the sick in eastern DR Congo, where a recent outbreak of Ebola was recorded. He fell ill in his Denver home on Sunday afternoon after returning to the States.
"The patient's symptoms could represent a variety of common illnesses," Denver Health spokeswoman Jennifer Hillmann told the Denver Post. "The patient in question had reported being in an area of the Congo on a medical missionary trip, but he was in a location where the Ebola outbreak had been officially declared over, with no cases reported for 45 days, according to the CDC."
Centers for Disease Control and the Colorado Department of Public Health and Environment are now handling the situation. Denver Health is one of 10 regional facilities the Centers for Disease Control and Prevention designates to care for Ebola patients.
The Ebola virus kills from 25 to 90 percent of those who are infected, unless treated. The disease's symptoms include severe fever and muscle pain, weakness, vomiting and diarrhea. Following this, organs shut down, causing unstoppable bleeding. Transmission to humans can come from wild animals or from direct contact with infected human blood, feces or sweat, or by sexual contact and the unprotected handling of contaminated corpses.
READ MORE: WHO warns Congo's Ebola outbreak is on 'epidemiological knife's edge'
The last major Ebola outbreak occurred in 2014. The World Health Organization (WHO) declared the health crisis officially over in March 2016 after a total of 28,616 Ebola cases, resulting in 11,310 deaths, were reported in Guinea, Liberia, and Sierra Leone alone. An additional 36 cases and 15 deaths were reported outside those three countries. During the 2014-16 epidemic, 11 people were treated for Ebola in the United States, with one person dying from the virus in October 2014. In May an Ebola outbreak in the Democratic Republic of Congo was reported. The outbreak was declared over this week. As of July 24, the WHO reported 54 cases of the disease (38 confirmed and 16 probable), including 33 deaths.
If you like this story, share it with a friend!
You can share this story on social media: