A craving for berries gets bear stuck in a storm drain, prompting rescue via manhole (VIDEOS)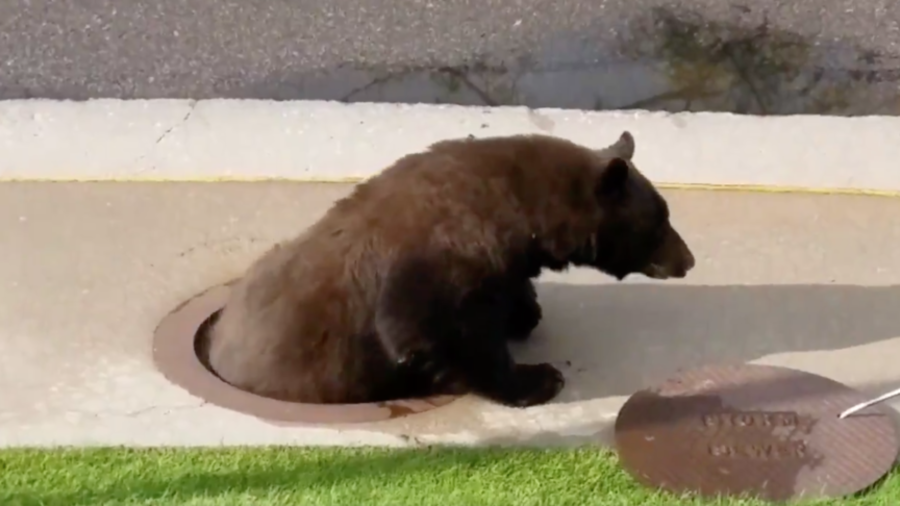 A Winnie the Pooh-like situation, which saw a black bear stuck in a hole after a meal, could have landed the 250 lb animal in the worst of trouble, were it not for an ingenious rescue plan by local rangers in Colorado.
Apparently lured by the sweet smell of food coming from a garbage bag full of branches from a berry-filled tree, the nosey bear was first spotted hiding in a storm drain near a senior community in Colorado Springs.
It is uncertain how the animal became stuck in a storm drain, but it was discovered some "hundred yards away" from the dumpster full of berries. Residents were asked to stay indoors as Colorado Parks and Wildlife (CPW) officials at first tried to remove the heavy lid that prevented the bear's escape.
Throughout the rescue, officers tried to avoid handling the bear so that the animal would not be tagged. If the animal is tagged, it could be euthanized after a second encounter with humans. With the lid lifted, it took the bear a while to escape his confinement, as one of the officers stood by with a shotgun loaded with non-lethal rubber bullets to help chase the bear away. According to authorities, the rubber slug gave the bear "an extra lease on life."
"About six minutes after the manhole cover was removed, out came the bear, estimated to be three to four years old and about 250 lb," CPW reported. The officer then fired several rubber bullets at the bear while other park rangers chased the animal into forest space behind the neighborhood.
While senior citizens watched the daring escape from the comfort of their homes, the park rangers added the bear rescue to their daily patrol routine. On Thursday, they also dealt with four mountain lions and prevented an octopus being dumped at a state park.
Bear sightings in residential neighborhoods occur quite often in the state of Colorado. The animals, who have adapted to human habitations, often look for an easy feast in the garbage from people's homes. Last summer, 26 bears were put down by the CPW in Colorado Springs, authorities said.
'I'm a huge fan of big cats': UFC star Jon Jones wrestles with baby tiger (VIDEO)
"We don't want to punish a bear for [people] not securing their garbage," CPW spokesman Bill Vogrin, told local reporters. "That's a reason we hate this, it's incumbent that the neighborhood secures their garbage."
If you like this story, share it with a friend!
You can share this story on social media: