'I'm a huge fan of big cats': UFC star Jon Jones wrestles with baby tiger (VIDEO)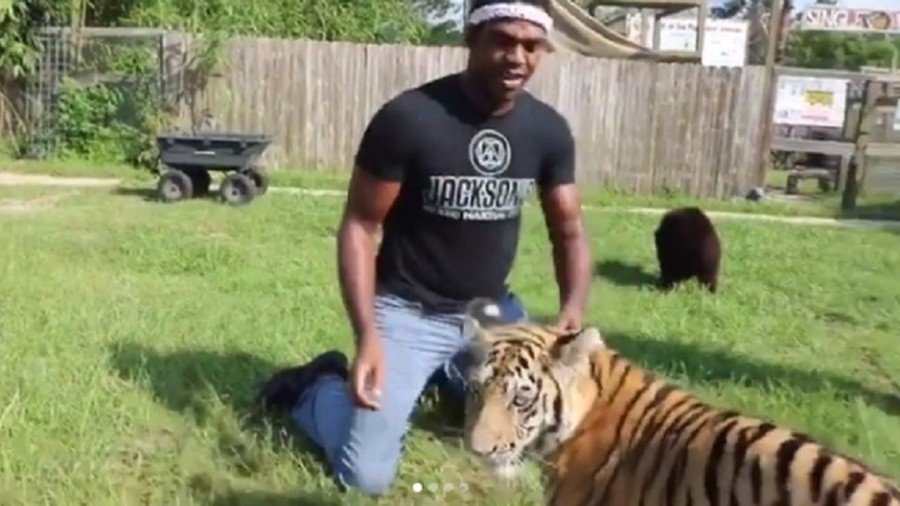 Former light heavyweight champion Jones, who is currently under suspension from the Ultimate Fighting Championship (UFC), has uploaded a video to social media of him grappling with an unconventional new training partner.
READ MORE: 'Bring his Irish team in November and finish our business': Khabib sets date for McGregor showdown
"In case you didn't know, I am a huge fan of big cats," Jones wrote in an Instagram post accompanying the video. "Was excited to check another thing off my bucket list."
The video brings to mind a famous video of a young Khabib Nurmagomedov wrestling with a bear. In the Russian fighter's case, the animal was muzzled but Jones appeared unconcerned with such safety measures.
Jones hasn't competed in the UFC's octagon since knocking out current double-champ Daniel Cormier in a fight which, temporarily at least, returned the 205lb title to his waist.
The title was subsequently returned to Cormier when it emerged that Jones had failed a United States Anti-Doping Authority (USADA) drug test in the days following the bout.
As of now there is no clear indication as to when Jones will be licensed to return to the cage but his manager, Malki Kawa, is hopeful that the situation will be resolved sooner rather than later.
"I'm very confident we will have a decision on this thing by the end of this month," Kawi said on The Ariel Helwani MMA Show on ESPN. "I'm hoping he gets cleared in the next month or so and that the opportunity to fight presents itself. If it's next year, early next year or whatever it is, I'm confident."
You can share this story on social media: