'Knows nothing about treason': Brennan called out for anti-Trump grandstanding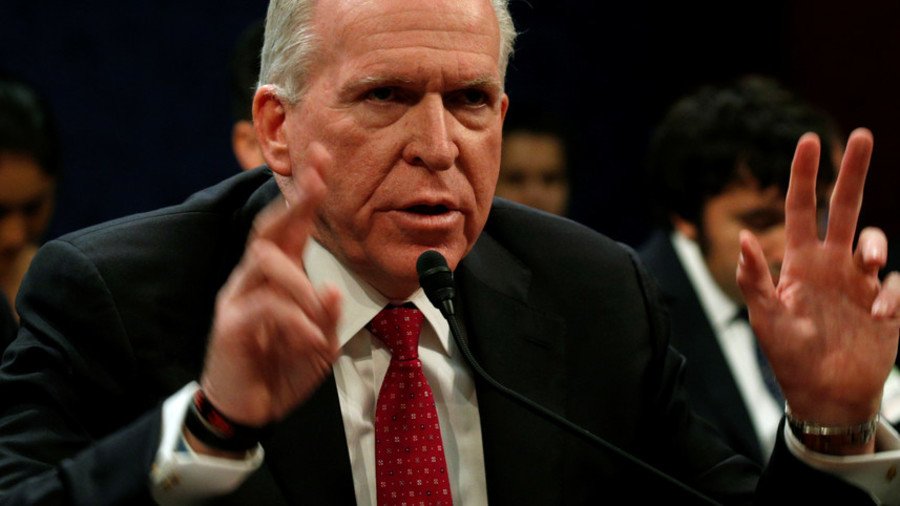 Ex-CIA chief John Brennan was among the first on Twitter to slam President Trump for his press conference performance with Russian President Vladimir Putin, but Brennan has a history of questionable political decisions himself.
After the much-anticipated Helsinki summit on Monday, Presidents Trump and Putin faced the press. Trump declined to goad his Russian counterpart on allegations of election meddling, and took Putin's denial at face value. Brennan called this decision "nothing short of treasonous."
"Not only were Trump's comments imbecilic," Brennan added, "he is wholly in the pocket of Putin. Republican Patriots: Where are you???"
Brennan's comments were echoed by the vast majority of the US political and media establishment, always keen to stir up tension with the big bad Russians. To some observers, though, Brennan's tweet was all noise and no substance.
"Whenever John Brennan opens his mouth or tweets he removes all doubt about his ignorance," said Fox News analyst Gregg Jarrett. "He clearly knows nothing about treason. The U.S. is not at war with Russia." Jarret then cites an article by constitutional law professor Carlton Larson, in which Larson explains how 'treason' is an incredibly narrowly-defined offense.
Journalist Max Blumenthal pointed out that while Brennan grandstands about treason, he has a history of arming extremist groups in Syria. These groups' views towards the US mattered little to Brennan, as long as they opposed Bashar al-Assad's government.
As head of the CIA under the Obama administration, Brennan ran the United States' covert operations throughout the world. However, at the height of the Cold War in 1976, Brennan voted for Communist Party candidate Gus Hall, an orthodox Marxist-Leninist who was hosted by high-level Soviet politicians like Leonid Brezhnev on his many visits to Moscow in the 1960s and 70s.
Brennan's opponents didn't let him forget this little act of micro-treason, even if he was 22 at the time.
Brennan describes himself as a "nonpartisan American," but now spends his post-CIA life penning florid tweets and outraged op-eds about Trump, and slamming the President on MSNBC.
Trump has accused Brennan of leading the effort to frame him for collusion with Russia during the 2016 presidential campaign, knowingly using a dossier of salacious and false allegations to jump-start Special Counsel Robert Mueller's ongoing and still unsuccessful investigation.
In May, Trump wrote that Brennan had "disgraced himself...and the entire Intelligence Community" by using the so-called Steele Dossier to start the 'Russiagate' probe. "This guy [Brennan] is the genesis of this whole Debacle. This was a Political hit job, this was not an Intelligence Investigation. Brennan has disgraced himself, he's worried about staying out of Jail," Trump tweeted.
Responding to Brennan's accusation of treason, Trump told Fox News' Tucker Carlson that the former CIA chief is "a very bad guy."

"If you look at it, a lot of things happened under his watch. I think he's a very bad person," Trump said.

Think your friends would be interested? Share this story!
You can share this story on social media: