EU is foe, but China and Russia as well – Trump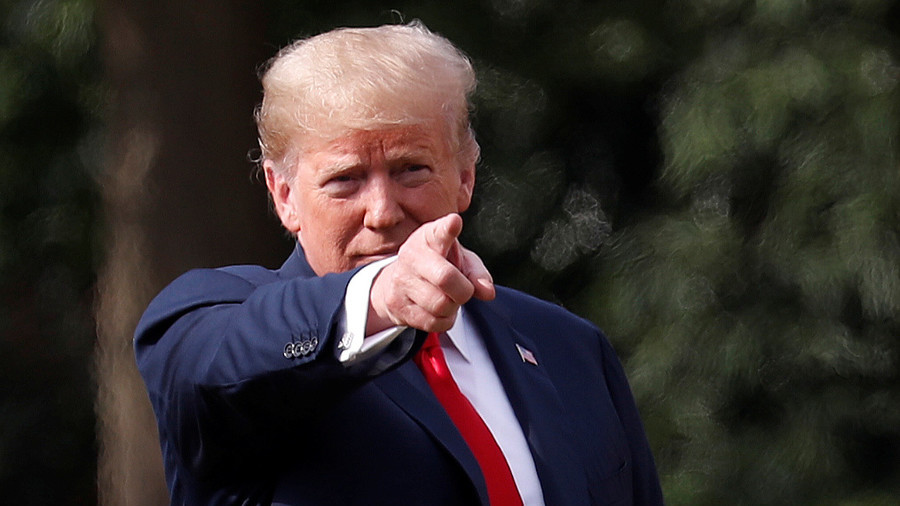 President Donald Trump has dubbed the EU, China, and Russia 'foes' of the US, speaking from his Scottish golf course, where he is taking a break after the NATO summit and before meeting Vladimir Putin in Helsinki.
"I think we have a lot of foes," Trump said, responding to a question put forward by Jeff Glor of CBS News. "I think the European Union is a foe, what they do to us in trade. Now you wouldn't think of the European Union, but they're a foe," Trump said.
READ MORE: Trump wants to get along with 'probably ruthless competitor' Putin
"Russia is foe in certain respects. China is a foe economically, certainly they are a foe – but that doesn't mean they are bad.
"It doesn't mean anything," he continued. "It means that they are competitive. They want to do well and we want to do well."
America and the EU are best friends. Whoever says we are foes is spreading fake news.

— Donald Tusk (@eucopresident) July 15, 2018
President of the European Council Donald Tusk was quick to fire back over the comments, stating that "whoever says we are foes is spreading fake news" – further demonstrating Trump's rocky relationship with the bloc.
After two extensions to the EU's exemption from US tariffs on steel and aluminum imports, Trump introduced a 25-percent and 10-percent import tariff on each of the commodities, respectively, on June 1. The move triggered a global backlash and threats of retaliation by the EU and Canada.
While talking to journalists at a joint press conference with UK Prime Minister Theresa May at her country residence in Chequers last week, Trump said that the US does "not have a fair deal with the European Union on trade right now."
"They treat the United States horribly and that's going to change," Trump said, adding that "if it doesn't change they are going to pay a very big price. And they know what that price is."
Trade between the United States and EU is worth over $1.1 trillion a year – the largest bilateral relationship across the globe. According to the US Census Bureau, US goods and services worth $528 billion were sold into the European Union in 2017. A lot of business flows in the opposite direction, too. According to US data, $629 billion worth of European goods and services were also sold into the US last year.
The European Union were not the only ones in Trump's trade crosshairs. The US imposed new tariffs of 25 percent on $34 billion worth of Chinese imports, which came into effect on July 6. Beijing retaliated with duties of the same value on US imports, ranging from soybeans to cars, and has vowed to respond proportionally to any new US tariffs.
In response, Trump said the US could impose tariffs on more than $500 billion worth of Chinese goods, while his administration has prepared a new $200 billion list of Chinese products that could be levied with 10-percent tariffs.
Trump called Russia a competitor for the first time earlier this week, where he also expressed hope that possible chemistry between the leaders could thaw their bilateral relations.
READ MORE: 'Toxic unilateralism': Iran says impulsive Trump increasingly isolates US, even from allies
The US leader and his Russian counterpart are set to meet in Helsinki, Finland on Monday during the final leg of Trump's European tour. Ties between Russia and the US have been on a downward spiral since 2014, in the wake of the Ukraine crisis.
Since 2016, relations have worsened further, with Washington accusing Moscow of meddling in the US presidential election and slapping it with several rounds of sanctions. In 2017, the two nations exchanged a series of tit-for-tat measures that further strained bilateral relations, including the expulsion of diplomatic staff and closure of consulate missions.
"Right now, I say we're competitors but, for the United States and, frankly, the UK and other places, to get along with Russia and China and all of these other places… that's a good thing, that's not a bad thing. That's a really good thing," the president said, in an interview with the Mail on Sunday.
Think your friends would be interested? Share this story!