All eyes on Putin's limo: Russian president's supercar sparks interest among foreign customers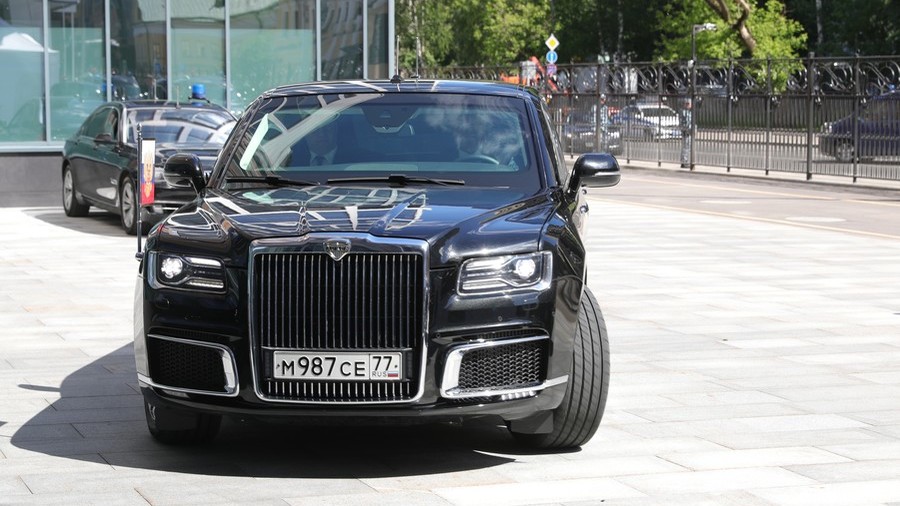 The manufacturers of a custom-made supercar have seen an increase in foreign interest since the vehicle was added to the motorcade of Russian President Vladimir Putin, according to one of its developers.
A custom-made version of the car from the 'Kortezh' project made its inaugural appearance at Putin's swearing-in ceremony in May. The domestically produced limousine was in the spotlight again in June, when the Russian president showed it to Abu Dhabi Crown Prince Mohammed bin Zayed Al Nahyan during his visit to Moscow.
This appears to have sparked an interest among foreign customers, and the car seems set to become a hit abroad, Alexei Borokov – who helped to develop the vehicle – told Russian media.
"First of all, I think this is because our president [Putin] was showing [the limo]," Borovkov said, referring to the Crown Prince's interest, Ria Novosti reports. "The country is rich, there are a lot of people who would like to see and buy such cars."
A limousine of this type was spotted among other vehicles delivered to Finland ahead of the upcoming US-Russia high-level summit in Helsinki, where Putin is due to meet with his US counterpart Donald Trump. Finnish media report that the arrival of the motorcade may also heighten interest in the luxurious cars, according to Borovkov. The vehicle was reportedly delivered aboard an Il-76 plane on Thursday, Ilta-Sanomat newspaper said.
In June, the Defense Security and Development Foundation (DSDF), which is owned by the Emirati company Tawazun, announced its plans to work together with Russia on the 'Kortezh' project, pledging an investment of some €110 million ($129 million).
The adaptation of the armored cars had earlier been suggested by Putin, who said that the line should be affordable for "people of any income, including middle-earners." The mass production of the cars under the brand name Aurus is expected to start in 2019.
Like this story? Share it with a friend!
You can share this story on social media: