California official stands by 'homophobic' article, refuses to apologize
Published time: 11 Jul, 2018 18:48
Edited time: 12 Jul, 2018 13:12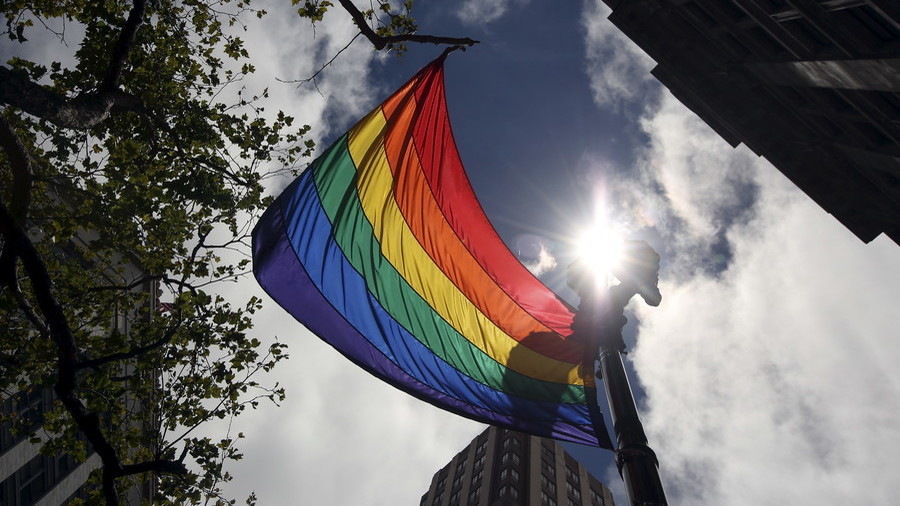 The vice-mayor of a California city has refused to apologize for writing an article calling for a 'Straight Pride American Month.' The article contained numerous anti-LGBT slurs. Protesters are now demanding his resignation.
Ted Hickman is the vice mayor of Dixon, a city of less than 20,000 residents located between the state capital of Sacramento and the San Francisco Bay Area.
At the end of June, Hickman wrote a column in a local newspaper and on his own blog bemoaning the spread of gay pride celebrations, and proclaiming July 'Straight Pride American Month,' or SPAM.
"Last Sunday ended LGBTQF-WTF month," Hickman wrote, before going on to call homosexuals "fairies." He called for a celebration of heterosexuality, where honest, god-fearing Americans celebrate "with actual real pride, not some put on show just to help our inferior complex 'show we are different' type of crap."
Hickman described how "grown men to wear skin tight short-shorts and go-go boots and don tinker bell wings with wand and prance down the streets of San Francisco."
His column incensed citizens, local politicians and LGBT activists, who blasted the vice-mayor on Twitter.
At a city council meeting on Tuesday, Hickman said that his one and only regret when he wrote the article was using the words 'vice mayor' sarcastically. He also argued that he did not give up his first amendment rights when he became an elected official, reported KOVR.
Protesters gathered outside the council meeting, demanding Hickman resign or be punished. One counter-protester reportedly showed up to defend the embattled vice mayor, waving a placard reading "Support straight, normal, healthy, sane, rational. Support Ted Hickman."
"I care for you Mr. Hickman, I care about what you say, about what you write, about what you do. So, I ask that you do something good for the community and resign." said local resident Alex Lopez.
Thus far, Hickman has shown no inclination to resign, and will likely be seeking re-election in November. The city council cannot remove him from his position, but will have a closed-doors meeting to decide what to do next.
Hickman has written over 700 columns in local newspapers and on his blog. As well as offending homosexuals, he has also written polemics against Islam, immigrants and liberals; all in a mishmash of garish fonts, accompanied by low-resolution clipart images.
Mayor Thom Bogue distanced himself from Hickman's beliefs, but defended his right to express them.
"While I do not approve of such an article...I do believe in a person's freedom of speech even when I don't like what they're saying," he said.
Think your friends would be interested? Share this story!