Man who attacked teen over MAGA hat arrested for theft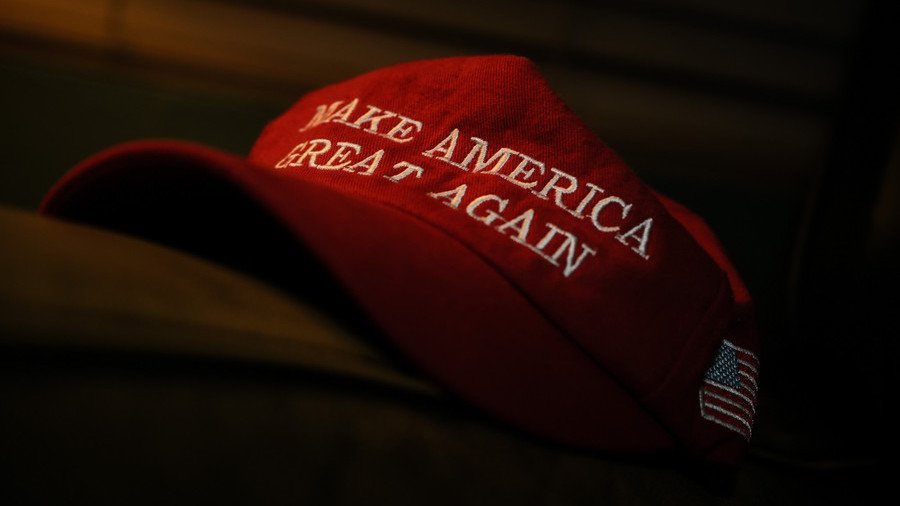 A 30-year-old Texas man has been arrested for stealing a teenager's 'Make America Great Again' hat at a fast food restaurant. A viral video shows the man taking the hat and throwing a drink in the teen's face.
The drama unfolded in a Whataburger fast food outlet in San Antonio on Tuesday. A man, identified afterward as Kino Jimenez, apparently walked up to a group of teenagers and proceeded to throw a drink at 16-year-old Hunter Richards.
Jimenez also took Richards' red 'Make America Great Again' hat, telling him "you ain't supporting sh*t, n*gga." The incident was captured on video. According to Richards' friends, the attack was unprovoked.
"This is going to go great in my fireplace, b*tch," Jimenez can be heard saying in the video. According to Richards, a clump of his hair was also pulled out when the man grabbed the hat.
Richards filed a police report, and Jimenez was arrested and charged with theft of a person, a felony in Texas. His bail was set at $5,000. If convicted, Jimenez faces a minimum sentence of 180 days in jail, and a maximum sentence of two years.
Before the police found Jimenez, amateur sleuths on 4chan's right-wing /pol messageboard tracked him down and notified his employer, a San Antonio bar. Jimenez was fired, and the bar released a message on its now-deleted Facebook page stating that his actions went against company policy of inclusivity for all, regardless of "race, creed, ethnicity, sexual identity, and political stance."
According to public records, Jimenez has an extensive criminal record, including several DUI charges, a drug possession charge, and a burglary charge. He was also a member of the Green Party of Texas until he was booted out after the video of his attack on Richards went viral.
"We all have different opinions of our president, but we don't take it out on innocent kids who just happen to have a hat on," Gavino Zarate, secretary of the Harris County Green Party, told Heavy. "It goes against everything the Green Party stands for. We are not violent. We do not take our aggression out on innocent young people."
Jimenez' arrest comes amid a growing climate of hostility towards the supporters of President Donald Trump. Several prominent administration officials have been accosted in public spaces, and Rep. Maxine Waters (D-California) drew fire from Republicans and establishment Democrats for calling for more harassment at a rally in Los Angeles two weeks ago.
"If you see anybody from that Cabinet in a restaurant, in a department store, at a gasoline station, you get out and you create a crowd and you push back on them! And you tell them that they are not welcome, anymore, anywhere," she told the cheering crowd.
Donald Trump Jr., the President's son, called the attack "disgusting and a disgrace." In a tweet on Thursday, he offered to replace Richards' stolen hat with a new one, signed by the president himself.
Like this story? Share it with a friend!
You can share this story on social media: