Watchdog wants Maxine Waters investigated for inciting 'mob violence'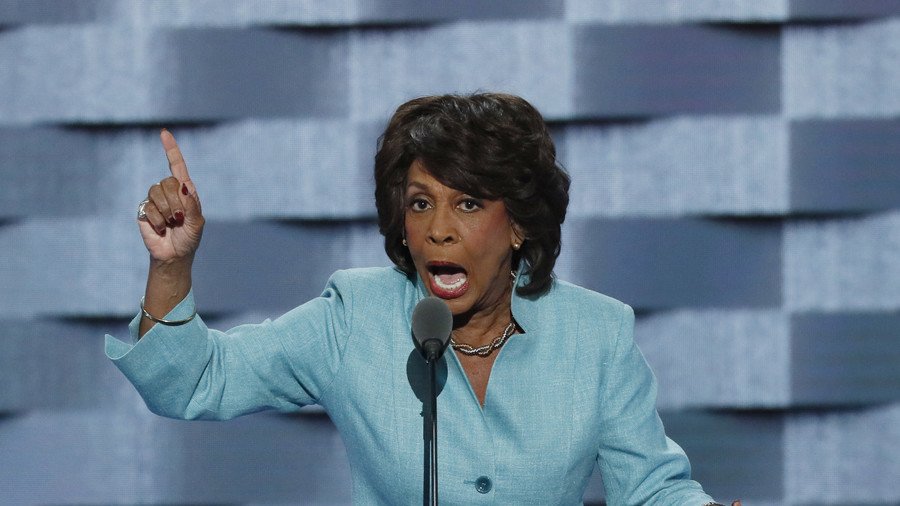 The conservative watchdog group Judicial Watch has accused Rep. Maxine Waters (D-California) of inciting "mob violence" with her fiery 'resistance' rhetoric, calling on the House to investigate her on ethics grounds.
Waters' calls for physical resistance against the Trump administration "doesn't obviously reflect credibly on the House," Judicial Watch director Tom Fitton told 'Fox & Friends' on Thursday."Look, she's telling people: 'get a crowd together, confront Trump cabinet members...tell them they're not welcome, push back'. That's the very definition of mob violence."
Fitton's group sent a letter to the House Office of Congressional Ethics, demanding an investigation into whether Waters' remarks, delivered to a crowd of supporters in Los Angeles almost two weeks ago, violated rules that demand that all members of Congress behave in a way that reflects well on the institution.
After White House Press Secretary Sarah Huckabee Sanders was booted out of a Virginia restaurant for her politics, Waters called for more harassment of Trump officials.
"If you see anybody from that Cabinet in a restaurant, in a department store, at a gasoline station, you get out and you create a crowd and you push back on them! And you tell them that they are not welcome, anymore, anywhere," she told the cheering crowd in Los Angeles.
Waters was savaged by President Donald Trump, who responded by calling the congresswoman "unhinged," and "an extraordinarily Low IQ person." She was also criticized by establishment voices in both parties and by progressive icon Senator Bernie Sanders (I-Vermont), who said that, in his view, "people have the right to go into a restaurant and have dinner" undisturbed.
Congresswoman Maxine Waters, an extraordinarily low IQ person, has become, together with Nancy Pelosi, the Face of the Democrat Party. She has just called for harm to supporters, of which there are many, of the Make America Great Again movement. Be careful what you wish for Max!

— Donald J. Trump (@realDonaldTrump) June 25, 2018
Waters denied that she intended to incite violence, and she vowed to keep fighting back like a "wounded animal."
Her words apparently struck a chord with some of the anti-Trump #Resistance, who have been spurred into action against the president by his administration's 'zero tolerance' immigration policies, particularly after news broke of 2,400 children of illegal immigrants separated from their border-jumping parents and held in detention centers.
On Monday, Environmental Protection Agency chief Scott Pruitt was accosted in a restaurant and given a dressing down over his environmental record by a Washington, DC teacher and activist. Pruitt resigned on Thursday.
So went out for a 2am snack and my friend (wearing a MAGA hat) had his hat stolen and a drink thrown in his face (and mine, you can see my arms on the left of the video) pic.twitter.com/B3QjBFIxPk

— Brax🕊 (@brxpug) July 4, 2018
On Wednesday, a teenager had his MAGA hat stolen and a drink thrown in his face by an anti-Trump 'activist' as he ate in a Texas fast food restaurant. The 30-year-old attacker, who told the teenager his hat would "go great in my f*cking fireplace, b*tch," was identified by posters on 4chan's right-wing /pol board. They notified his employer, a local bar, who subsequently fired him.
"It is so dangerous out there – in my view – for Trump supporters generally and Trump public officials, that someone has to step in and rein them in and the House has an opportunity here," Fitton told Fox on Thursday.
"Maxine Waters needs to be disavowed by the House. Their options range from reprimand to expulsion, and they should consider expelling her for this kind of activity," he said.
In the meantime, Republicans have crafted the Resistance's anti-Trump excesses into a campaign message for November's midterm elections. In a new campaign ad released by the party last week, images of burning cars and black-clad Antifa protesters are accompanied by clips of celebrities calling for Trump's assassination and of Waters whipping up her followers.
Trump has also argued that Waters' rhetoric will backfire on her party's electoral success. "Her ranting and raving, even referring to herself as a wounded animal, will make people flee the Democrats!" he tweeted on Tuesday.
Crazy Maxine Waters, said by some to be one of the most corrupt people in politics, is rapidly becoming, together with Nancy Pelosi, the FACE of the Democrat Party. Her ranting and raving, even referring to herself as a wounded animal, will make people flee the Democrats!

— Donald J. Trump (@realDonaldTrump) July 3, 2018
If you like this story, share it with a friend!
You can share this story on social media: