'Go back to your country': Woman's racist bus rant filmed in NY (VIDEOS)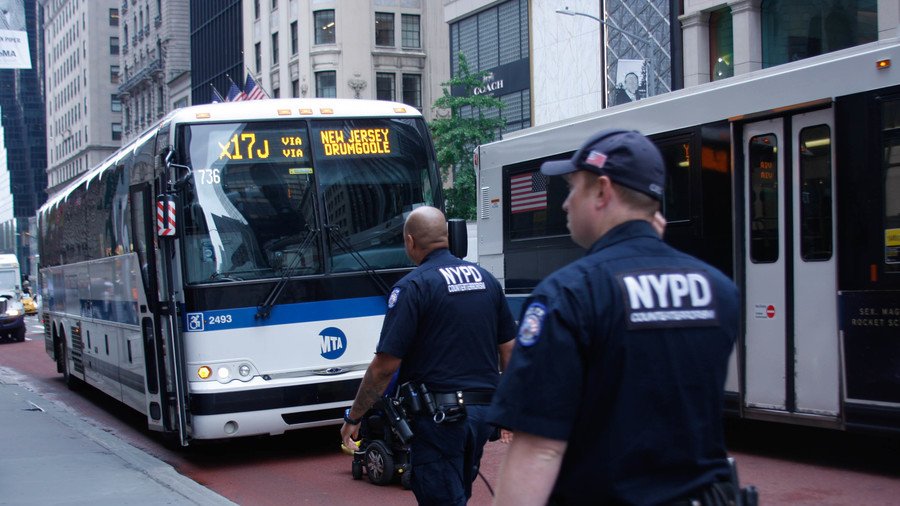 A woman's unhinged racist rant on a New York bus has gone viral after footage emerged of her repeatedly telling her fellow passengers to "get the f**** out of my country."
Footage has emerged online of how a Rockland County commuter launched into a racist diatribe while travelling on Route number 235. The incident happened on Saturday at 5pm and was filmed by an eyewitness, according to the Mount Pleasant Daily Voice.
The footage posted on Facebook reveals how the unidentified woman used the N-word while shouting at passengers who she labelled "illegal immigrants."
READ MORE: US racist woman humiliates parking attendant for overdue fee – warning, explicit language! (VIDEO)
A number of videos of the woman's rant have now appeared online. "Get the f**** out of my country," she can be heard screaming.
"Go back to your f****ing country. In this country we have what is called the First Amendment rights, which means I can say whatever the f**** I want," the woman hollers, after she is confronted about her language.
"I hope you've all got your f***ing papers. I'm sick of you motherf****ers. You got papers to be in this country?"
During the transport disturbance, the woman also attempts to grab the mobile phone out of the hand of a man who is filming her. "What are you taping me?" she says, before trying to snatch the device.
READ MORE: NY woman's racist rant goes viral forcing police to comment (VIDEO)
One bystander, Vladimir Philidore, told News 12 that the woman used a number of "racial slurs" as the bus driver radioed for help. The woman was reportedly arrested following the incident.
RT.com has contacted Rockland County Sheriff's Office and the local Orangetown Police Department for comment.
Like this story? Share it with a friend!
You can share this story on social media: