'Bloody' protesters turn Apple Store into ER ward (VIDEO)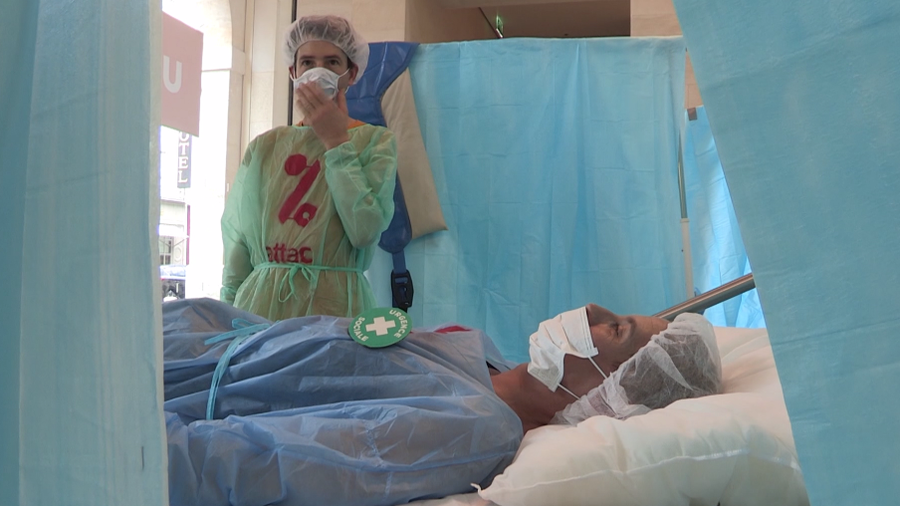 Dozens of activists turned a Paris-based Apple Store into an emergency ward complete with x-rays, surgeons, bloody patients and even a waiting room to denounce tax evasion
The elaborate demonstration, staged by the Association for the Taxation of Financial Transactions and for Citizen Action (ATTAC), on Saturday was in protest of Apple's tax evasion practices and their impact on social services like the public health institutions in France.
Protesters dressed in scrubs performed treatments on 'patients' on hospital beds or lying on the floor of the crowded store. Others chanted "we're here, even if we do not want it, we're here," and marched around the store, while some played a giant game of Operation.
READ MORE: France to sue Apple & Google over 'abusive' developer fees
An elderly activist was captured being dragged from the store by two French policemen. In March, the French government said they would take legal action against Apple and Google over "abusive business practices" against French startups.
France has been asking Brussels to take a tougher stance on American multinationals working inside the EU by forcing them to pay an appropriate amount of tax. A new set of rules aimed at cracking down on aggressive tax avoidance practices is set to be implemented in 2019.
Like this story? Share it with a friend!
You can share this story on social media: