NY woman's racist rant goes viral forcing police to comment (VIDEO)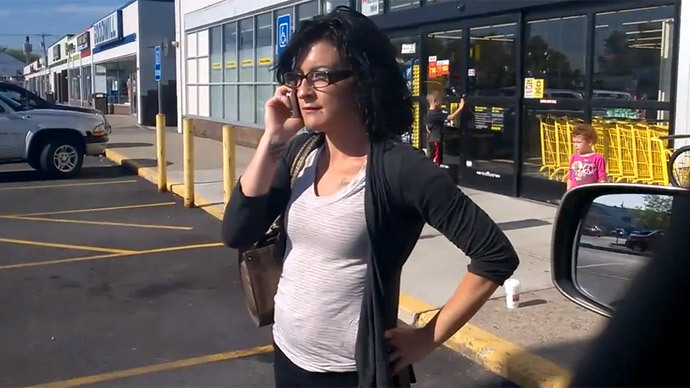 A video recording of one New York woman's racist rant has gone viral online, garnering more than 4 million views and prompting a local police chief to comment on whether or not she committed a crime.
The vocal and offensive encounter occurred on May 30 in Cheektowaga, New York, outside a local dollar store. According to local news outlet WGRZ, the woman, identified as Janelle Ambrosia, began tossing racial slurs at an African American driver who claims all he did was start his car. Ambrosia said the man nearly hit her son, which triggered her outburst.
Titled "Blatant Racism in Cheektowaga NY," the YouTube video begins sometime after this initial scene, and leads with the man saying, "I have her on tape calling me racist comments, called me a n----- in front of her kids." The incident escalates from there, with the woman cursing at the man, using the N-word frequently, threatening to throw her coffee on him, and proclaiming that getting the police involved won't do him any good because she has stripped for numerous officers.
While this is happening, Ambrosia's two children can be seen standing in the background.
The man who shot the video, identified only as Narvell, said he never moved his car once he started it. He said the sound of the engine surprised the woman's young boy, and that triggered her outrage. For her part, Ambrosia claims Narvell called her a "crackheaded cracker."
As reported by the Buffalo News, after the video's popularity exploded it was sent to the Cheektowaga Police Department anonymously. However, Police Chief David Zack said, "without knowing more about this woman's background, I feel that it would be irresponsible of me to form a premature judgment on her actions."
"If substance or mental health issues are not at play here, then her conduct should be considered as nothing less than deplorable. Clearly, there are some people in today's society who have not yet evolved in their beliefs. As a society we obviously have more work to do."
When questioned about whether or not Ambrosia committed a crime, Zack said, "There is possibly disorderly conduct that could possibly rise to the level of harassment, but both are violations."
Speaking with WGRZ, Narvell said that originally he had no desire to videotape the encounter or upload it to YouTube.
"This kind of behavior is just ridiculous," he said. "I mean, we're in 2014. It may not never go away, probably never, ever go away now that the cycle is continually repeating itself. Her kids are now thinking it's OK to call black people the N-word."
Meanwhile, Ambrosia appeared on a radio program on WBLK 93.7 Thursday to state that the video doesn't accurately portray both sides of the story. Ambrosia dismissed the idea that her use of the N-word was racist, saying, "It means an ignorant person … It doesn't say black, white, Puerto Rican. It's an ignorant person."
"I'm not racist," she added. "I have a black cousin."
Still, Ambrosia apologized for her behavior and released a statement on the situation.
"I am ashamed and embarrassed by my behavior the other day, especially in front of my children," she said, according to the Buffalo News. "It's not who I am and what I truly believe in.
"I have been under my doctor's care for mental health issues and was in the process of changing my medication," Ambrosia added. "And I am not using that as an excuse but to let people further understand my frame of mind at the time. I am deeply sorry for my offensive behavior and the ignorant statements I made."
You can share this story on social media: