​Junk food ban in schools set to begin but could create black market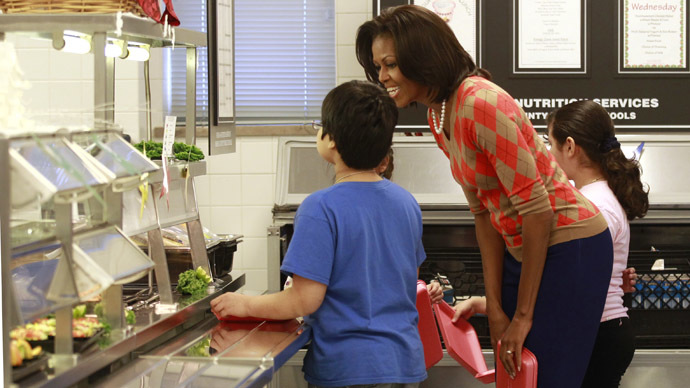 Students around the US can blame First Lady Michelle Obama and the US Department of Agriculture when they can't get their junk-food fix, or have to rely on fruit juice to satisfy their sweet tooth next school year.
Starting July 1, schools will no longer be able to sell unhealthy junk food in cafeterias, vending machines or at bake sale fundraisers that occur during school hours, according to a new mandate from the USDA. Schools will have to replace the junk with nutritious items. But that healthy food has its own set of requirements.
Back in February, Obama spoke at an event with Agriculture Secretary Tom Vilsack to unveil the new rules.
"The idea here is simple—our classrooms should be healthy places where kids aren't bombarded with ads for junk food," Obama said in a statement.
"Because when parents are working hard to teach their kids healthy habits at home, their work shouldn't be undone by unhealthy messages at school."
According to the USDA website, "The Smart Snacks in School standards stipulate that all snack foods sold in school must be 'whole grain rich,' meaning they contain 50% whole grains or have whole grains as the first ingredient, or have as the first ingredient a fruit, a vegetable, a dairy product or a protein-rich food. Combination foods that contain at least ¼ cup fruit and/or vegetable or naturally contain 10% of the daily value (DV) of calcium, potassium, vitamin D or dietary fiber will also be accepted."
The site goes on to add that the Smart Snacks in School rules don't apply to foods brought from home or to special occasions, including "birthday parties, off-campus fundraisers, athletic events and school plays or foods sold during non-school hours (30-mins after school)."
High school students also get exceptions. They will be able to purchase caffeinated and low-calorie carbonated drinks, Fox 59 reports. But, for the most part, students will be choosing between water, milk and 100 percent fruit and vegetable juice.
Schools will no longer be able to promote junk food through posters or billboards. And sometimes this means they need to purchase new vending machines. "We have had healthy foods in the vending machines for several years, but the vending machines used to say Coke, and Pepsi. Now, we're advertising the healthy food that we are offering to the kids," said Amy Maclosky, director for Food and Nutrition Services in Arlington, Va., told RFD TV.
"If you can't sell it, you really ought not to be able to market it," Vilsack said at the February event. Despite the potential lost revenue for both schools and advertisers like Coca-Cola and PepsiCo, the American Beverage Association (which includes the two soft drink giants), supports the new mandate.
"Mrs. Obama's efforts to continue to strengthen school wellness make sense for the well-being of our schoolchildren," ABA President and CEO Susan Neely said in a statement.
"Our industry helped lead the way with our voluntary national School Beverage Guidelines, which removed full-calorie soft drinks, cut beverage calories in schools nationwide by 90 percent, and set the stage for the USDA's regulations that take effect in schools this July. Now, we look forward to working with the USDA on their proposed rule to align food and beverage signage in schools with the new regulations as the logical next step."
Schools that don't comply face hefty fines or loss of federal funding, Fox 59 reports. And some schools are finding that complying leads to waste and black markets for junk food.
In 2011, the Los Angeles Unified School District changed its menu at the beginning of the school year, focusing on a menu chock full of healthy lunches. But now the school district had to revamp its menu again before the year was even through, bringing back hamburgers on a daily basis, cutting exotic dishes like quinoa and bringing back (healthified) pizza, the Los Angeles Times reported. LA Unified found that meals were being thrown out instead of eaten, students ditched lunch altogether and a black market in junk food thrived.
Speculation abounds online, with a whole comment thread on Reddit devoted to whether or not the USDA's new ban will lead to more black markets.
Jeff Januszek, a former morning show co-host in Northwest Arkansas, laid out the steps to start just such an underground market in a blog post. Tips include, "Go to Sam's Club, Costco, or your favorite box store with mom or dad," "Pick up a box of the snack size chips and snack size candy bars,""Have parents drive car (and you) to across street from school" and "Tweet something like: 'JunkFoodDude open for biz across da street from skool. Get yo Frito fix B4 class yo. #CornChips'."
You can share this story on social media: