Trump admin to roll back Obama-era policies on race in college admissions, student debt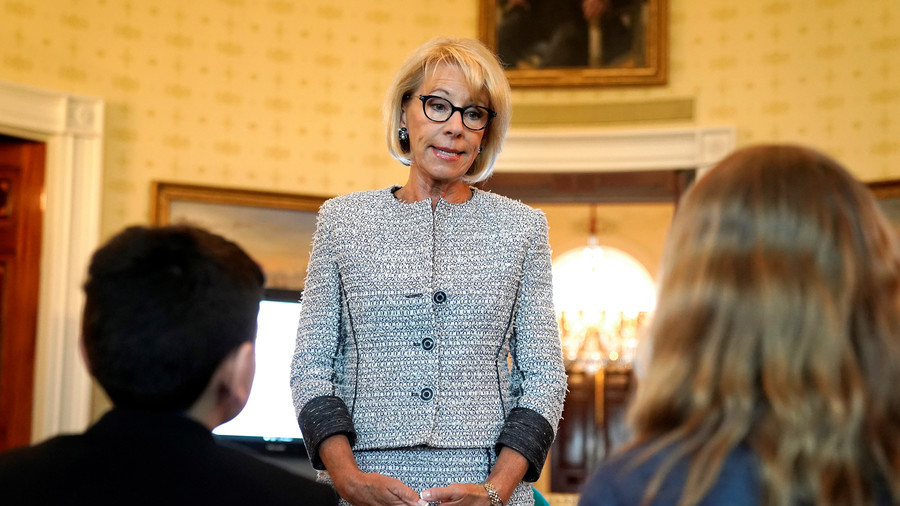 The White House is expected to reverse Obama-era policies that encouraged race considerations in college admissions, after Harvard was accused of discriminating against people of Asian decent.
At the same time it emerged that Education Secretary Betsy DeVos is preparing roll back a number of Obama-era education regulations, including protections for students in debt to for-profit schools, and rules that required for-profit schools to equip students with minimal employment skills to qualify for federal aid. The Trump administration says it seeks to "level the playing field" in education by rescinding the guidelines.
The White House reportedly plans on arguing that the Obama-era guidelines on admissions, from 2011 and 2016, provide a deeply flawed interpretation of affirmative action which actually has created, not curbed, discrimination. The Department of Justice is currently probing how these policies have factored into admissions on college campuses, and administration lawyers are investigation a 2015 complaint alleging that Harvard University discriminates against Asian-Americans in its admissions practices. While the administration says that these measures are being taken in order to make college admissions more fair, few seem convinced.
Trump's aversion to regulations is in sharp contrast to the Obama administration's education policies. The last administration cracked down on for-profit schools which used predatory practices to target low income or minority students who later struggled to pay back their federal student loans. With these safeguards now on the chopping block, critics have accused the Trump administration of hopping into bed with the pro-profit education industry. But administration officials claim that the regulatory rollbacks are aimed at making American education more fair and accessible.
Liz Hill, a spokeswoman for the Education department, insisted that there were no "for-profit advocates" at the Education department, adding that DeVos is "doing what's best for students, not capriciously targeting schools based on their tax status," Hill said. "She is leveling the playing field, not tilting the scales."
The regulatory and guidance rollbacks won't be the first changes that the Trump administration has made to American education. In February 2017, the Justice Department withdrew two policy documents related to colleges' enforcement of Title IX, a gender discrimination statute.
Social media has responded to the controversial policy changes with nostalgic pining for a return to the Obama days. However, Obama was hardly a saint when it came to education policy: His administration presided over a massive increase in student loan debt and fought tirelessly to prevent basic bankruptcy protections to apply to student loans.
Like this story? Share it with a friend!