Putin assured me Russia didn't meddle in elections, but Trump still wants to talk about it – Bolton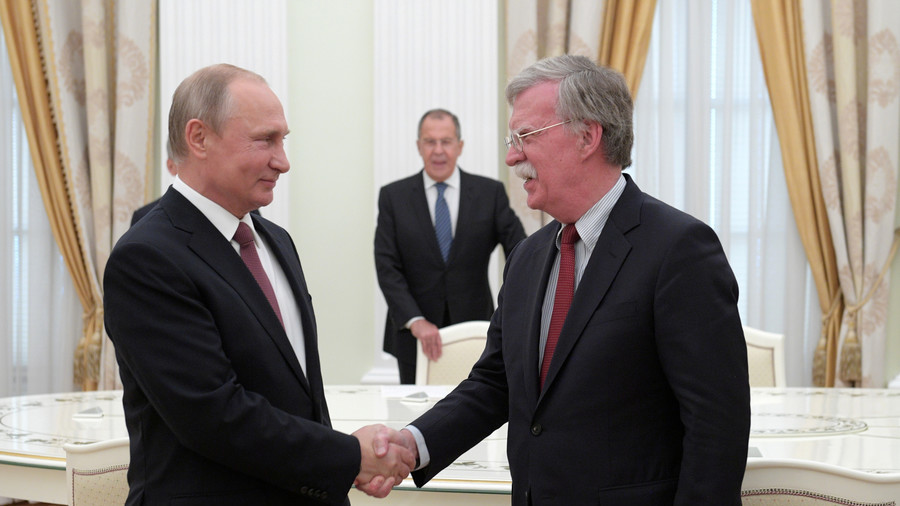 Donald Trump will probably want to have a "conversation" about election-meddling during his meeting with Vladimir Putin, despite the Russian president's repeated assurances that the Kremlin did not interfere in the 2016 race.
In his first interview since meeting with Putin in Moscow, US National Security Adviser John Bolton told Fox News Sunday that, when he met the Russian president, he was assured that the Kremlin did not take part in any sort of election-meddling.
"I'll tell you what President Putin said to me, through the translator of course. He said there was no meddling in the 2016 election by the Russian state," Bolton said.
Despite this, he stated that Trump will "want to have a conversation about this and say 'we don't want to see meddling in the 2018 election'" when he meets with Putin in Helsinki on July 16. Bolton himself said that he believed "the intelligence" he'd seen, that Russia tried to affect the election.
His comments come just one day after Trump himself told reporters aboard Air Force One that "we'll be talking about elections. We don't want anybody tampering with elections."
Trump had previously stated that he believed Vladimir Putin when he previously told him that Russia had not meddled in the election. Last week, he tweeted that "Russia continues to say they had nothing to do with meddling in our election," while at the same time attacking the FBI.
Russia continues to say they had nothing to do with Meddling in our Election! Where is the DNC Server, and why didn't Shady James Comey and the now disgraced FBI agents take and closely examine it? Why isn't Hillary/Russia being looked at? So many questions, so much corruption!

— Donald J. Trump (@realDonaldTrump) June 28, 2018
When asked what Trump wants from the upcoming meeting with Putin, Bolton said "the president has very much in mind, he wants to understand the Russian position and perhaps more importantly he wants Vladimir Putin to understand our positions."
"I think the first point is that it's very important to have this bilateral meeting not on the margins of a large meeting like the G20 like he's been able to do before, but to have a conversation with Vladimir Putin that covers the full range of issues. I expect it will be somewhat unstructured, certainly in their one-on-one meeting."
Bolton's Sunday comments came after he said during his trip to Russia last week that, "despite the political noise in the US," direct communication between Trump and Putin is in the "best interest of our country."
As Trump and Putin prepare for their upcoming meeting, the British government is worried that the two leaders could reach a "peace deal," with military expert and former Russian diplomat Alexander Bartosh telling RT that the UK "feels a certain loss of its weight in Europe and tries to turn Russia into a kind of bogeyman, seeing the 'Russian threat' as a unifying factor for nations looking for closer ties with London."
Think your friends would be interested? Share this story!
You can share this story on social media: