Trump leaves door open when asked about Crimea recognition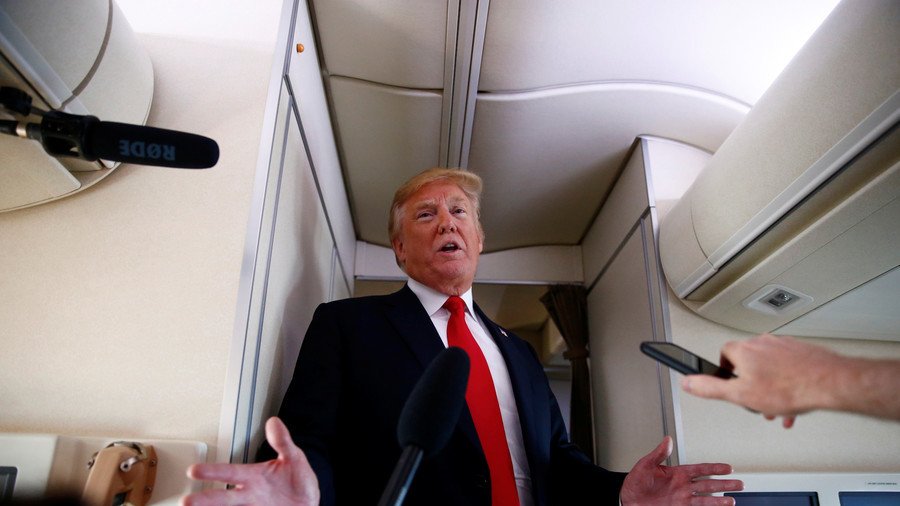 In comments sure to ruffle some 'Russiagate' feathers, Donald Trump left the door open when asked about recognizing Crimea as a part of Russia. This comes ahead of a historic summit with Russian President Vladimir Putin.
US President Donald Trump, speaking to reporters aboard Air Force One on Friday, was asked if Washington would accept Russia's claim to Crimea. The president laconically replied: "We're going to have to see."
"I'll talk to him about everything," Trump said in reply to another question about the topic of Crimea at the much-anticipated summit. "We're going to be talking about Ukraine, we're going to be talking about Syria, we'll be talking about elections, and we don't want anybody tampering with elections."
The meeting between Putin and Trump, their first held outside of a multilateral summit, is set for July 16 in Helsinki, Finland. "A full range of issues" are set to be discussed by the leaders when they finally get together, including arms control, alleged Russian meddling in the 2016 US presidential election, and Moscow rejoining the G8.
Russia's reunification with Crimea in 2014 is viewed by the West (and the mainstream media) as an "annexation," though the peninsula almost overwhelmingly voted to join Russia. The move triggered a series of US-imposed sanctions under various pretexts, including Moscow's alleged interference in the Ukrainian conflict.
Trump's comment run completely counter to the position of the US Congress and majority of American politicians. Former US Ambassador to Russia Michael McFaul was one of the first to react to the US leader's words in a series of tweets:
Republicans were outraged when Obama couldn't deter Putin from annexing Crimea, but many now silent when Trump considers endorsing annexation. Your silence says volumes about your principles and "strategic thinking" concerning American national interests. https://t.co/RCeGacSGaS

— Michael McFaul (@McFaul) 30 июня 2018 г.
European leaders are also sticking to their position on Crimea – that Russia will not be readmitted to the club after its 'invasion' of Ukraine. Trump, however, has his own view on the matter – ahead of the G7 summit, he stated that Russia should be at the negotiating table at the G7 whether the world powers "like it or not."
The recent remark on Crimea is not the first hint Trump has made about the peninsula, the population of which is almost 60 percent ethnic Russian. He reportedly told the G7 leaders that "Crimea is Russian because everyone who lives there speaks Russian." President Trump also noted that Moscow "has spent a lot of money" on the region in the past four years.
Reacting to Trump's "Crimea is Russian" comment, Russian MP and former Crimean chief prosecutor, Natalia Poklonskaya, invited the US president to visit the peninsula. "By making the trip… President Trump would show the whole world that he is an independent and trustworthy politician, the leader of America who is not unacquainted with words like 'democracy,' 'justice,' or 'courage,'" Poklonskaya stated.
Think your friends would be interested? Share this story!
You can share this story on social media: