Japanese space rocket crashes & explodes seconds after launch (VIDEO)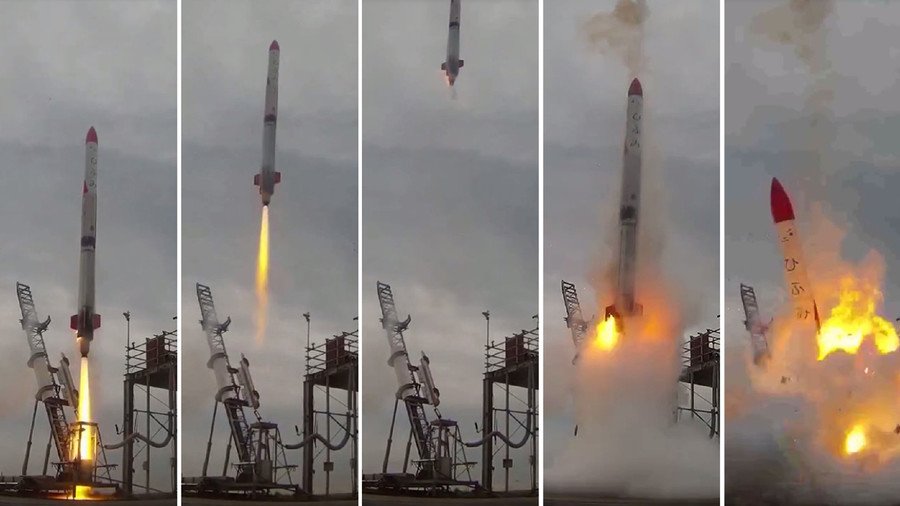 The launch of privately developed Japanese sounding rocket MOMO-2 resulted in a catastrophic failure, as the spacecraft crashed back to Earth after only a few seconds in flight. The rocket exploded, damaging the ground facilities.
The MOMO rocket family is developed by a private startup company with the ambitious name 'Interstellar Technologies.' The rocket was launched from Taiki, Hokkaido prefecture early on Saturday morning.
The rocket successfully blasted off from the launchpad, but only seconds into the flight its engine shut down. The spacecraft then emitted a thick plume of gray smoke, while fire emerged from the side of its fuel tank, presumably due to rupture. The rocket then crashed back to Earth, exploding in a spectacular fireball, and setting the launchpad ablaze.
The launch was livestreamed and, despite the failure, the stream continued, giving viewers an opportunity to watch the spacecraft burn to ashes. Since the rocket was filled with ethanol and liquid oxygen, the company deemed it too dangerous to send in a firefighting crew to extinguish it. No one was injured during the botched launch of the MOMO-2.
Some parts were salvaged from the rocket, including a stability fin and some engine parts. The rocket's body burned down into a chunk of deformed metal, while the ground facilities sustained heavy damage. Interstellar Technologies apologized for its failure, stating that it would launch an investigation into the incident.
READ MORE: 'I'm sorry, Dave': Talking AI companion robot CIMON heads to ISS
MOMO is the first commercial sounding rocket produced by the company, supposed to be capable of suborbital flight. Its first launch was held last July, when the rocket reached an altitude of some 20km before breaking apart.
Like this story? Share it with a friend!
You can share this story on social media: