'Abolish ICE!' 575 arrested after protesters occupy US Senate building (PHOTOS, VIDEOS)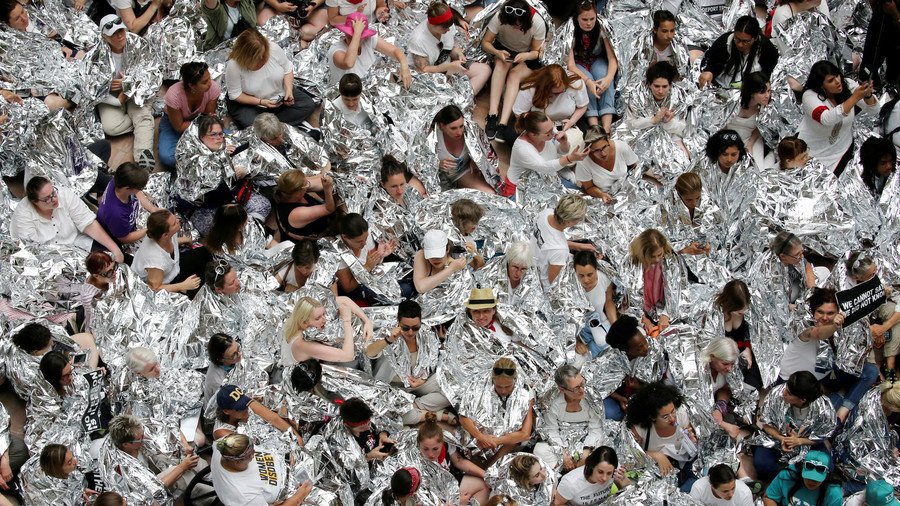 Nearly 600 activists, protesting Donald Trump's 'zero-tolerance' policy against illegal immigrants, have been arrested after staging an occupy sit-in at the Hart Senate Office building in the nation's capital.
Hundreds of women, wrapped in metallic silver blankets, referencing the duvets given to migrant children in detention centers, occupied the Senate office building in Washington DC after marching down the streets of the city chanting "Shame! Shame! Shame!" and "This is what democracy looks like."
Demanding the closure of the detention centers for illegal immigrants, the activists made a brief stop in front of the Department of Justice, urging the government to "abolish ICE," the Immigration and Customs Enforcement agency.
The crowd then marched down to the federal premises, where they occupied the atrium and several floors, chanting "we care" and "where are the children?" in reference to minors separated from their parents at the US-Mexico border.
READ MORE: Pentagon asked to accommodate 'alien family population' of 12,000
The crowd was joined by a number of US Senators who oppose Trump's immigration policies, as well as other prominent people, among them as the actress Susan Sarandon.
After repeated calls from the police demanding that they leave the premises or face arrest, officers were forced to move in, detaining at least 575 activists for "unlawful demonstration," AP reported. Rep. Pramila Jayapal was one of those who were detained on Thursday, before being released with a fine.
Protesters staged the sit-in "to fight for our families to be free, to fight for the ability of our kids to be with their parents — not in cages, not in prison, but able to live their lives free, safe and secure," she tweeted in a video message.
After Donald Trump announced his zero-tolerance policy on illegal border crossing in April, around 2,300 children were separated from their families. Facing a massive public backlash, last week Trump issued an order allowing families to stay together after being detained at the border. On Monday, US Departments of Homeland Security and Health and Human Services reported that 538 kids had been reunited with their parents. The next day, a judge in California granted a preliminary injunction giving the government 30 days to reunify minors with their families, 14 days if the child is younger than five.
Like this story? Share it with a friend!
You can share this story on social media: