Trump-Putin summit should be welcomed, not feared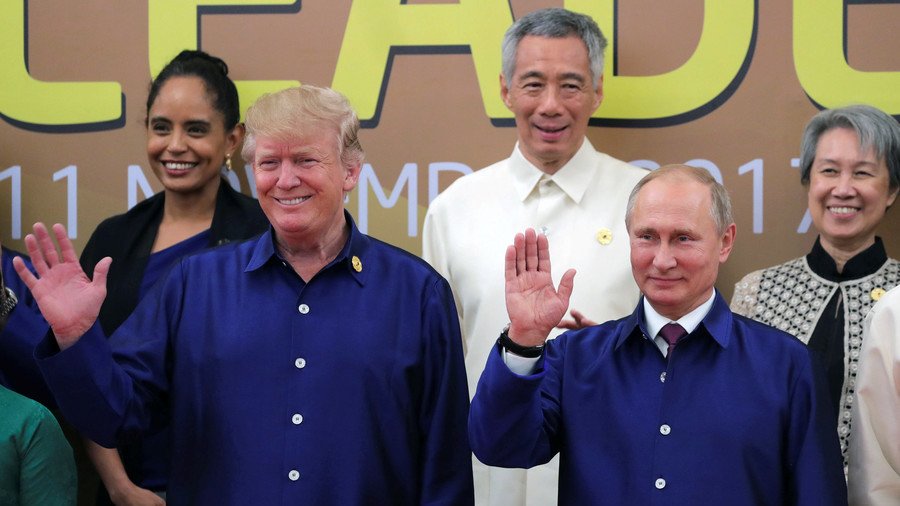 The news that Donald Trump and Vladimir Putin are preparing to meet in Europe next month has been causing consternation among those keen to keep the temperature of the new 'Cold War' close to freezing point.
But these voices should be ignored, as a summit is just what is needed at the present time.
"Meeting jaw to jaw is better than war," Winston Churchill famously observed. Which sane person, desirous of world peace, could possibly disagree with the sentiment?
Yet, it seems that some people in the corridors of power in the West and in neocon think-tanks are seriously alarmed by the prospect of the presidents of the US and Russia getting together for a tete-a-tete and possibly defusing current tensions.
The London Times has cited Whitehall sources who told the paper how worried they were about a Trump-Putin get-together. "It would be a highly negative thing to do," one unnamed insider said. "Everyone is perturbed by what is going on, and is fearing for the future of the [Atlantic] alliance,"said another.
Meanwhile, in the New Yorker, Susan B. Glasser informs us that many Russia 'experts' are worried that Putin "is intent upon securing major concessions from Trump." She also cites George W. Bush's former ambassador to Russia, Alexander Vershbow, who lambasted the idea of a meeting as a "bonding session with another dictator."
"Get ready for another lavish televised love-fest, this time between Trump and Putin," warns Anne Applebaum. The Washington Post columnist fears there will be a 'trade.' "We stop holding military exercises in Europe. In exchange, we allow Russia to keep Crimea."
"Also," she adds, "we will throw in Alaska."
If we go back to the early 1970s, we'd find Applebaum's predecessors equally concerned that President Nixon – another Republican president loathed by liberals – was keen on a rapprochement with the Soviet Union. In fact, a review of the diplomatic moves made by Nixon and the opposition he faced from uber-hawks inside America is highly instructive.
On May 22, 1972, Nixon became the first serving US president to set foot inside the Kremlin. Four days later, the president and his Soviet counterpart Leonid Brezhnev signed SALT 1 (the Strategic Arms Limitation Talks), described by Jeremy Isaacs and Taylor Downing in their book 'Cold War' as "an event of considerable significance."
"After 25 years of hostility, the Soviet Union and the United States had agreed to curb spiraling arms-race costs, and reduce the risks of nuclear war," they wrote.
Who couldn't be happy about this? Senator Henry Jackson – aka the 'Senator from Boeing' – for one. As the New York Times explained in 1988.
SALT 1 was an executive agreement, not a treaty, so could it not be blocked by the Senate. "So Jackson pushed through a resolution that set stiff terms for any future treaties, demanding, among other things, that they produce rough numerical equality," it wrote.
Jackson also opposed the agreement on Security and Cooperation in Europe, signed in Helsinki on August 1, 1975, commonly regarded as 'detente's high point.'
"As if to symbolize this new spirit of goodwill, the American Apollo and the Soviet Soyuz spacecraft docked together in outer space, 140 miles above Earth. For two days, the astronauts of rival systems carried out joint experiments while orbiting Earth. Detente had replaced decades of confrontation," note Isaacs and Downing.
And remember, all this had happened under Republican presidents (Nixon and Ford).
Fast forward to today, and it's the disciples of 'Scoop' Jackson who once again seem terrified that a meeting between Trump and Putin will lead to a new 'spirit of goodwill' between East and West.
That would never do, as Russia must always be regarded as the enemy – unless of course it does absolutely everything the West demands of it.
Trump and Putin could be a re-run of Nixon and Brezhnev. They could start to talk about arms limitation. They could start to talk about new security and co-operation arrangements. They could embrace each other warmly and declare that the US and Russia would never go to war with each other.
Of course, if such positive moves were made, people across the world would be delighted, as they were in 1972 and 1975. But defense industry lobbyists won't be.
In 'Fog,' a 1969 episode of the classic UK television series 'The Avengers,' members of the world disarmament committee meet in London, and are bumped off one by one by a mysterious 'Gaslight Ghoul.' We're led to believe that the guilty party is an old-fashioned, politically incorrect 'Empire loyalist' Sir Geoffrey Armstrong but in fact (Plot Spoiler Alert), it's the more 'progressive' Mark Travers. And his motive? He has an armaments business. He profits from wars and conflicts. That's why the very idea of the great powers co-operating is anathema to him.
Mark is able to 'disguise' himself as a good guy because he doesn't espouse the reactionary 'Colonel Blimp' views of Sir Geoffrey. Sound familiar?
Any US presidents who have worked for arms limitation and better relations with the Kremlin have faced fierce opposition, even if they've been former hawks themselves.
In 1975, Ronald Reagan opposed Helsinki, saying "All Americans should be against it." He stepped up the arms race when he became president in 1981 and referred to the Soviet Union as 'the evil empire.' But in 1984, at the time when the pop group Frankie Goes to Hollywood were warning us of the dangers of nuclear Armageddon with their smash hit 'Two Tribes,' Reagan changed course quite dramatically. The president's ambitious goal was a world without nuclear weapons. The hawks in the US and Britain were alarmed over this volte face. On November 19, 1985 Reagan met new Soviet leader Mikhail Gorbachev for the first time.
"They got on famously – even better when alone together," Isaacs and Downing record. Just over two years later, the two men signed a historic arms-control agreement in the White House.
But it could have been even more extensive. At the Reykjavik summit in October 1986, Reagan said he was willing to eliminate all nuclear weapons within 10 years. The Star Wars (SDI) defense programme proved the sticking point – but in Downing Street there was enormous relief that a deal was not struck – wedded to concerns that nuclear disarmament might still happen at a future date.
"My own reaction when I heard how far the Americans had been prepared to go was as if there had been an earthquake beneath my feet," British Prime Minister Margaret Thatcher later wrote. "I supported the idea of a 50-percent direction in strategic ballistic missiles over five years, but the president's proposals to eliminate them all together after 10 years was a different matter… Somehow I had to get the Americans back onto the firm ground of a credible policy of nuclear deterrence. I arranged to fly to the United States to see President Reagan."
The 'Iron Lady' went to Camp David and persuaded Reagan to take what she saw as a firmer line. A statement was released which declared: "The president reaffirmed the United States' intention to proceed with its strategic modernization program, including Trident. He also confirmed his full support for the arrangements made to modernize Britain's independent nuclear deterrent, with Trident."
"I had reason to be well pleased," wrote Thatcher.
Then, as now, it was Britain urging the US to maintain a tough stance towards Moscow. That's worth remembering whenever you hear someone say that London always acts as Washington's poodle – because sometimes it's the UK government that's the more hawkish.
Thatcher believed that Europe would have been 'dangerously exposed' if Reagan's disarmament plans had been accepted. Today, we hear similar fears being expressed over a Trump-Putin summit. The future of NATO, we're told, could be threatened. Yet significantly, NATO chief Jens Stoltenberg is not among the voices articulating this concern. Speaking in London this week, the former Norwegian PM dismissed fears that a meeting between Trump and Putin would undermine Western security.
"To meet President Putin is not in any way contradictory to NATO policies… Several NATO leaders have met Putin… We do not want a new Cold War. We do not want a new arms race. We want to talk to Russia," Stoltenberg said.
The NATO chief's diplomatic statements are a blow to those who don't want any meaningful dialogue between East and West. But they will be welcomed by all those who want to see the US and its allies move towards a new era of detente with Moscow, which could only be for the benefit of the entire world.
Think your friends would be interested? Share this story!
The statements, views and opinions expressed in this column are solely those of the author and do not necessarily represent those of RT.
You can share this story on social media: