Trump eyes July meeting with Putin as Bolton expected to arrive in Moscow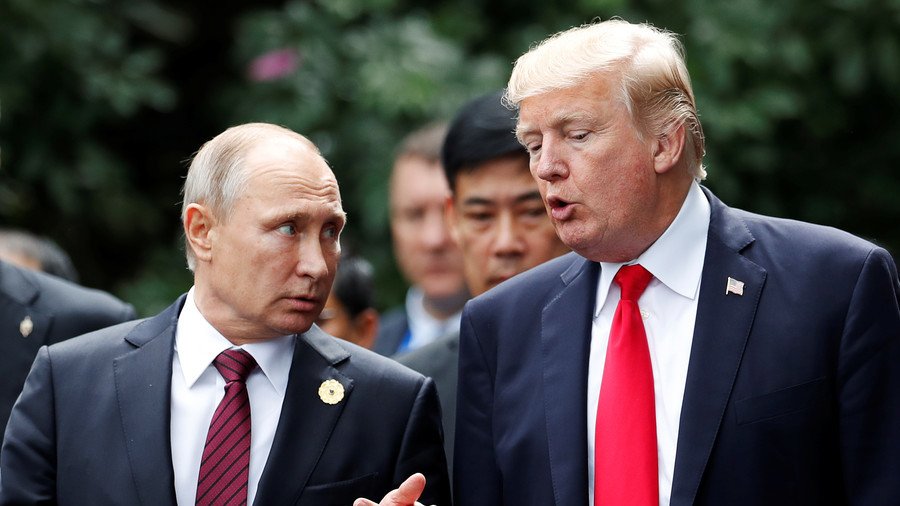 Washington and Moscow are "looking at the possibility" of Donald Trump meeting with Vladimir Putin in July, US President Donald Trump has stated.
"We're looking at the possibility" of a Putin meeting in July, Trump said in response to a reporter's question at the White House on Thursday.
Responding to reporter's question @POTUS confirms he's planning to meet with #Russia President Putin and other leaders soon.

— Steve Herman (@W7VOA) June 21, 2018
Meanwhile, Kremlin spokesman Dmitry Peskov stressed to reporters in Moscow that nothing has been finalized.
"When and if we are ready, we will make the announcement," he said.
Two possible scenarios for the meetings are either before or after the NATO summit in Brussels in July, or after Trump's visit to the UK on July 13, a source told Bloomberg on Wednesday. The source asked not to be identified, noting that the plans aren't final.
It comes after White House National Security Council spokesman Garrett Marquis confirmed in a tweet on Thursday that US National Security Adviser John Bolton will visit Russia next week to discuss a "potential meeting" between Trump and Putin.
On June 25-27, U.S. National Security Advisor John Bolton will meet with U.S. allies in London and Rome to discuss national security issues, and travel to Moscow to discuss a potential meeting between Presidents Trump and Putin.

— Garrett Marquis (@GMarquis45) June 21, 2018
Kremlin spokesman Dmitry Peskov also stated that Moscow is expecting Bolton to visit Russia.
"As far as we know, such a visit [from Bolton] will indeed take place. That's all that we can say at the moment," Peskov told reporters on Thursday.
Trump has so far had two meetings with Putin, both of which took place last summer at the G20 summit in Hamburg, Germany.
You can share this story on social media: