'Forget sanctions, G7 & Assad – Trump-Putin summit should focus on America's Ukraine interference'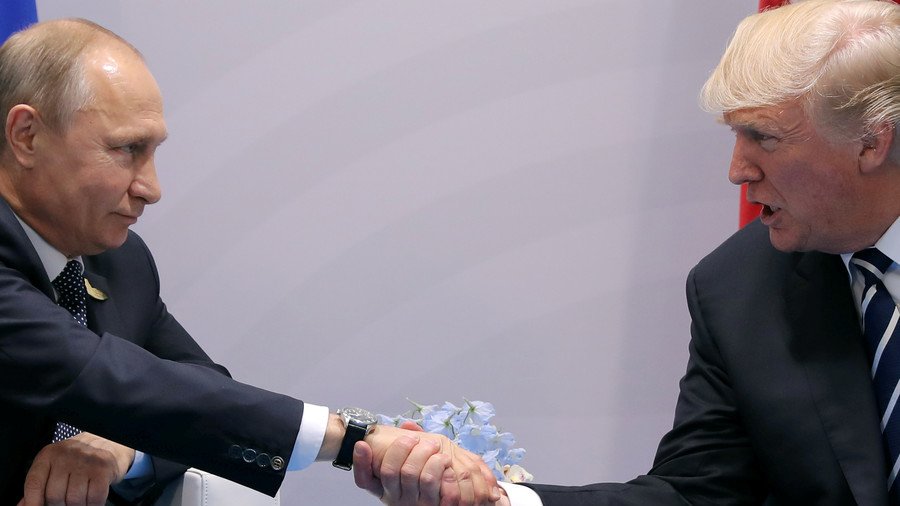 Ukraine, not Syria, is going to be in the spotlight at the potential meeting between Donald Trump and Vladimir Putin after the US supplied Kiev with Javelin missiles and imposed sanctions on Russia, former US diplomat told RT.
The NATO summit set for July is already being upstaged by rumors of a separate meeting between Trump and Putin – and news that National Security Advisor John Bolton will be heading to Moscow this month has only increased speculation. RT America's Natasha Sweatte discussed this latest development with former US diplomat Jim Jatras.
RT: What are your thoughts on Bolton going to Russia? Do you think this is going to be a similar matter to how Mike Pompeo set things up for the president with Kim Jong-un?
Jim Jatras: I think in some ways, yes. I understand that ambassador (Jon) Huntsman, our ambassador in Moscow, was here not too long ago to begin some of the prep, Bolton is supposed to be in Moscow next week and then three Republican senators are supposed to be in Moscow the week after that. I think there's some of the groundwork being prepared for this meeting.
RT: What do you think is the most important thing for them to discuss, if they do indeed meet. Do you think something like Syria?
JJ: Certainly, Syria. But to tell the truth, I think the mere fact of the meeting, like the meeting between Trump and Kim Jong-un, is the most important thing. The fact that they meet. Let's remember, there has been a full-blown campaign of hysteria on so-called "Russian collusion" from not only the US deep state, but their friends in the United Kingdom, in MI6 and GCHQ, trying to try to sink this thing. And I think coming off of the summit with Kim and also some of the economic news, some of his domestic successes, Trump now feels he has the ability to go ahead with something he said he wanted to do during the campaign and has been frustrated from doing so.
RT: Do you think a positive meeting between the two will have any impact on Mueller's investigation or do you see it as an important thing for Trump to block all of that out, if he does indeed meet with Putin?
JJ: I think it is going to be in the eye of the beholder. Obviously, the Trump-haters who actually believe all the nonsense about Russian collusion, they'll just see this: "He is reporting to Moscow, he is reporting to headquarters. This proves everything we've been alleging."
Of course, that'll be total nonsense. I think just as a lot of people aimed potshots at him over North Korea, the fact that he comes back with something that looks like we're making progress on a peaceful settlement, I think will resonate with a lot more people than the naysayers.
RT: Now to the G7 summit: do you think there is a seat at the table for Russia? Do you think maybe these talks with the US is the first step in that direction?
JJ: It could be. But to tell the truth, G7 isn't all that important. And certainly not for the Russians. The Russians are looking more toward Eurasian integration with the ,One Belt, One Road, initiative with the Chinese, with the Eurasian Economic Union. Sure, they'd like a seat at the table. But they're not going to sit there and beg for it. And they're not going to look at it as some kind of a cookie to be thrown to them.
RT: And what's the ultimate outcome? Do you think just the meeting itself speaks volumes?
JJ: I think, the meeting itself speaks volumes. But I think, the question of sanctions, for example, is way in the background. You'll never get that through Congress anytime soon. Although, I think we could look at some positive action in Europe in the very near future. I think that actually the thorniest question isn't really Syria so much. Look, Assad has won, he is going to stay in power. The real issue is going to be what to do about Ukraine. During the campaign, Trump said that is a European issue. But, of course, you know, we've provided the Javelin missiles, we've added new sanctions to the Russians. We've got to find some way to get the US out of the driver's seat on aggravating the situation in Ukraine.
RT: And maybe, if (Robert) Mueller's investigation does wrap up sometime soon, maybe Congress's outlook would change on sanctions?
JJ: No, I don't think so. I think, unfortunately, there are just so many people who have planted their feet in concrete in an extreme, I would say, hysterical anti-Russian position, that just isn't going to change. I think Trump basically has to move beyond them somehow and not really focus on the sanctions, which to tell the truth, do not have the same devastating impact on Russia that a lot of people here would like to think they have.
If you like this story, share it with a friend!
You can share this story on social media: