As NATO chief pleads for alliance unity, MoD ministers warn 'Russia is preparing for war' (VIDEO)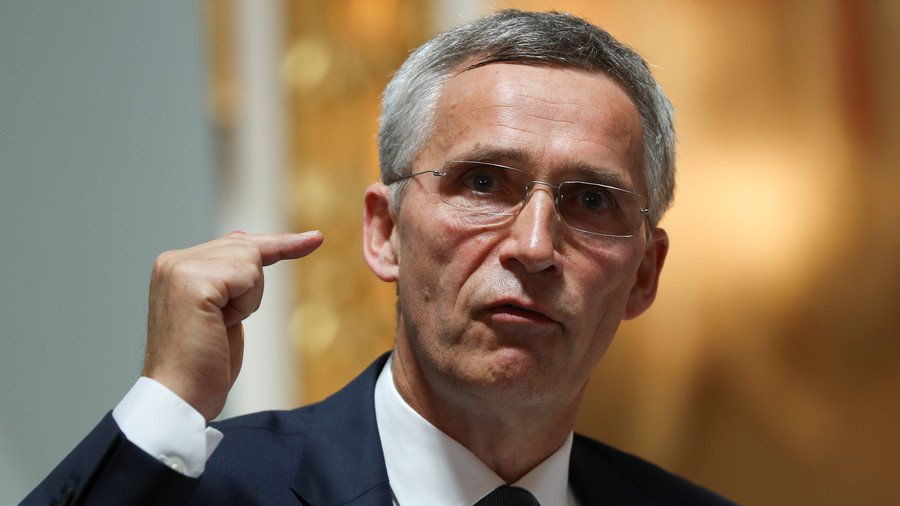 Ahead of next month's NATO meeting, Jens Stoltenberg used Thursday's London speech to appeal for unity despite disagreements. Meanwhile, Tory ministers warned "Russia is preparing for war" amid a funding row with Downing Street.
Speaking at Lancaster House ahead of a meeting with Prime Minister Theresa May at No.10, the Secretary-General Stoltenberg said the bond between Europe and the United States would survive tensions and disagreements over issues such as trade and the Iran nuclear deal.
"Our bond is strong but some are doubting the strength of that bond. And yes we see differences between the United States and other allies over issues such as trade, climate and the Iran nuclear deal."
"It is not written in stone that the transatlantic bond will survive forever but I believe we will preserve it," he added.
Stoltenberg's plea for unity comes ahead of a summit of the 29-member alliance, expected to take place in Brussels on July 11 or 13, either side of US President Donald Trump's visit to the UK.
The summit is said to be one of the most fraught in the organization's history with US President Donald Trump at loggerheads with Canadian Prime Minister Justin Trudeau and German Chancellor Angela Merkel on a slew of issues, chief amongst them his demands that European allies spend more on defense.
Currently, only five NATO members are spending the 2 percent minimum of GDP on defense as demanded by the US president, with the UK among them.
In March, US Treasury Secretary Steve Mnuchin announced that members looking for exemptions from US steel and aluminum tariffs might be asked to step up their contributions to the organisation, a sign of potential threats Trump may cite when he touches down in Europe.
During his speech, Stoltenburg praised the the UK as "instrumental" in the success of the alliance and that it led by example when it came to defence spending.
Stoltenberg's visit and comments are likely to delight officials and ministers at the Ministry of Defence, said to be suffering from "shockwaves" after a heated meeting between Defence Secretary Gavin Williamson, May, and Chancellor Mark Hammond earlier this week
According to the Financial Times, Williamson was told to rethink the capabilities needed to be a "tier one" military power and focus more on Britain's ability to tackle any cyber warfare threats, including from Russia.
READ MORE: 'Shock waves' at MoD after PM questions UK's role as 'tier-one' military power
While a Downing Street spokesperson has since reaffirmed the prime minister's commitment to Britain remaining a "leading military power," ministers at the MoD have been canvassing heavily for an upgrade of conventional military capabilities, insisting that Russia is not content with merely launching cyber attacks.
Writing in The Times ahead of Stoltenberg's speech, Williamson spoke mainly of the importance NATO played to European security at a "pivotal moment in our nation's history," but also sided with Trump in demanding other nations spend more on defence.
He said: "We welcome the fact that many European allies are increasing their defence spending but our continent has to take greater responsibility for its own security. Europe cannot expect to outsource its defenses to American taxpayer."
READ MORE: Massive defense spending hike is 'only solution' to tackle a 'resurgent Russia' – MP report
On Wednesday, Armed Forces Minister Mark Lancaster MP told the Royal United Services Institute (RUSI) annual Land Power conference that Russia was not content with cyber operations and proxy conflicts for fear of "getting its hands dirty."
Calling it a "myth" that Russia wouldn't use "hard power" in the future, Lancaster said investing in cyber defence capabilities was not enough and that maintaining and upgrading its traditional forces remained essential.
Williamson and the MoD are currently compiling a review of future plans of its armed forces and where savings can be made to make up for a funding shortfall that could reach £20 billion ($26.2 billion).
Due to report in the autumn, much of the funding drain is caused by spending plans for new warships and nuclear submarines, as well as the modernization of the Royal Air Force's fighter fleet with the F-35 Lightning II.
Think your friends would be interested? Share this story!
You can share this story on social media: