Putin-Trump meeting set for July 16 in Helsinki, Kremlin confirms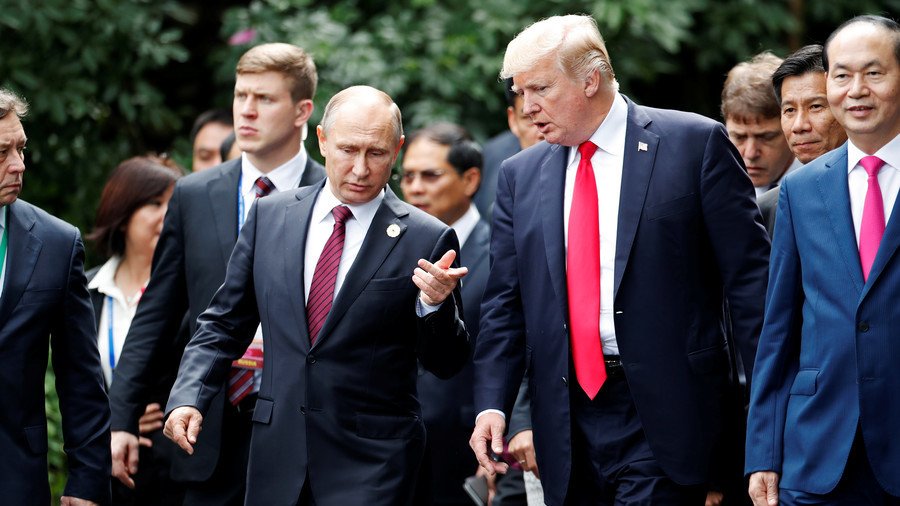 The much-anticipated talks between Vladimir Putin and Donald Trump are set for July 16 in Helsinki, Finland, the Kremlin and White House confirmed. This will be the pair's first meeting held outside of multilateral summits.
Putin will meet with his US counterpart in the Nordic nation on July 16th, the Kremlin confirmed. "According to the arrangement reached [with the US side], Putin and Trump will meet in Helsinki on July 16," the Kremlin said in a statement on Thursday.
It said discussions on the "current state of US-Russia ties" as well as "relevant international issues" will be on the meeting's agenda.
READ MORE: Trump to meet Putin regardless of 'noise' at home as it's in US national interest – Bolton
Previously, the Russian president's adviser Yury Ushakov said the one-on-one is likely to last "for a few hours," adding that a working breakfast and other protocol events are also scheduled. The adviser called the sit-down "the main international event of this summer," given its importance for the two powers and the global community.
US National Security Advisor John Bolton, who visited Moscow on Wednesday, said that "despite the political noise in the US," direct communications between Trump and Putin are in the "best interest of our country."
"A full range of issues" will be discussed by the pair when they finally get together, including arms control, alleged Russian meddling in the 2016 US presidential election, and Moscow rejoining the G8, he said.
If you like this story, share it with a friend!
You can share this story on social media: