Israel pounds targets in Gaza, intercepts Hamas missiles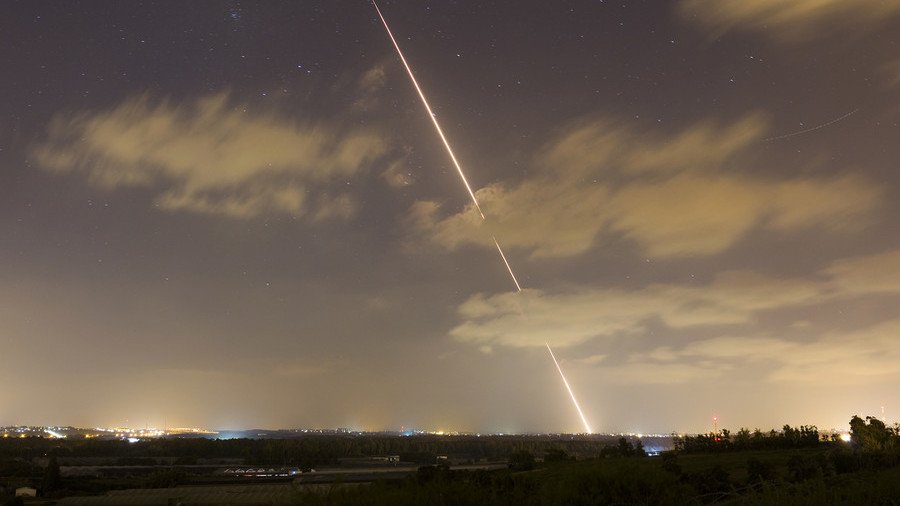 A vehicle and two Hamas "observation posts" have been targeted and destroyed by Israeli Defense Forces, while the Iron Dome anti-missile system has intercepted at least three rockets fired at Israel from Gaza.
A "barrage of projectiles" was launched towards southern Israel after IAF aircraft and IDF tanks shelled the militant organization's targets inside the enclave. The destroyed targets included a vehicle allegedly belonging to a Hamas operative, believed to have been "heavily involved" in explosive balloon attacks. In addition, the IDF struck two Hamas observation posts.
Simultaneously, the Hamas terror organization launched a barrage of projectiles from the Gaza Strip towards Israeli territory

— IDF (@IDFSpokesperson) June 27, 2018
"The Hamas terror organization will bear the consequences for facilitating terror and instability," the IDF said.
On Tuesday night sirens sounded in Hof Ashkelon, Sha'ar HaNegev and Eshkol Regional Councils when nine rockets were launched from the Gaza strip, the IDF said. One of the projectiles was intercepted by the IDF's Iron Dome Aerial Defense System. Afterwards, Israel detected three more incoming rockets, two of which were tackled by the air defense system. There were no reports of injuries or damage from the other eight projectiles, which usually strike uninhabited areas.
Earlier in the day, an Israeli jet destroyed another car and an observation post used by Palestinians to launch arson balloons. Over the last couple of weeks, Israel has intensified its effort to stop balloon and kite launches of homemade incendiary devices, which have become a symbol of Arab resistance during the Great March of Return protests along the Gaza-Israeli border since late March. In order to put a halt to these terrorist activities, Israel has limited the amount of helium gas that can be brought into Gaza, restricting it to medical treatment purposes only. The IDF and the IAF, meanwhile, intensified the crackdown on Hamas, which they hold fully responsible for the upsurge in cross-border violence.
Think your friends would be interested? Share this story!
You can share this story on social media: